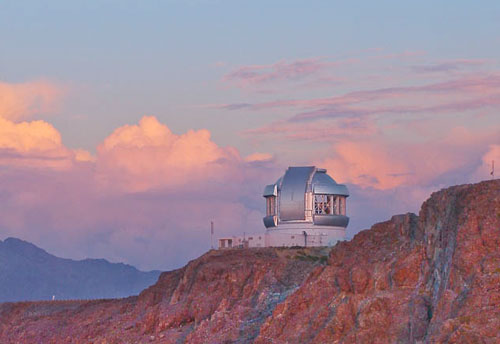 Sunset over Gemini South
The staff of Gemini Observatory extends its deepest sympathies to the families of those who suffered losses or are displaced due to the major magnitude 8.8 earthquake that struck southern Chile early Saturday morning, February 27, 2010.
Gemini was fortunate that there were no significant structural damages to any of our facilities. The earthquake disrupted observations on early Saturday morning for less than 30 minutes. Subsequent operations have been essentially normal with the exception of Internet connectivity. We are dealing with communications and minor power inconsistencies that should be solved once general Chilean infrastructure issues are resolved. The temblor struck about 700 kilometers south of Gemini South which is on Cerro Pachón.
For more updates on this and other observatory news, join the Friends of Gemini Observatory Facebook page.
Both of the Gemini telescopes are located in seismically active locations and on October 15, 2006 Gemini North experienced a major (magnitude 6.7) earthquake that inflicted significant damage to the telescope and related systems. In total 26 nights were lost due to damage from that event and it prompted a major initiative in emergency preparedness, which included workshops for astronomical facilities in both Chile and Hawai'i. Precautions now in place have made dealing with seismic events more routine at Gemini but large earthquakes are a major concern and the safety of our staff is at the core of all emergency preparedness.
Thank you to everyone who has expressed concern and please join Gemini in supporting the disaster relief efforts for those in need in Southern Chile.
We encourage the support of Chile earthquake relief efforts and while Gemini cannot endorse any organizations providing aid, the following page provides several options for making donations.
Actualización sobre Terremoto en Chile/Gemini Sur
El Observatorio Gemini ofrece sus sinceras condolencias a las familias de aquellos que sufrieron pérdidas debido al terremoto de magnitud 8.8 que azotó el sur de Chile la madrugada del sábado 27 de febrero de 2010.
Gemini fue afortunado ya que no se registraron mayores deterioros estructurales en ninguna de nuestras locaciones. El terremoto interrumpió las observaciones en la madrugada del sábado por menos de 30 minutos. Las operaciones posteriores se han desarrollado con normalidad con la excepción de conexión a Internet. Estamos enfrentando algunos problemas menores de comunicación y de electricidad, los que debieran estar resueltos una vez que los temas de infraestructura en Chile sean enfrentados. El movimiento se registró cerca de 700 kilómetros al sur de Gemini Sur en Cerro Pachón.
Para mayores informaciones de última hora en este tema y sobre el observatorio, únase al grupo de amigos del Observatorio Gemini en Facebook.
Ambos telescopios de Gemini se encuentran emplazados en locaciones sísmicas y el 15 de octubre del 2006 Gemini Norte experimentó un terremoto de magnitud 6.7 que significó un deterioro importante para el telescopio y los sistemas. En total 26 noches fueron perdidas como consecuencia de ese evento, lo que gatilló una iniciativa para estar preparado en situaciones de emergencia, incluyendo talleres para instalaciones astronómicas tanto en Chile como en Hawai'i. En la actualidad se han tomado las precauciones para manejar estos eventos sísmicos en Gemini, pero terremotos de esta intensidad representan siempre una gran preocupacion por la seguridad de las personas quines son nuestra prioridad en todas las preparaciones de emergencia.
Gracias a todos quienes han expresado su preocupación y por favor únanse con nosotros en el apoyo a las labores de esfuerzo y rescate para quienes lo necesitan en el sur de Chile.
Los instamos a apoyar las iniciativas de ayuda del terremoto en Chile, si bien Gemini no puede adherirse ni apoyar a ninguna organización de voluntariado en particular, la siguiente página entrega distintas opciones para canalizar sus donaciones.