About
The Gemini Card Game is a cooperative game for 2 to 4 players who work together to complete science programs over the course of a semester. Experience the complex decisions required to run a world class observatory and the excitement of contributing to a team as you provide researchers with their precious data and contribute to expanding the knowledge of the Universe.
In addition to being fun(!) the goal of the Gemini Card Game is to familiarize Gemini users with the observatory's capabilities (including instrumentation and adaptive optics systems), provide example Gemini observing targets for different instruments, and teach our users how Gemini's scheduling system works so that they can better optimize their observations. A summary of how the Gemini Card Game was developed and how it helps to support our users was published in the AAS newsletter here.
Game and Graphic Design: André-Nicolas Chené
Development: André-Nicolas Chené, Jerry Brower
Social media: #GeminiCardGame
Want to send suggestions or comments on the game? Please, do not hesitate to fill the feedback form.
---
Rules
To get started playing the game quickly, check out the quick-start guide! For the full set of rules, download the rule book. If anything is unclear, or inconsistent, or for any suggestions, please email david.jones@noirlab.edu. Please note that the rule book is meant only for games played with physical cards.
Please also consider registering your deck! You will get (non-frequent, we swear) updates of the rules, and alerts when expansion sets and booster packs are available!
Short video tutorial
GCG Online
GCG can now be played online on Tabletopia!
This means that:

You can play even if you do not have your own deck
You can play with anyone, anywhere
You can enjoy the improved gameplay, with a new game board and automated set-up
You will play with rare cards in future updates
Get the rule book written for the Tabletopia version.
How to play on Tabletopia
You need to have an account with Tabletopia to access the game. The game is free and you can create an account for free, if you do not already have one.
To create a free account:
Click on on the top right corner of your screen.
In the pop-up window that appears, enter your email, create a password and click "SIGN UP".
A bigger pop-up window like this will appear:

Click on CHOOSE in the Bronze status box to create your free account.​
! Do not start the player's free trial if you want a free account !
You can now edit your account, and access the GCG online.
The Bronze account is free, and allows you to play up to 2 games simultaneously. It is pleanty enough to access GCG!
Once on the GCG page, simply click the big framed "Play Online", and invite people to join or share your link to wait for more people to join. Once the seats are filled with enough people, Start the game! For more on this, visit Tabletopia Beginner's Guide.
It may take some practice for new people on Tabletopia to get used to how the game components. You can learn more on Interacting with Game Components on Tabletopia.
---
Download GCG
If you do not have a deck yet, download a full deck to print at home!!! Here are the instructions to create a full 90 card basic deck:
One trick is to print them on paper, cut them, and place them into playcard sleeves. To obtain the right dimensions, you can print 6 cards per US letter size paper in using the portrait orientation. In Acrobat, you can select the option "Multiple" under Page size & Handeling. If available, choose the option "fit to printable area". Use transparent card sleeves to make the double sided cards. Use (or make) different backs for the different decks. Those are the Instruments, Weather and Player (Time, Target and Programs) decks (see the video).
Enjoy!
---
Rule changes for the 2019 basic deck
1. Mistake in the scenario card.
Unfortunately, the scenario card was printed with the '2 or 4 player" scenario on both sides... The 3 players scenario should be like this: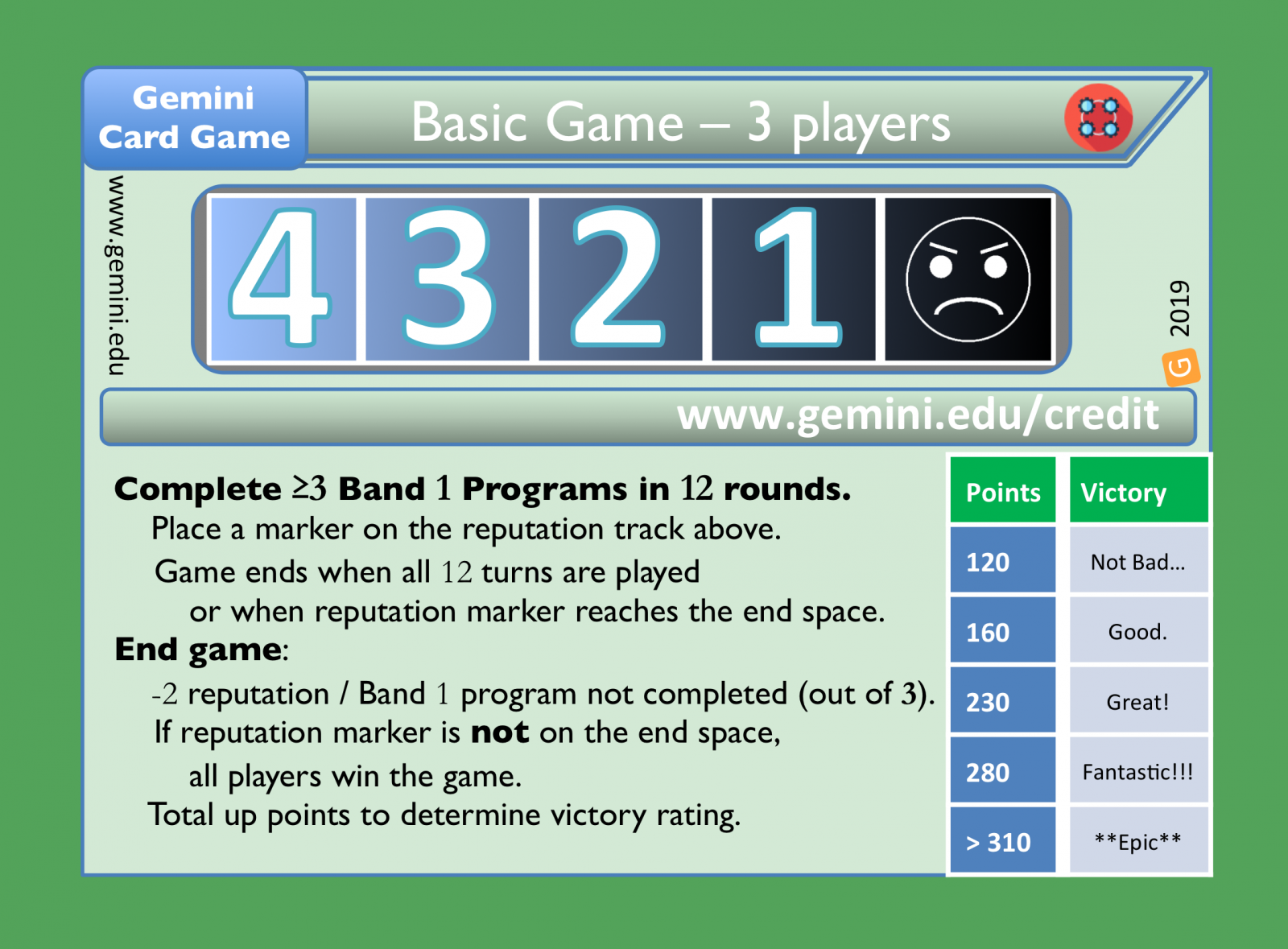 2. Extra card in 3 players mode
It is now recommended to add one card in everyone's hand when playing with 3 players. A full hand is therefore 6 cards, unless someone's ability already allows for more cards, in which case it is the number of card for a full hand plus 1 (e.g., 6+1=7).
3. Moving Altair to an instrument does not require action
Altair can now be moved to a 'compatible' instrument (i.e., NIRI, GNIRS or NIFS) without requiring an action from a player. Still, if the instrument is moved to another program, Altair has to be discarded and placed at the bottom of the instrument deck.
How does the game compare to reality?
Of course, it is just a game. At best, it is a simplistic model of the decision making in place when the Gemini staff is scheduling and observing programs. Also, if 12 rounds is a semester, it means that each round is 2 weeks, and one should expect much more telescope time to be used in real life.
However, Band 1 programs take absolute priority, as they were estimated by peers to be the best use of the telescope time. Band 2 programs are preferable when there are no possibility to observe Band 1 programs. And Band 3 programs are essentially fillers, so good science may be possible when the weather is bad, or when nothing else is available.
Also, deciding on which target to observe is not always straightforward. Observing a setting target instead of a higher priority one, with the hope to catch that other target later is sometimes the best strategy.
Discover a support astronomer experience that is not too far from what really happens in Hilo and La Serena, and share it with us!
Public appearance
Acknowledgments
We would like to thank Mark Rawlings, Graham Bell, Ryan Berthold, Eileen Gonzalez, Paige Godfrey and the Gemini North Game Club for their precious help with setting up the rules.