GMOS-South Fringing
You are here
GMOS-S  
The new GMOS-S Hamamatsu CCDs have significantly less fringing than the EEV detectors. The fringing in i' is negligible (compared to the ~67% in i' on the EEVs), as well as in CaT and Z;  about 1% in z' and ~2.5% in Y. Example snapshots below show z' band (top left), i'(top right), Z (bottom left) and Y (bottom right) fringe frames.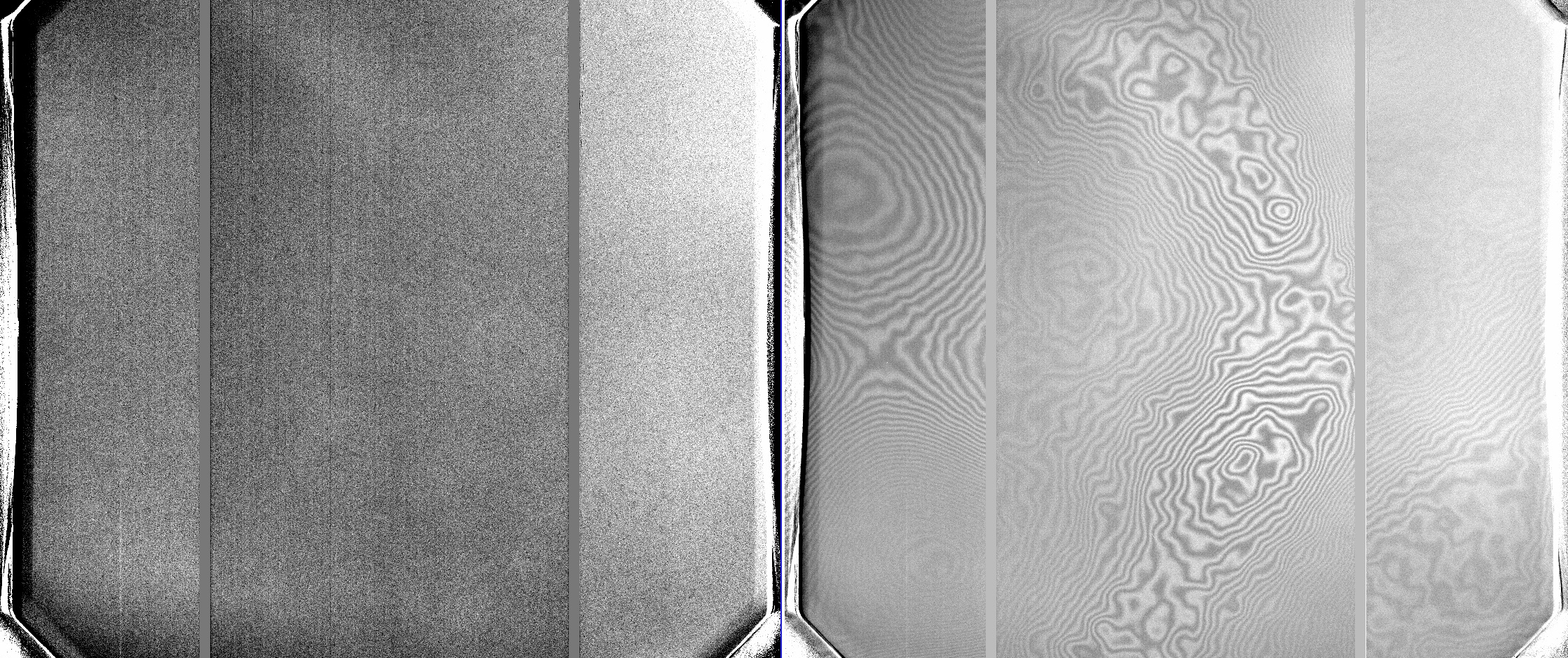 ------------ 
The GMOS-S EEV (no longer available) CCDs have significant fringing in the red. This page shows examples of fringe frames in imaging mode in the i'-filter and the z'-filter as well as science data before and after correction for the fringing.
Recent fringe frames for both i' and z' are available from the Gemini Science Archive. To retrieve either the raw or the processed frames one can follow these steps (eg.): 
- Under GSA Queries select menu item Search Complete Catalogue
- Select a Standard Query GMOS-N and/or GMOS-S and click Continue to query form...
- In Target Name enter Fringe and from the Resolver: menu select Gemini name (not the default value SIMBAD/NED). Alternatively, in Data Label choose "Contains" and enter fringe
- in Filters enter either i_G0327 or z_G0328
- From the Instrument menu select GMOS-S
- In CCDSUM enter either 1 1 or 2 2
- Select the raw or processed frames you wish to retrieve and continue by clicking Download Datasets. Note the processed frames have _fringe in the Data Label and the filename begins with RG. 
Imaging Fringe Frames are taken on a one-set-per-semester basis. The ones shown below were obtained in November/December 2010 and the corresponding processed fringe frames area available through the GSA. The latest fringe frames were observed on 2013A and are being processed.
| | |
| --- | --- |
| | |
| z'-filter fringe frame. | i'-filter fringe frame. |
Example of science data before and after correction for the fringing. The data were obtained the night of May 24-25, 2003 during the commissioning of GMOS-S. The images are from dataset GS-2003A-SV-228.
i'-filter science frame before and after fringe subtraction.
Last update: November 19, 2014; German Gimeno