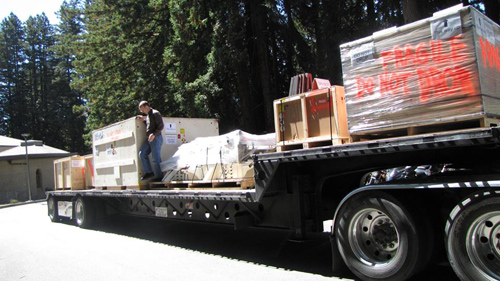 Figure 1: GPI departs for the almost 6000 mile (9700 km) from the labs at the University of California Santa Cruz, where the instrument spent the past 2.5 years.
Figure 2: Eighteen hours after leaving the Santiago Chile airport, the Gemini Planet Imager arrives atop Cerro Pachón where Gemini South staff welcome this next-generation instrument.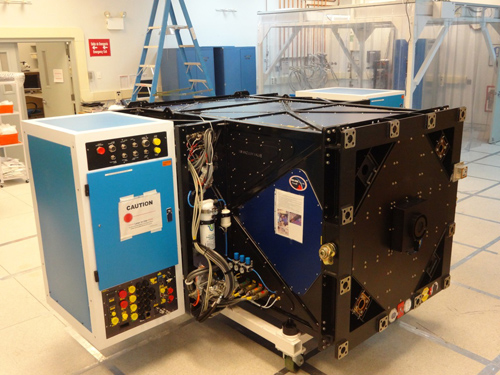 Figure 3: GPI is assembled in the Gemini South instrument lab on Cerro Pachón, Chile.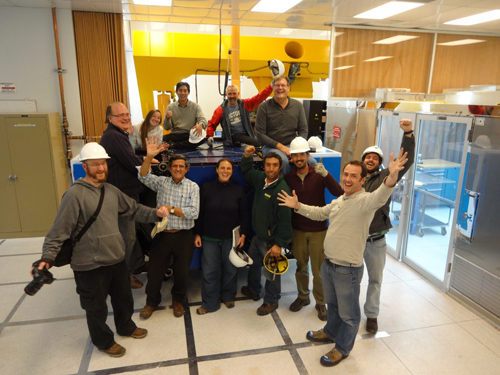 Figure 4: The GPI team celebrates the arrival and assembly of the instrument's systems at the Gemini South instrument lab.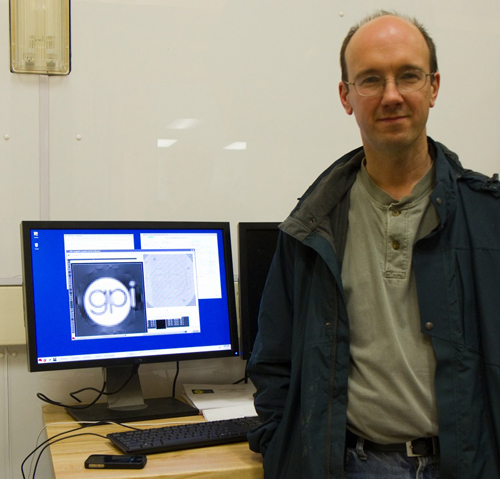 Figure 5: Principal Investigator Bruce Macintosh with confirmation of the first successful GPI adaptive optics system test at Gemini South. The display shows the instrument's logo as generated by its deformable mirror and seen by its wavefront sensor.
The Gemini Planet Imager (GPI), Gemini's next-generation instrument for characterizing new worlds, has seen a frenzy of activity over the past month.
In late July the instrument's cryogenics were warmed up, the instrument's primary components parsed into shippable pieces (Figure 1), and seemingly overnight the instrument arrived at Gemini South (Figure 2). "For the past 2.5 years GPI has called the labs at the University of California Santa Cruz home," said Stephen Goodsell, who manages the project for Gemini. "Now, the fun begins as GPI arrives home and, before the end of this year, gets mounted on the back of the Gemini South telescope and collects light, from real planets!"
However, before that can happen the instrument needs to be fully tested and integrated on the Gemini South telescope in Chile.
Currently, the instrument is fully assembled in the Gemini South instrument lab on Cerro Pachón in Chile (Figure 3). According to the team, since arriving in at Gemini South, GPI milestones include:
Unpacking and reattachment of the instrument and electronic enclosures;
Cables reconnected between components;
Relocation to clean-room for cleaning and inspection;
All services (supply lines) attached and electronics powered.
Now, testing and integration begins, and the team reports that the instrument's computers are operational, software integration is underway, and most mechanisms have been tested, including the deformable mirrors. Of note, the Integral Field Spectrograph is currently under vacuum and is cooling, as this web-feature is published, the team expects to reach its operating temperature by the 13th September.
Between now and November GPI will undergo extremely thorough testing at the Gemini South instrument lab and is scheduled to be mounted on the telescope in late November. On-sky testing will then commence leading to early science observations with the instrument during the first half of 2014. These first science observations are to be selected through an open call to the community during the 2014A semester.
Congratulations to the entire GPI team shown in Figure 4.