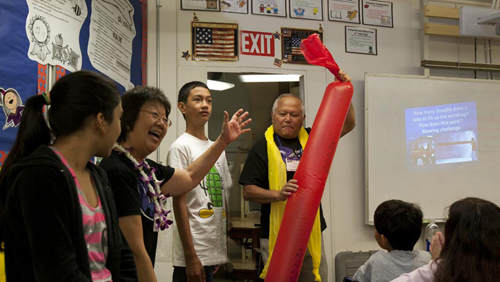 Figure 1. Art and Rene Kimura explore the dynamics of air with students as part of their Journey classroom presentation.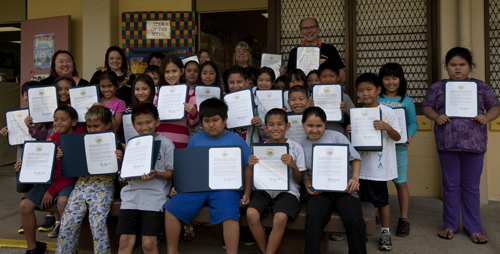 Figure 2. Gemini/NSF's Scott Fisher (back, tallest!) display individual proclamations from Hawaii's Governor Neil Abercrombie for Journey Through the Universe.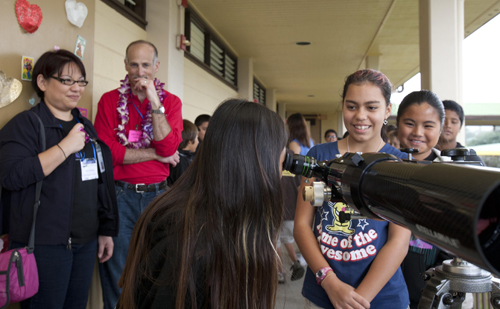 Figure 3. Doug Arion, designer of the GalileoScope (red shirt) looks on as students observe through a telescope as part of his classroom presentation for Journey Through the Universe.
Figure 4. NSF/Gemini's Scott Fisher (right) helps students select images from an assortment of Gemini images provided to the class as part of the Journey Through the Universe week of classroom presentations.
"All it takes is a spark at a young age to ignite the desire to reach for the stars…" Roberta Chu, Senior Vice President, Bank of Hawai'i
For community leaders like Roberta Chu, Gemini's eighth annual Journey Through the Universe program is inspirational. Chu, who served as a community ambassador, helping scientists and engineers visiting local Hilo classrooms, adds, "…it's inspiring to see our students instilled with the possibility of someday being a part of the world-class science taking place on Mauna Kea."
With almost 400 classroom visits, 8,000 students impacted, sold-out public events, educator workshops, and visiting educators and scientists from around the United States and the world, the 2012 version of Journey Through the Universe ("Journey") has, "taken on a life of its own," says Janice Harvey, Gemini's local outreach team leader for the program. In addition to the numerous distinguished guests and lecturers at Journey 2012, Jeff Goldstein, Journey's visionary who started the national program over a decade ago, participated in the activities by lecturing, leading a conference for local teachers in STEM (science, technology, engineering and mathematics) education. Jeff also provided inspiration and suggestions for moving the program forward and in new directions during the coming years.
The Hawai'i Journey program, currently in its eighth year, engages the local community at all levels and has become Gemini North's flagship local outreach program. This year, in addition to scientists and educators from all of the local Hawai'i observatories, universities, and the Hawai'i Department of Education, the program attracted many prominent researchers from NASA, universities, and industry.
For several years, Brian Day from NASA's Lunar Science Institute (NLSI) has participated in Journey and shared his enthusiasm with local students. Day emphasized, "We (NLSI) look forward to continuing participation in the Journey with Gemini for years to come. Journey is a unique and outstanding venue to inspire Hawaii's next generation of explorers."
The 2012 "Journey Week" started on March 1st and concludes on March 9th with an intensive week of classroom visits including engaging activities such as telescopic viewing, carbon dioxide mirror cleaning, exploration of classrooms in the infrared, robotic bugs, and even liquid nitrogen ice cream!
To learn more about the 2012 Journey Through the Universe, see the Gemini's Journey webpage and stay tuned for another even more exciting year in 2013!