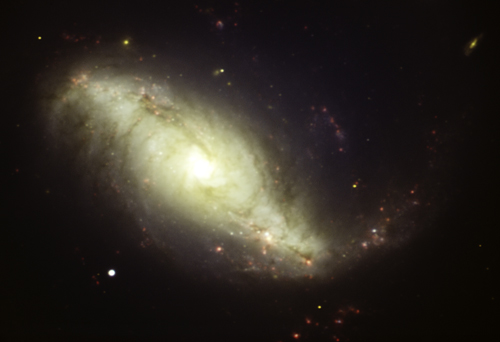 Figure 1. Gemini GMOS image of the barred spiral galaxy NGC 7552. Benjamin Reynolds, a 10th grade student at Sutherland Shire Christian School, suggested this target for Australia's 2011 Gemini School Astronomy Contest and won. The picture consists of separate images taken with different filters: H-alpha (red), g (blue), r (green), and i (yellow).
Image credit: Benjamin Reynolds (Sutherland Shire Christian School), Travis Rector (University of Alaska, Anchorage), and the Australian Gemini Office.

High resolution TIFF (66MB)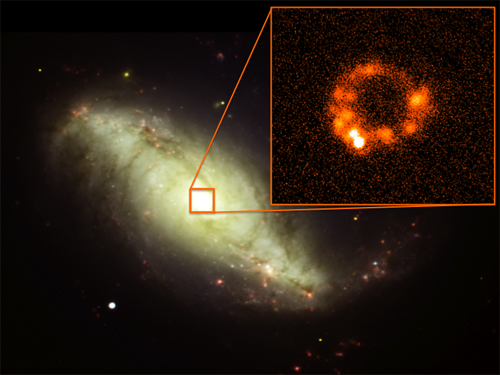 Figure 2. The contest image, with an inset of a mid-infrared image of the center of NGC 7552 taken by T-ReCS with the Qa filter at 18.3 microns. The mid-infrared image shows a ring of dust clouds, heated by the stars that formed within the clouds some 50 million years ago.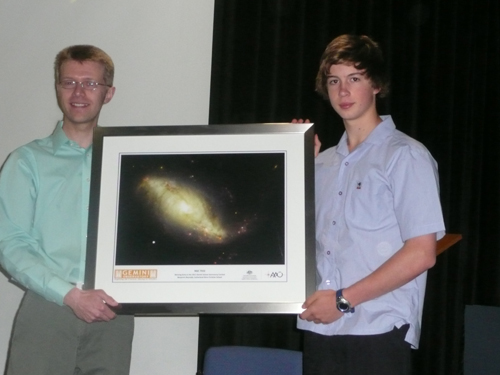 Figure 3. Benjamin Reynolds (right) receives a framed copy of his contest-winning image from Christopher Onken (Australian Gemini Office).
November 16, 2011
When Australian student Benjamin Reynolds was named winner of the 2011 Australian Gemini School Astronomy Contest for his proposed observations of the galaxy NGC 7552, he said it took him a step closer to the stars. "I have always dreamed of being an astronaut," said Ben, after receiving the applause of his classmates.
An urge to explore the stars comes naturally to Ben. As a child, he went to science days run by CSIRO, Australia's national research organization. In 2010, he went to NASA's Kennedy Space Center and experienced the second-to-last launch of the space shuttle Atlantis. Not long after that, Ben participated in a work experience program at Mount Stromlo Observatory near Canberra, Australia.
"One of the staff members advised me to enter [the Gemini competition]," Ben said. "It would give me an idea of what a telescope proposal is like."
Entries were received from all over Australia and according to Dr. Terry Bridges of Queens University, and chair of the judging panel for the contest, Ben's was considered the best. "We were impressed with the research that Ben had done and the scientific arguments that he made," he said.
Ben's proposal was slotted into an observation run using an hour of observing time donated by the Australian astronomical community on the Gemini South telescope, outfitted with the Gemini Multi-Object Spectrograph.
The resulting image was composed by Travis Rector (University of Alaska Anchorage). It brings out the contrast in the galaxy's dark dust lanes by combining separate images taken across the visible spectrum, from blue to red.
Contest coordinator Dr. Christopher Onken (Deputy Australian Gemini Scientist) presented the image of NGC 7552 during a special celebration at Ben's school, Sutherland Shire Christian School. After giving an overview of the contest, Gemini Observatory's work, and discussing what the new Gemini South image showed, he handed the framed picture to Ben, to further applause.
"I took questions for ten or fifteen minutes, on a variety of topics," Dr. Onken said. "The questions were excellent and revealed how knowledgeable the students were on everything from black holes to the expansion of the universe."
As part of his prize, Ben's class took part in a "Live from Gemini" videolink with Gemini's Peter Michaud to discuss the image and what it shows. The contest runners-up also got their own sessions.
This is the third year the Australian Gemini School Astronomy contest has been run. It provides a good experience for students as they select target objects and explain why they would make great subjects for Gemini imaging. Each proposal is assessed on both scientific and aesthetic criteria. Previous winners have targeted a pair of colliding galaxies and the intricate structure of a planetary nebula.
Australia receives about 6% of Gemini's observing time, which is administered by the Australian Gemini Office (AusGO), the sponsor for the Gemini imaging contest.
The GEMMA Podcast
A podcast about Gemini Observatory and its role in the Era of Multi-Messenger Astronomy. Featuring news related to multi-messenger astronomy (MMA), time-domain astronomy (TDA), our visiting instrument program, and more through interviews with astronomers, engineers, and staff both here at Gemini (North and South) and abroad.