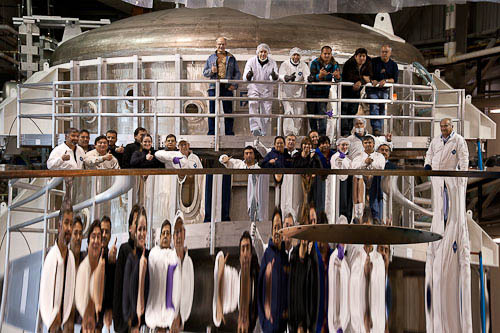 Full Resolution JPG | 12.8 MB
From top to bottom, left to right, the names of the Gemini South Mirror coating team.
De arriba hacia abajo y de izquierda a derecha, los nombres del equipo de recubrimiento del Espejo de Gemini Sur. 
On the catwalk/Sobre la plataforma:
Chas Cavedoni, Lead Mechanical Engineer/Ingeniero Mecánico Líder
Tomislav Vucina, Optics Engineer/Ingeniero Óptico
Claudio Araya, Optical Technician/Técnico Óptico
Rody Kawaihae, Mechanical Technician Helper/Técnico Ayudante Mecánico
Eduardo Tapia, Instrumentation Technician/Técnico de Instrumentación
John White, Senior Instrumentation Engineer/Ingeniero de Instrumentación Senior
Below/Abajo:
Carlos Figueroa, Mechanical Technician/Técnico Mecánico
Harlan Uehara, Senior Mechanical Technician/Técnico Mecánico Senior
Gustavo Alarcón, Electrical Technician/Técnico Eléctrico
Alejandro Gutierrez, Senior Electronics Technician/Técnico Electrónico Senior
Rolando Rogers, Electronics & Instrumentation Group Manager/Gerente del grupo Electrónico e Instrumentación
Vanesa Montes, Electronics Engineer/Ingeniero Eletrónico
Hernán Solis, Senior Instrumentation Technician/Técnico de Instrumentación Senior
Paul Collins, Electrician Supervisor/Supervisor Eléctrico
Laridan Jeria, Mechanical Technician/Técnico Mecánico
Adrienne Notley, Administrative Specialist, Engineering Support/Especialista Administrativo, Soporte de Ingeniería
Gabriel Pérez, Senior Mechanical Group Leader/Líder Senior del Grupo Mecánico
Sofia Páez, Administrative Assistant/Asistente Administrativo
Brian Walls, Systems Engineer/Ingeniero de Sistemas
Gustavo Arriagada, Associate Director of Engineering/Chief Engineer/Director Asociado de Ingeniería/Jefe de Ingeniría
Joy Pollard, PIO Special Projects Assistant/Asistente de Proyectos Especiales de RRPP
Maxime Boccas, Optical Group Leader/Líder del Grupo Óptico
Héctor Figueroa, Mechanical Technician/Técnico Mecánico
Mario González, Aura Safety Chief/Jefe de Seguridad AURA
Diego Maltés, CP Site Manager/Gerente de Sitio CP
The GEMMA Podcast
A podcast about Gemini Observatory and its role in the Era of Multi-Messenger Astronomy. Featuring news related to multi-messenger astronomy (MMA), time-domain astronomy (TDA), our visiting instrument program, and more through interviews with astronomers, engineers, and staff both here at Gemini (North and South) and abroad.