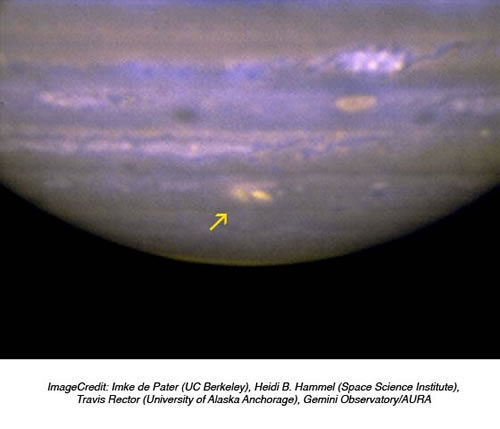 This mid-infrared composite image was obtained with the Gemini North telescope on Mauna Kea, Hawai'i, on 22 July at ~13:30 UT with the MICHELLE mid-infrared spectrograph/imager. The impact site is the bright yellow spot at the center bottom of Jupiter's disk. The image was constructed from two images: one at 8.7 micron (blue) and one at 9.7 micron (yellow). The excellent quality of the Gemini images reveals that the morphology of this new impact bears a striking resemblance to that of the larger impact sites seen after the comet Shoemaker-Levy 9 crashed into Jupiter in 1994.
Full Resolution TIFF | 1.1MB
Full Resolution JPEG | 55k
Julio 23, 2009
Contactos
Prensa:
Ma. Antonieta Garcia
Observatorio Gemini, La Serena, Chile
agarcia@gemini.edu
(56) 51- 205628 (oficina)
(56) 99182858 (Celular)
Cientifico:
Fredrik Rantakyro
Astronomo
Observatorio Gemini, La Serena, Chile
frantaky@gemini.edu
(56) 51- 205600
Jupiter está exhibiendo una brillante cicatriz luego de haber sido golpeado por un pequeño objeto del sistema solar, según informaron astrónomos del Observatorio Gemini, quienes tanto en Mauna Kea, Hawai'i, como en Cerro Pachón, Chile captaron imágenes impactantes del Nuevo escenario.
Con la espectacular resolución angular de los telescopios de Gemini, los instrumentos MICHELLE en Mauna Kea y T-ReCs en Cerro Pachon, ambos especialmente diseñados para observar en el mediano infrarrojo, lograron obtener los datos que muestran el sitio de impacto con increible detalle.
"Desde Gemini Norte recibimos la solicitud para hacer observaciones en el infrarojo cercano el día 22 de Julio. Rápidamente coordinamos el trabajo con todas las áreas del observatorio y comenzamos a observar anoche (23 de Julio)", señaló la Jefa de Ciencias de Gemini Sur Dra. Bernadette Rodgers.
"Los próximos días seran de arduo trabajo, ya que seguiremos la evolución del fenómeno para recoger la mayor cantidad de datos posibles para la investigación científica posterior." agregó.
Al momento que T-ReCs captó la imagenes desde Chile, los cientificos Ariel Lopez y German Gimeno se encontraban observando a 2700 metros de altura, mientras en las oficinas centrales observaban la jefe de ciencias, Dra. Bernadette Rodgers, junto a otros miembros del staff cientifico.
"El impacto de este cuerpo en Jupiter provocó que el material gaseoso del interior del planeta saliera expulsado a las capas superiores de la atmósfera. Por ese motivo este impacto es tan importante para nosotros, ya que nos permite conocer la composición interna del gigante gaseoso", concluyó Rodgers, explicando que este fue un evento muy similar al impacto del cometa Shoemaker-Levy 9, pero en este caso se desconoce absolutamente su posible resultado.