October 9, 2004

Credit: Gemini Observatory Image/Travis Rector, University of Alaska Anchorage
Stephan's Quintet as imaged by the Gemini Observatory using the Multi-Object Spectrograph on Gemini North. The interacting members of the cluster are almost 300 million light years away. The galaxy NGC 7320 (top–center) is thought by most astronomers to be in the foreground (about 8 times closer) and is distinguished in this image by multiple red blobs indicating hydrogen clouds where stars are forming. Orientation: North–bottom, East–right.
A stunning image released today by the Gemini Observatory captures the graceful interactions of a galactic ballet, on a stage some 300 million light years away, that might better be described as a contortionist's dance.
The galaxies, members of a famous troupe called Stephan's Quintet, are literally tearing each other apart. Their shapes are warped by gravitational interactions occurring over millions of years. Sweeping arches of gas and dust trace the interactions and possible ghost-like passage of the galaxies through one another. The ongoing dance deformed their structures while spawning a prolific fireworks display of star formation fueled by clouds of hydrogen gas that were shocked into clumps to form stellar nurseries.
This unprecedented image of the cluster provides a unique combination of sensitivity, high resolution and field of view. "It doesn't take long to reach an incredible depth when you have an 8-meter mirror collecting light under excellent conditions," said Travis Rector of the University of Alaska, Anchorage who helped obtain the data with the Gemini North Telescope on Mauna Kea. "We were able to capture these galaxies at many different wavelengths or colors. This allowed us to bring out some remarkable details in the final color image that have never been seen before in one view."
One striking element of the image is a collection of vibrant red clumps that mark star-forming regions within a galaxy called NGC 7320. Although its relation to the other galaxies in the cluster has been the subject of some controversy, most astronomers now think that the galaxy leads a relatively tranquil existence in the foreground, safely isolated from the violent quarrels of the more distant cluster.

Spectroscopic data show that NGC 7320 has an apparent velocity away from us of about 800 kilometers per second. In contrast, the rest of the group is being carried away from us by the expansion of the universe at over 6,000 kilometers per second. Using current models for the expanding universe, this would put the bulk of the cluster almost 8 times farther away from us than NGC 7320.
The vivid red patches scattered across the spiral arms of NGC 7320 in the new Gemini image provide a dramatic illustration of how these differing apparent velocities can impact our view. NGC 7320 and the other cluster galaxies have regions of intense star formation indicated by glowing clouds of hydrogen gas called HII regions. These areas appear distinctly red because a selective filter was used which only passes a special color of red light, called hydrogen alpha, that is produced in the HII regions. In the higher-velocity members of the cluster, prominent HII clumps dominate around the two closely interacting central galaxies but they do not appear red in the image. In these galaxies, the HII glow was Doppler-shifted beyond the range of the selective filter, and was therefore not detected.

The interacting members of Stephan's Quintet appear destined to continue their dance for millions more years. Eventually, this dance will probably cause some of the galaxies in the cluster to completely lose their current identity, combining into even fewer objects than we see today.
Stephan's Quintet was discovered in 1877 by the French astronomer Edouard Stephan using the Foucault 80-centimeter reflector at the Marseilles Observatory. The cluster is listed in the Hickson Compact Group Catalog as number 92. It has been studied extensively at all wavelengths including imaging by the Hubble Space Telescope. Recent observations of star cluster formation near Stephan's Quintet with Gemini can be found here.
Full resolution images and additional technical details can be found on page 2 of this release.
Full Resolution Images and Image Data
Gemini Observatory Image/Travis Rector, University of Alaska Anchorage

HGC 92 Full Resolution TIFF (2007x1680, 6.36MB) | Medium Resolution JPEG (1200x1004, 458k)

Read the Gemini Image Usage Policy before downloading images

Stephan's Quintet as imaged by the Gemini Observatory using the Multi-Object Spectrograph on Gemini North. The interacting members of the cluster are almost 300 million light years away. The galaxy NGC 7320 (top–center) is thought by most astronomers to be in the foreground (about 8 times closer) and is distinguished in this image by multiple red blobs indicating hydrogen clouds where stars are forming. Orientation: North–bottom, East–right.
Image Data: HGC 92
| | | | | |
| --- | --- | --- | --- | --- |
| Filter | Wavelength Range | Assigned Color | Exposure | Seeing-FWHM |
| g' | 398-552 nm | Blue | 3x120sec | 0.72 |
| r' | 706-850 nm | Green | 3x120sec | 0.69 |
| i' | 562-698 nm | Yellow | 3x120sec | 0.6 |
| H-alpha | 654.2-661.1 nm | Red | 3x300sec | 0.65 |
Imágenes del Observatorio Gemini muestran reveladores detalles
Esta impactante imagen emitida hoy por el Observatorio Gemini, logra capturar las graciosas interacciones de un ballet galáctico en un escenario lejano, ubicado aproximadamente a unos 300 millones de años luz, que puede ser descrito como un baile galáctico de contorsiones.
Las galaxias, miembros de un grupo conocido como los Quintentos de Stephan, están literalmente interactuando unas con otras. Sus formas están desiguales debido a las interacciones gravitatorias que ocurrieron hace más de un millón de años.

Debido a la presencia de arcos de gas y polvo, que son reflejo de las interacciones podemos deducir las formas originales de las galaxias , una a través de la otra. Este baile galáctico, deformó las estructuras causando a su vez una formación estelar similar a un gran espectáculo de fuegos artificiales, los cuales se encienden gracias a las nubes de hidrógeno donde se formarán a su vez pequeños semilleros de estrellas.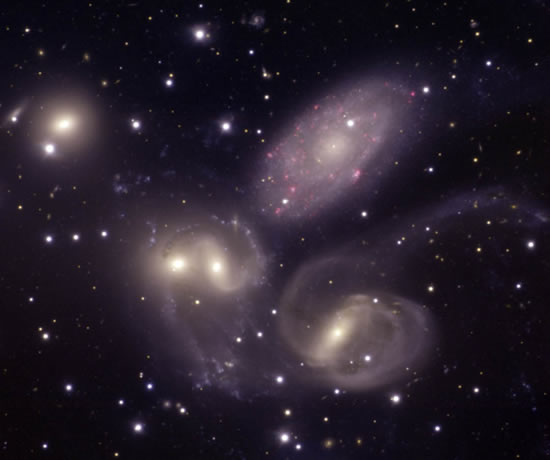 Esta imagen sin precedente del cúmulo, brinda una combinación única de gran sensibilidad, alta resolución y gran campo de vista. "No toma mucho tiempo alcanzar una imagen con gran profundidad cuando posees un espejo de 8 metros, que recoge luz bajo excelentes condiciones," dijo Travis Rector, profesor de la Universidad de Anchorage, Alaska; quien participó en la obtención de las imágenes con el telescopio Gemini Norte ubicado en Mauna Kea. "Fuimos capaces de capturar las imágenes de estas galaxias en diferentes longitudes de ondas o colores. Esto nos permitió resaltar, en la imagen combinada, detalles impresionantes que uno nunca hubiera podido ver con anterioridad ", agregó T. Rector.

Un elemento que impacta de esta imagen es una colección de conglomerados rojos que marcan regiones de formación estelar dentro de la galaxia NGC 7320. Aunque su relación con las otras galaxias en el cúmulo, ha sido objeto de controversia, la comunidad astrónomica actualmente piensa, que la galaxia vive una existencia relativamente tranquila, aislada con seguridad de las violentas peleas del distante cúmulo.

Los datos obtenidos con espectroscopía muestran que la galaxia NGC 7320 tiene una velocidad relativa de acercamiento de 800 kilómetros por segundo. En contraste, el resto del grupo está siendo alejado por la expansión del universo a más de 6,000 kilómetros por segundo. Utilizando modelos actuales para un universo en expansión, esto pondría al centro del cúmulo de galaxias, a casi 8 veces más distancia de nosotros que de NGC 7320.

Los notorios parches rojos desparramados a lo largo de los brazos espirales de NGC 7320, presentes en la nueva imagen obtenida por Gemini, entregan una impresionante ilustración de cómo estas diferentes velocidades relativas pueden cambiar nuestro punto de vista. La galaxia NGC 7320 y el otro cúmulo de galaxias tienen regiones de intensa formación estelar, la cual está indicada por nubes brillantes de gas de hidrógeno denominadas regiones HII (Hidrógeno ionizado). Estas áreas, aparecen de un rojo más intenso ya que se utilizó un filtro, que permite que sólo pase una longitud de onda definida, llamada hidrógeno alfa. En los miembros de más alta velocidad del cúmulo, los conglomerados prominentes de regiones HII dominan los alrededores de las dos galaxias centrales, las cuales no aparecen en rojo en esta imagen; debido a que en estas galaxias, el brillo rojizo de HII sufre un corrimiento Doppler, más allá del rango de selección del filtro y por ello no es detectado.

Los miembros interactivos del Quinteto de Stephan parecieran destinados a continuar su baile por unos millones de años más. Eventualmente, esta danza causará que algunas de las galaxias en el cúmulo pierdan completamente su fisonomía actual, conviertiéndose en objetos incluso más pequeños de lo que vemos hoy.

El Quinteto de Stephan fue descubierto en 1877 por el astrónomo francés Edouard Stephan usando un reflector Foucault de 80-centímetros en el Observatorio de Marsella. El cúmulo aparece publicado en el Catálogo de Grupo Compacto Hickson bajo el número 92. Ha sido estudiado extensamente en todas las longitudes de onda, entre otras, la obtención de imágenes con el Telescopio Espacial Hubble. Observaciones recientes de formación de cúmulos estelares cercanos al Quinteto de Stephan se pueden encontrar aquí.

Imágenes en alta resolución y detalles técnicos adicionales pueden encontrarse en la página 2 de este comunicado.