Quasars are the most brilliant of cosmic fireworks, shining out across billions of light-years of space. However, a recent study done at Gemini Observatory shows that they appear to blaze forth from humdrum galaxies in the early universe, and surprisingly, not from the giant or disrupted ones astronomers expected.
En Español - Versión adaptada en Chile

According to an international team of astronomers that studied an assortment of these luminous objects near the edge of the observable universe, these pedestrian galactic surroundings came as a shock. "It's like finding a Formula One racing car in a suburban garage," said Dr Scott Croom of the Anglo-Australian Observatory in Australia who led the study. "These observations should really have been like using a magnifying glass to find an elephant. Instead, the host galaxies turned out to be more like little mice, despite their brilliant roar!" said team member Dr. Tom Shanks, of the University of Durham (UK).
The quasars were imaged using adaptive optics technology on the Frederick C. Gillett Gemini North Telescope at Mauna Kea, Hawai'i. Dr. David Schade of the National Research Council Canada presented the observations at the first Gemini Science Conference in Vancouver, Canada on May 25th.
Astronomers think that quasars are located in the central cores of galaxies where matter falling onto a supermassive black hole releases a blinding torrent of radiation. These powerhouses flourished when the universe was between a tenth and a third of its present age.
"This finding is particularly exciting because it means that we may need to re-think our models of how quasars work. This isn't the first time quasars have done this to us, it seems that quasars like to keep us guessing!" said Dr. Schade.
Many astronomers expected that a quasar's host galaxy would be large and massive, and might show signs of having collided with another galaxy—violence that could spark a quasar into brilliance. The team's finding will undoubtedly add fuel to the debate regarding how galaxies and black holes form and grow.
The team's aim was to obtain some of the first-ever detailed infrared views of the host galaxies—nine in all—each about 10 billion light-years away. "We'd hoped their sizes and shapes might give clues as to what triggered quasar activity," said Dr Croom. Instead, the team found that all but one of the galaxies were too faint or small to detect, even though Gemini's sensitivity and resolution were exceptionally high. The one convincing detection was remarkably unremarkable, similar in brightness and size to the Milky Way galaxy.
Astronomers have used other telescopes on the ground and in space to look for very distant quasar host galaxies, but the results have been inconclusive. "For this study, the Gemini telescope was able to produce an image sharpness that is usually only possible by using the Hubble Space Telescope," said Dr. Shanks. "But Gemini's larger mirror can collect 10 times more light to study faint objects." The image detail was achieved with adaptive optics to remove distortions to starlight caused by atmospheric turbulence. This combination gives astronomers a powerful capability to produce some of the sharpest infrared images ever obtained of very faint objects in the early universe.
The adaptive optics system used on Gemini was called Hokupa'a-36 combined with a near-infrared imager called QUIRC both developed at the University of Hawaii's Institute for Astronomy.
One of the difficulties inherent in this study was to find quasars close to the relatively bright guide stars necessary to use adaptive optics technology. To find the necessary sample size, the team drew on a database of more than 20,000 quasars gathered with the Anglo-Australian Telescope between 1997 and 2002. This work represents the largest quasar survey to date and, " It's the only one in which we could hope to find a decent sample of quasars to meet our requirements," said Dr. Croom.
This work was published in The Astrophysical Journal 606 (2004) 126-138
And is also available at: Astro-ph: http://xxx.lanl.gov/abs/astro-ph/0401442

Background Information on Quasars
Quasars are a class of objects that are located at great distances from us and thus represent the universe at a relatively young age. They are intrinsically extremely bright (considering their distances from us) and this extreme luminosity has been a challenge to explain. Astronomers think that quasars shine due to intense activity in cores of young galaxies where supermassive black holes fuel these intensely luminous beacons. Today, we see what may be the remnant black holes of this youthful excess at the cores of normal stable galaxies like our Milky Way.
The work at Gemini shows that the galaxies responsible for a quasar's luminosity were not exceptional or even undergoing extraordinary events (like collisions) to produce the excessive radiation. To explain this, astronomers speculate that in the distant history of our universe, black holes grew by swallowing large quantities of cold, dense gas from which stars form. This gas was much more common then than it is now, having mostly been turned into the stars we see today.
Peter Michaud (US Gemini)

Gemini Observatory, Hilo, HI

808/974-2510 (Desk)

808/937-0845 (Cell)

E-mail:

pmichaud@gemini.edu

Helen Sim (Australia)
Anglo-Australian Observatory
+61-2-9372-4251 (Desk)
+61-419-635-905 (Cell)

Julia Maddock (UK)
PPARC
+44 (0) 1793-442094 (Desk)
+44 (0) 7901-514975 (Cell)

Science Contacts:

Dr. Scott Croom (Australia)
Anglo-Australian Observatory, Sydney, Australia
Tel: +61-2- 9372 4846
scroom@aaoepp.aao.GOV.AU

Professor Brian Boyle (Australia)
Director,
CSIRO Australia Telesocope National Facility,
Sydney, Australia
Tel: +61-2-9372-4301
Brian.Boyle@csiro.au

Dr. David Schade (Canada)
Dominion Astrophysical Observatory,
Victoria, Canada
+1-250-363-6904 (Office)
+1-250-216-9970 (at Gemini Science Meeting 5/25/04)
David.Schade@nrc.ca

Professor Tom Shanks (UK)
University of Durham, Durham, UK
Tel: +44-0191-334-3721
Tom.Shanks@durham.ac.uk
Dr. Lance Miller (UK)
University of Oxford, Oxford, UK
Tel: +44-1865-273342
L.Miller@physics.ox.ac.uk
Dr. Robert J. Smith (UK)
Liverpool John Moores
University, Liverpool, UK
Tel: +44-151-2312903
rjs@astro.livjm.ac.uk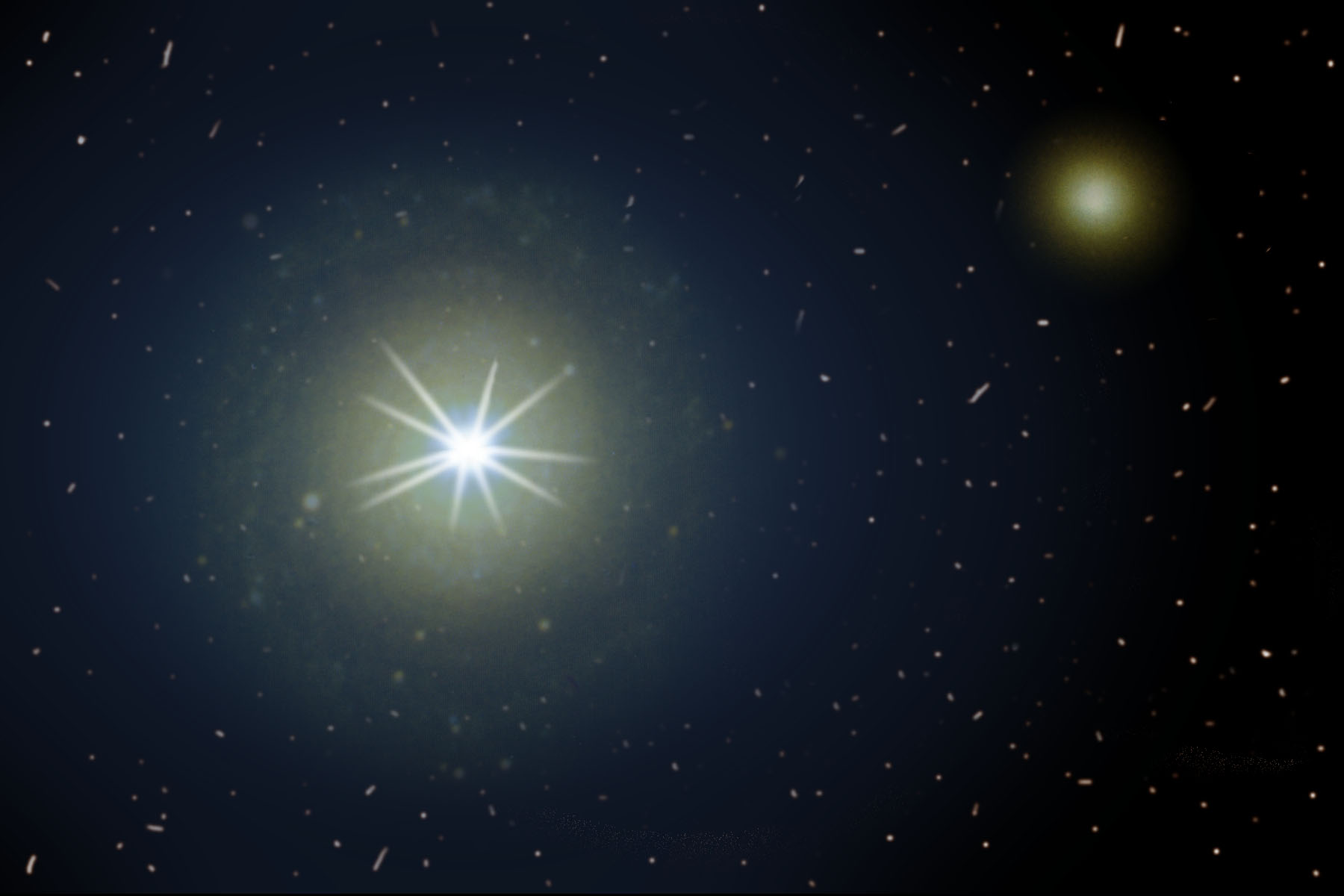 Pinche en las imágenes para obtener la versión de alta resolución.
Contact Information: Media | Science
CENTRAL ELECTRICA CÓSMICA HABITA EN HUMILDES HOGARES GALÁCTICOS
Los cuásares son los fuegos artificiales cósmicos más luminosos, que brillan a través de billones de años luz en el espacio. Sin embargo, un estudio reciente realizado en Gemini muestra que estos parecen proyectar su brillo desde monótonasgalaxias en el universo reciente y no desde galaxias gigantes como los astrónomos esperaban.
De acuerdo a un grupo internacional de astrónomos que estudiaron un grupo de estos objetos luminosos ubicados cerca del límite del universo observable, sus acercamientos pedestres llegaron como un shock. "Es como encontrar un automóvil de carreras Fórmula Uno en un garaje suburbano", afirmó el Dr. Scott Croom del Observatorio Anglo-Australiano quien lideró la investigación. "Estas observaciones deberían realmente haber sido como usar una lupa para encontrar un elefante. En lugar de eso, las galaxias huésped resultaron ser más bien como pequeños ratones, a pesar de su brillante rugido!" dijo el miembro del equipo, Dr. Tom Shanks, de la Universidad de Durham (UK).
Los cuásares fueron captados mediante el uso de la tecnología de Óptica Adaptativa desde el Telescopio de Gemini Norte Frederick C. Gillet en Mauna Kea, Hawai'i. El Dr. David Schade del Consejo Nacional de Investigación de Canadá presentó estas observaciones en la primera Conferencia de la Ciencia de Gemini en Vancouver, Canadá el 25 de mayo.
Los astrónomos piensan que los cuásares están localizados en el núcleo central de las galaxias donde la materia que cae en un agujero negro supermasivo es transformada en un enceguecedor torrente de radiación. Estas "centrales eléctricas" florecieron cuando el universo tenia entre un décimo y un tercio de su edad actual.
"Este descubrimiento es particularmente emocionante porque significa que necesitaremos replantear los modelos de la forma en que funcionan los cuásares. Esta no es la primera vez que los cuásares nos han hecho esto, al parecer ellos disfrutan vernos adivinar!", dijo el Dr. Schade.
Muchos astrónomos esperaban que una galaxia huésped de cuásar fuera enorme y masiva, y que pudiera mostrar señales de haberse compenetrado con otra galaxia –violencia que podría haber encendido la mecha del quásar para que éste brillara-. El descubrimiento del equipo indudablemente enciende el debate respecto a cómo las galaxias y los agujeros negros se forman y desarrollan.
El objetivo del equipo era obtener algunos de las primeras vistas infrarrojas de las galaxias huésped en detalle –nueve en total- cada una a 10 billones de años luz de distancia. "Podríamos haber esperado que sus tamaños y formas pudieran entregar pistas sobre lo que gatilló la actividad del cuásar", señaló el Dr. Croom. En lugar de eso, el equipo descubrió que todas las galaxias excepto una eran muy débiles o pequeñas para ser detectadas, aún cuando la sensibilidad y resolución de Gemini eran extremadamente altas. La detección que los convenció fue destacadamente indestacable; similar en brillo y tamaño a la galaxia Vía Láctea.
Los astrónomos han utilizado otros telescopios de base en Tierra y en el espacio para buscar galaxias huésped de cuásares muy lejanos, pero los resultados han sido inconclusos. "Para este estudio, el telescopio Gemini fue capaz de producir una nitidez de imagen que usualmente sólo es posible utilizando el Telescopio Espacial Hubble", explicó el Dr. Shanks. "Pero el espejo más grande de Gemini puede recolectar 10 veces más luz para estudiar objetos opacos". La detallada imagen fue capturada con una tecnología llamada Óptica Adaptativa para remover las distorsiones de la luz de las estrellas causadas por la turbulencia atmosférica. Esta combinación entrega a los astrónomos una poderosa capacidad para producir algunas de las imágenes infrarrojas más nítidas jamás obtenidas de objetos muy opacos en el universo reciente.
El sistema de Óptica Adaptativa usado en Gemini fue denominado Hokupa'a- 36 , el cual junto a un capturador de imágenes infrarrojas cercanas llamado QUIRC fueron desarrollados en el Instituto de Astronomía de la Universidad de Hawai'i.
Una de las dificultades inherentes a este estudio fue encontrar cuásares cercanos a estrellas guías relativamente brillantes, necesarias para utilizar tecnología de Óptica Adaptativa. Para encontrar el tamaño de prueba necesario, el equipo seleccionó desde una base de datos de más de 20.000 cuásares recolectados con el Telescopio Anglo-Australiano entre 1997 y 2002. Este trabajo representa el estudio de cuásares más extenso que se haya intentado realizar y, "es el único en el cual podríamos esperar encontrar un ejemplo apropiado de cuásar que cumpla nuestros requerimientos", dijo el Dr. Croom.
Este trabajo fue publicado en The Astrophysical Journal 606 (2004) 126-138 y también esta disponible en Astro-ph: http://xxx.lanl.gov/abs/astro-ph/0401442.

Información complementaria sobre los Cuásares

Los cuásares son una clase de objetos localizados a grandes distancias de nosotros y que representan el universo a una edad relativamente temprana. Son intrínsecamente muy brillantes (considerando su distancia con respecto a nosotros) y esta luminosidad extrema ha constituido un desafío de explicar. Los astrónomos piensan que los cuásares brillan debido a la intensa actividad en el centro de galaxias jóvenes donde agujeros negros supermasivos nutren estos farosintensamente luminosos. Hoy, vemos lo que podrían ser los agujeros negros remanentes de este juvenil exceso en el núcleo de las galaxias estables normales como nuestra Vía Láctea.

El trabajo en Gemini muestra que las galaxias responsables por la luminosidad de un cuásar no fueron excepcionales ni estaban viviendo eventos extraordinarios (como colisiones) para producir la excesiva radiación. Para explicar esto, los astrónomos especulan que en una historia lejana de nuestro universo, los agujeros negros crecieron al tragar grandes cantidades de gas frío y denso del cual se forman las estrellas. Este gas era mucho mas común entonces de lo que es ahora, habiéndose transformado la gran mayoría en las estrellas que vemos hoy.
---
Información complementaria sobre el Observatorio Gemini
El Observatorio Internacional Gemini es una colaboración multinacional que ha construido dos telescopios de 8 metros idénticos en Mauna Kea, Hawai`i (Gemini Norte) y Cerro Pachón en Chile (Gemini Sur) que están abiertos para la comunidad mundial de astrónomos. Ambos telescopios incorporan nuevas tecnologías que permiten que espejos grandes y relativamente delgados recojan y enfoquen tanto la radiación óptica como la infrarroja proveniente del espacio.
El Observatorio Gemini es dirigido por la Asociación de Universidades para la Investigación en Astronomía (AURA) bajo un acuerdo de cooperación con la Fundación Nacional de la Ciencia de Estados Unidos (NSF). La NSF también participa como agencia ejecutiva para la asociación internacional.
Las otras agencias de investigación de la asociación de Gemini incluyen: el Consejo de Investigación en Astronomía y Física del Reino Unido (PPARC), el Consejo de Investigación Nacional de Canada (NRC), la Comisión Nacional de Investigación Científica y Tecnológica de Chile (CONICYT), el Consejo de Investigación de Australia (ARC), el Consejo Nacional Argentino de Investigaciones Científicas y Técnicas (CONICET) y el Conselho Nacional de Brasil de Pesquisas Científicas e Tecnológicas (CNPq).
---
Contactos para los medios:

Peter Michaud (US Gemini)

Gemini Observatory, Hilo, HI

808/974-2510 (Desk)

808/937-0845 (Cell)

E-mail:

pmichaud@gemini.edu

Helen Sim (Australia)
Anglo-Australian Observatory
+61-2-9372-4251 (Desk)
+61-419-635-905 (Cell)

Julia Maddock (UK)
PPARC
+44 (0) 1793-442094 (Desk)
+44 (0) 7901-514975 (Cell)

Contactos científicos:

Dr. Scott Croom (Australia)
Anglo-Australian Observatory, Sydney, Australia
Tel: +61-2- 9372 4846
scroom@aaoepp.aao.GOV.AU

Professor Brian Boyle (Australia)
Director,
CSIRO Australia Telesocope National Facility,
Sydney, Australia
Tel: +61-2-9372-4301
Brian.Boyle@csiro.au

Dr. David Schade (Canada)
Dominion Astrophysical Observatory,
Victoria, Canada
+1-250-363-6904 (Office)
+1-250-216-9970 (at Gemini Science Meeting 5/25/04)
David.Schade@nrc.ca

Professor Tom Shanks (UK)
University of Durham, Durham, UK
Tel: +44-0191-334-3721
Tom.Shanks@durham.ac.uk
Dr. Lance Miller (UK)
University of Oxford, Oxford, UK
Tel: +44-1865-273342
L.Miller@physics.ox.ac.uk
Dr. Robert J. Smith (UK)
Liverpool John Moores
University, Liverpool, UK
Tel: +44-151-2312903
rjs@astro.livjm.ac.uk