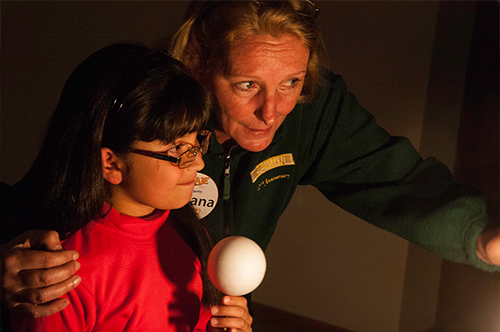 Viviana Bianchi, a Gemini South volunteer from Argentina, captures the attention of a young student from St. Mary's school in La Serena by sharing an activity on the phases of the Moon.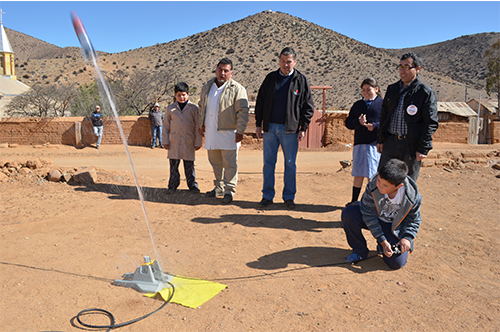 A student and school principal from the town of Almirante Latorre enjoy the excitement of their first rocket launching.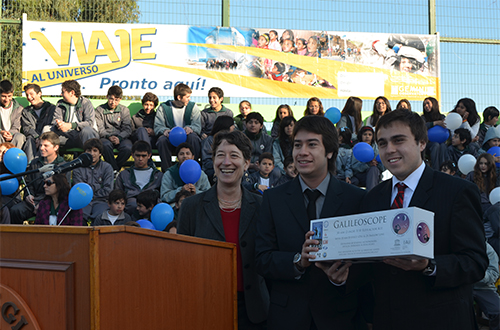 Gemini Deputy Director Dr. Nancy Levenson awards a Galileoscope to the Astronomy Club of San Joaquin School during the opening events of Viaje al Universo last week.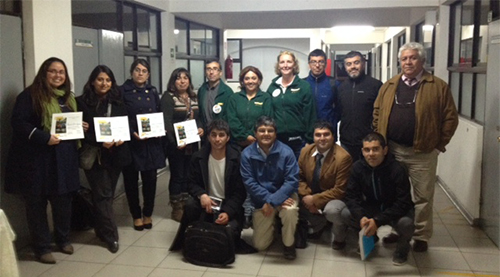 A dozen teachers from the region of Coquimbo use "Salsa J" a free, student-friendly software package developed specifically for the Hands-On Universe, Europe project. In this workshop (lead by Chilean representative teacher for the Galileo Teacher Training network, Jorge Muñoz Rojas) participants analyzed moon craters on lunar photographs.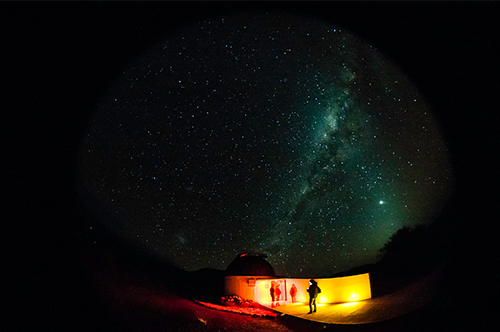 A stunning view of the Milky Way over the Cruz del Sur Observatory in Combarbalá which was a perfect setting for several of Gemini's Viaje al Universo 2013 programs.
Gemini's flagship local outreach program in Chile, Viaje al Universo, blasted off early last week when Gemini South's Nancy Levenson addressed nearly 800 students at Colegio San Joaquin. The celebration set into motion a week of fun and educational activities for students, teachers and families from across the region of Coquimbo (including the communities of La Serena, Coquimbo and Combarbalá).
During the week many hands-on activities engaged students of all ages, from pre-school to senior citizens, with talks on astronomical research done at Gemini and other Chilean observatories, teacher workshops, rocket building and launching, classroom activities and much more.
Participants, from students to local community leaders joined in the fun as Gemini's portable StarLab planetarium wowed audiences with programs on the beautiful dark Chilean skies. Local Almirante Latorre student Alondra Torres had never been inside a portable planetarium before and described it for a national TV station like this, "This experience is like no other – ever!"
Also participating was Pedro Castillo, the Mayor from Combarbalá who reflected on the impact of astronomy on the economy and the future of Chilean students, "For the people in Combarbalá, astronomy means not only the study of this amazing science but a means of development." He continued by commenting on how the Cruz del Sur Observatory (a public facility, devoted to education and tourism) offers new perspectives for students on careers and horizons that were previously not possible.
The weeklong Viaje al Universo program is led by Gemini Public Information and Outreach staff each year and includes partnerships and support by the following organizations and institutions:
City Hall of La Serena;
City Hall of Combarbalá;
University of La Serena (Physics and Astronomy Faculty and Outreach Center);
Cerro Tololo Interamerican Observatory;
Las Campanas Observatory;
Cruz del Sur Public Observatory;
Tourism Department of the City Hall of La Serena.