In this release:
A "Shockingly Bright" Gamma-ray Burst
A Gap in a Pre-Transitional Disk
FLAMINGOS-2 Commissioning Update
Welcome New Users' Committee Members
AstroDay Hawai'i
A "Shockingly Bright" Gamma-ray Burst
Antonino Cucchiara (University of California Observatories), Dan Perley (California Institute of Technology), and collaborators used GMOS on Gemini North to obtain a spectrum of a gamma-ray burst that had been detected with the Fermi and Swift spacecraft the night of April 26-27. This type of rapid target of opportunity observation is a normal part of Gemini operations, in this case getting the spectrum within 90 minutes of the discovery. The unusual aspect is the result: an extremely bright gamma-ray burst, described in a NASA press release as "shockingly bright." The brightness has a simple explanation – the host galaxy is relatively nearby, at a redshift of 0.34. Now, the team continues to wait for the GRB afterglow to fade, with more Gemini observations planned to look for a supernova progenitor. The spectrum and a GMOS acquisition image are shown in the Gemini web feature, and reported in: http://gcn.gsfc.nasa.gov/gcn3/14455.gcn3.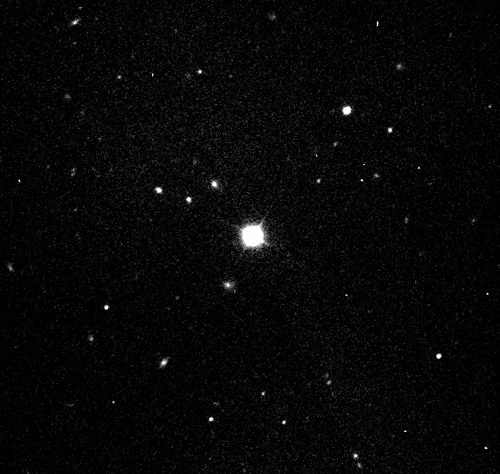 A Gap in a Pre-Transitional Disk
Planets in the disks around young stars may carve gaps or dynamically affect the disks. These so-called transitional and pre-transitional disks are therefore interesting as important stages in the development of planets. An international team led by Stefan Kraus (Harvard -Smithsonian Center for Astrophysics) has used multiple telescopes, including Gemini South, to resolve the disk around V1247 Orionis on physical scales of astronomical units, finding asymmetries and unambiguous evidence for a gap in the disk. The observations included an uncommon use of T-ReCS for mid-infrared imaging, using short exposures and interferometric analysis techniques, which show the disk asymmetry. The complete paper is published in The Astrophysical Journal.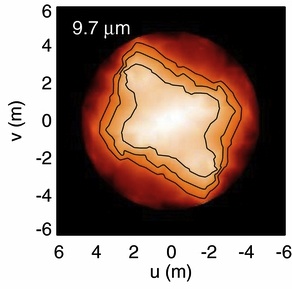 The two-dimensional power spectrum of V1247 Orionis provides evidence of an asymmetric disk.
FLAMINGOS-2 Commissioning Update
FLAMINGOS-2 was back on the sky at the end of April. Despite the poor seeing ("bad to very bad" according to Percy Gomez, instrument scientist) some commissioning tasks were completed, including throughput measurements and basic longslit spectroscopy of point sources and extended objects through three slits. The MOS wheel mechanism presented problems. This fault is currently being investigated, to identify the underlying cause and provide a robust solution. A second significant issue during the run was the misalignment of the gate valve baffle, which is also being adjusted now. The Status and Availability page provides more details.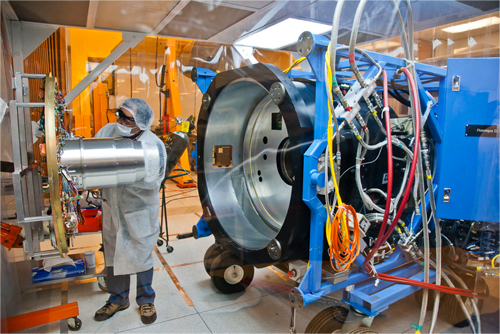 Welcome New Users' Committee Members
The Users' Committee for Gemini (UCG) has been expanded. New members are: Mark Ammons (Lawrence Livermore National Laboratory), Pauline Barmby (University of Western Ontario), Mansi Kasliwal (Carnegie Institution), Bo Reipurth (University of Hawai'i). The next regular meeting will be in August. All users are encouraged to communicate your needs to the UCG members. The full membership and their contact information is posted.
AstroDay Hawai'i
On May 4th, many Gemini scientists, engineers, support, and outreach staff joined in the educational festivities of AstroDay Hawai'I 2013. During the day-long event, thousands of learners of all ages visited the Gemini display and chatted with Gemini staff, grabbed images, participated in "Astro-crafts," and explored the night sky in a digital planetarium provided as a partnership with the 'Imiloa Astronomy Education Center. For more details, see the Gemini Facebook page where you will also find a video excerpt from the Big Bang(s) that ended the event!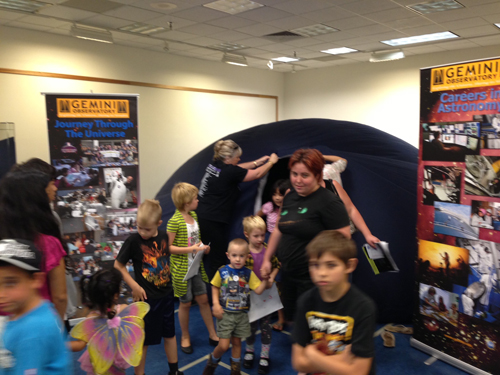 Gemini's Janice Harvey helps participants exit from the Digitalis digital planetarium where programs were presented by Gemini staff throughout the day at AstroDay Hawai'i 2013.