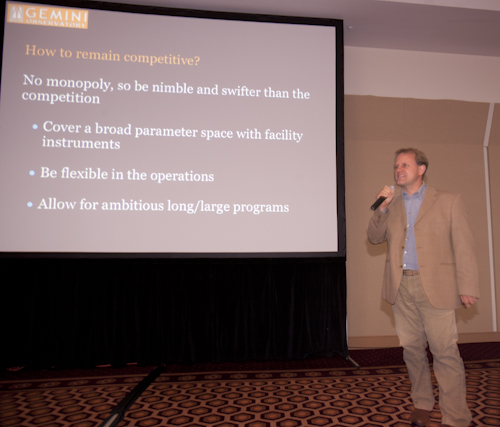 Gemini's new Director, Markus Kissler-Patig during his opening remarks at the recent Gemini Science Meeting in San Francisco.
Today, Dr. Markus Kissler-Patig begins his tenure as the Gemini Observatory Director. This marks an important event for the Observatory and comes at a time when we are poised to deliver an exciting new suite of scientific capabilities to the community. I am confident that Markus will bring the necessary leadership, vision and innovative ideas to meet the challenges the observatory faces. I welcome Markus and look forward to implementing some of the innovative ideas he has for Gemini. I know the Observatory staff will give him their full support. I also thank Nancy Levenson for her strong leadership over the past several months as Interim Director.
William S. Smith,
AURA President
Hoy, el Dr. Markus Kissler-Patig comienza su cargo como Director del Observatorio Gemini. Esto marca un importante acontecimiento para el Observatorio, y llega en un momento en que estamos preparados para ofrecer un emocionante y nuevo conjunto de capacidades científicas a la comunidad. Estoy seguro de que Markus traerá el liderazgo, visión e innovadoras ideas necesarias para afrontar los desafíos por los que pasa el Observatorio. Le doy la bienvenida a Markus y espero la implementación de algunas de las innovadores ideas que él tiene para Gemini. Sé que el personal del Observatorio le brindará todo su apoyo. También le agradezco a Nancy por su fuerte liderazgo durante los últimos meses como Directora Interina.
William S. Smith,
AURA President
The GEMMA Podcast
A podcast about Gemini Observatory and its role in the Era of Multi-Messenger Astronomy. Featuring news related to multi-messenger astronomy (MMA), time-domain astronomy (TDA), our visiting instrument program, and more through interviews with astronomers, engineers, and staff both here at Gemini (North and South) and abroad.