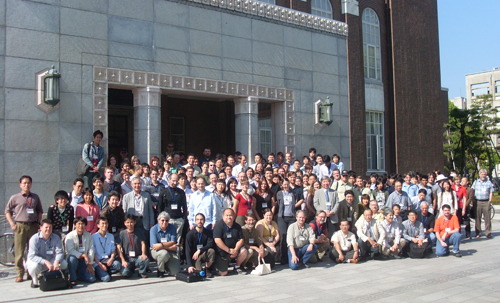 Participants in Gemini's previous science meeting held in Kyoto Japan in 2009.
See the press release for this meeting issued on April 24, 2012.
The Gemini Science Meeting, a forum for users of the Gemini telescopes, is scheduled for July 17-20, 2012 in San Francisco California. Registration and abstract submission are currently available online at:
In addition, this url has all of the relevant details on this meeting for anyone planning to participate. The deadline for abstracts is April 27th and registration, June 8th.
This meeting offers many opportunities for users (and potential users) of Gemini to provide input on future directions of the observatory – in order to better serve our user communities. This includes sessions on the future of high-resolution optical spectroscopy at Gemini and an opportunity for community participation in the long-range planning process for the observatory. Gemini's new director, Markus Kissler-Patig will be attending and actively soliciting user input as he sets the course for Gemini's future.
We look forward to seeing you in the city by the bay in July!
The GEMMA Podcast
A podcast about Gemini Observatory and its role in the Era of Multi-Messenger Astronomy. Featuring news related to multi-messenger astronomy (MMA), time-domain astronomy (TDA), our visiting instrument program, and more through interviews with astronomers, engineers, and staff both here at Gemini (North and South) and abroad.