Gemini e-Newscast #53
by xzhangIn this release:
On-sky Engineering and Integration for GPI
Save the Date: Gemini Open House on Tuesday, January 7, 2014
Opening for Head of Science Operations at Gemini South



On-sky Engineering and Integration for GPI

The Gemini Planet Imager (GPI) has reached another major milestone with the start of integration on the Gemini South telescope. GPI received its first starlight for engineering tests on the night of November 11-12. Since then, adaptive optics loops have been closed and starlight passed to the science instrument, the integral field spectrograph. Completion of this current on-sky run will leave the instrument ready to progress to the commissioning stage, scheduled to begin in December. See the latest Gemini webfeature for more information.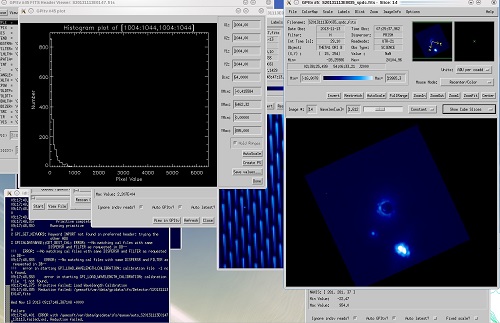 Image of a GPI control screen capture showing the test-star Theta 1 Orionis B1 (blocked by the coronagraph), with cluster members B2, B3, and B4 also visible in the field (lower right blue image). Ultimate scientific performance will improve over this first engineering exposure.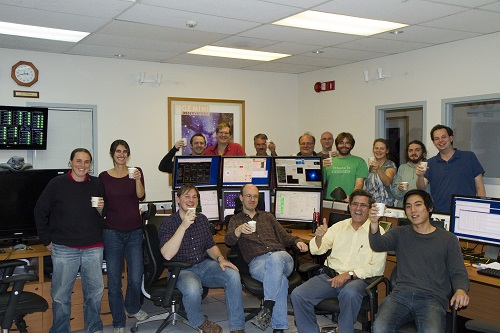 The happy GPI team in the Cerro Pachón control room
Save the Date: Gemini Open House on Tuesday, January 7, 2014
Join us at the Gemini Open House during the upcoming American Astronomical Society meeting near Washington, DC. The event will be held from 6:30-8:00PM at the meeting site, the Gaylord National Resort and Convention Center. At the open house, Gemini's Director, Dr. Markus Kissler-Patig will describe recent activities and plans for future developments, including new instrument capabilities and new observing modes, such as Large and Long Programs. There will be plenty of time for discussion in what should be a lively event. Members of advisory and oversight groups, including the Science and Technology Advisory Committee and the Users' Committee for Gemini, will also be there to hear from the Gemini user community.
Opening for Head of Science Operations at Gemini South
Bernadette Rodgers will be returning to the US after more than 13 years at Gemini South. Applications are now being accepted for her replacement as Head of Science Operations at Gemini South, to begin in 2014. The key responsibility in this role is delivery of science operations at Gemini South for the benefit of users. Full information is posted at the Gemini website: http://www.gemini.edu/jobs#175.