This issue is dedicated to the latest results from FLAMINGOS-2 commissioning.  Look for more information about the successful July run of the visitor instrument DSSI at Gemini North and plans for the Gemini Planet Imager's move to Gemini South in the next issue.
Commissioning of the FLAMINGOS-2 imaging and longslit spectroscopy modes is complete, and some pretty pictures obtained during the observing runs, part of a press release, are posted at the Gemini website. Regular 2013B program observations will begin fully after the Gemini South shutdown ends, toward the end of August.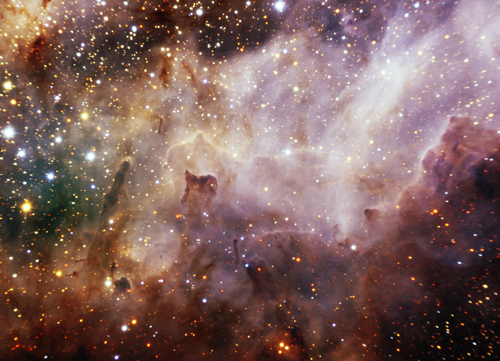 This FLAMINGOS-2 image (in YJHK bands) details part of M17, where ultraviolet radiation from young hot stars sculpts a dense region of dust and gas. M17 is one of the most massive and luminous star-forming regions in the Galaxy.
The instrument delivers the same image quality obtained in the lab under excellent and stable natural seeing conditions (FWHM in K ~ 0.35 arcsec). Note that this includes degradation of image quality at the edge of the field (see the plot below), which is apparent in some of the images. The imaging throughput is consistent with previous measurements and expectations. The spectroscopic throughput analysis is not yet complete. More precise information about both modes will be included in the integration time calculator available for 2014A proposals.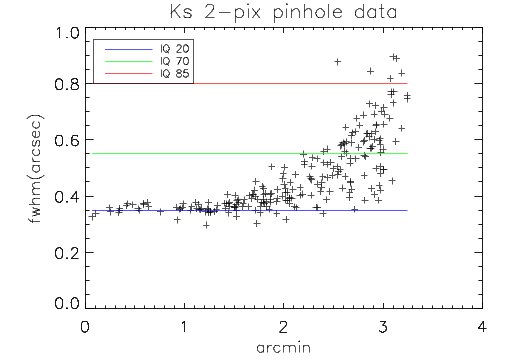 This plot shows the radial profile of the fwhm for a Ks 2-pix pinhole. We also show the limits for the IQ conditions: 20%, 70%, and 85%.
The on-instrument wavefront sensor (OIWFS) fast guiding is not currently delivering optimal corrections, due in part to a hardware problem with the OIWFS electronics. Work continues to correct this problem. The impact on IQ=85 percentile observations is not critical, but it does affect performance under better (IQ=20% and IQ=70%) conditions.
Based on the commissioning results, the instrument team suggests that flats and spectroscopic calibrations should be taken at night, with calibrations obtained for every one hour of observations. Contact Scientists at Gemini will update 2013B programs to include these calibrations.
Multi-object spectroscopy mode will be commissioned during 2014.