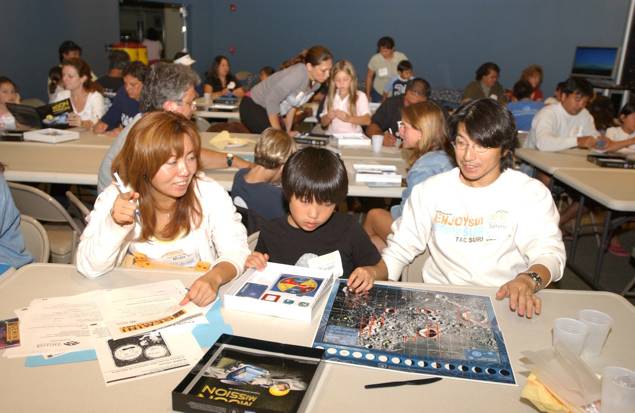 Training for our Family Astro Modules:
Race to the Planets Module or Moon Mission Module
Welcome to teachers, parents, and/or community members to be trained to bring the Race to the Planets module of the Family Astro Project to their own community of students and their families.
Gemini Observatory along with the Astronomical Society of the Pacific has developed Family ASTRO to help families, youth groups, after-school clubs, and everyone else learn and enjoy some of the exciting ideas that help in the understanding of our Universe. Our aim is to help parents (and other caregivers) to get more involved in their children's science education, and to spend more time together in active experiments, observations, and discussion.
We hold training for the Moon Mission and the Race to the Planets events biannually. We will use the hands on activities to demonstrate the fun of discovery that is possible for your audiences.
Gemini Observatory's next Family Astro event is to be determined. 
Date: to be announced
Time: 3:00pm to 5:00pm
Location: to be announced
Please reserve your space as soon as possible. (If you have taken this course before you are welcome to attend as a refresher!)
Contact Janice Harvey, jharvey@gemini.edu (974-2603) or Christine Copes, ccopes@gemini.edu (974-2531) for information or request.