In this release:
Discovery of an Extremely Nearby Brown Dwarf Pair
Semester 2013B Proposals
The Journey Continues
Discovery of an Extremely Nearby Brown Dwarf Pair
Large proper motion suggested that the object detected with NASA's Wide-field Infrared Survey Explorer satellite, WISE J104915.57-531906, is nearby, with parallax measurements confirming its distance of only about 2pc. This is the closest stellar system found in a century, and the third closest overall. Subsequent observations with the Gemini Multi-Object Spectrograph (GMOS) on Gemini South showed, unexpectedly, that the target is in fact a binary system. The spectroscopic observations also demonstrate that the brighter member is a type L8 brown dwarf. The other member is only about half a magnitude fainter, which suggests that it is near the L/T transition. Kevin Luhman (Penn State University) rapidly utilized GMOS spectroscopy obtained on February 23, 2013, with the bonus of discovering the binary (separated by 1.5 arcseconds, which corresponds to 3AU) in the acquisition image. This work will appear in The Astrophysical Journal Letters. A preprint and more information from Gemini and Penn State University are available now.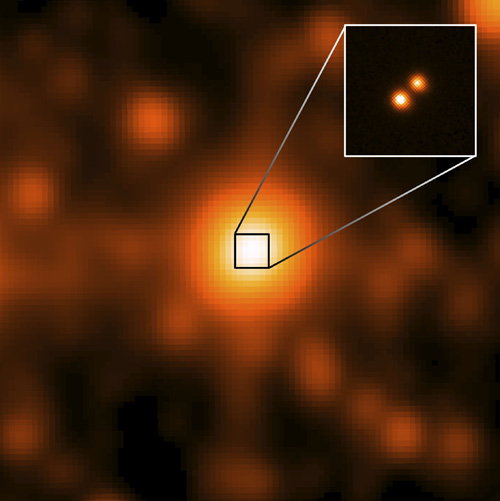 WISE J104915.57-531906 is at the center of the larger image. It appears as a single object in this image from WISE, and higher resolution observations using GMOS-South reveal its binary nature (inset).
Semester 2013B Proposals
The call for proposals for the 2013B semester is now open. The submission deadline varies with partner, with the earliest coming up rapidly on March 28. Gemini North offers new opportunities for all users with the visiting DSSI, a visual-wavelength speckle camera, and TEXES, a high-resolution mid-infrared spectrometer. On Gemini South, highlights include FLAMINGOS-2, which will be offered on a shared-risk basis, and GSAOI/GeMS (the Gemini South Adaptive Optics Imager with the Gemini Multi-Conjugate Adaptive Optics System), which just completed a very successful system verification process.
The Journey Continues
The Gemini North flagship public outreach program, Journey through the Universe, is now concluding a full week of educational programs. As this goes online, astronomers, engineers and other Mauna Kea Observatory staff educators have visited over 300 Hilo-area classrooms, reaching over 8,000 students. One of the many highlights this year included a classroom visit by Hawaii Governor Neil Abercrombie. See the webfeature on the Gemini website which includes photos and more details on the wide variety of events over the past week.
Gemini Astronomer Richard McDermid uses an exercise ball to engage students in understanding the scale of our solar system at E.B. DeSilva Elementary School.