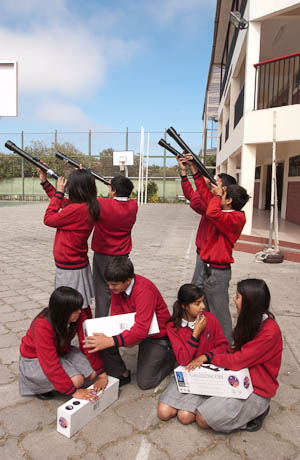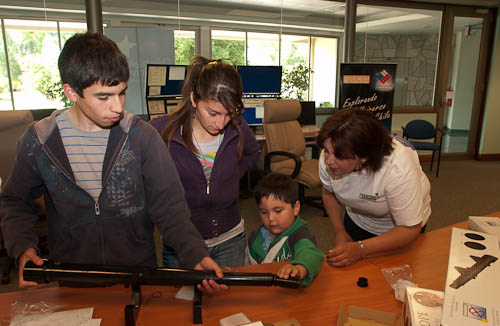 El Observatorio Gemini ofrece la posibilidad de usar, y quizás obtener, un número importante de Galileoscopios como parte del proyecto del mismo nombre que este observatorio se encuentra coordinando.
El Departamento de Difusión y Educación de Gemini Sur ya ha recibido variadas solicitudes de muchas personas e instituciones provenientes de la región y de todo Chile.
"Cuando recibimos los 105 Galileoscopios provenientes de Gemini Norte, la prensa visitó nuestras oficinas y la noticia se difundió a nivel nacional. A la mañana siguiente recibimos requerimientos de muchas personas de distintos puntos de Chile que querían observar a través de esos lentes," señaló M. Antonieta García, jefa del Depto. de Difusión y Educación en Chile.
Para solicitar tu propio Galileoscopio puedes incluir una breve descripción de cómo los utilizarías, especificando el número de Galilesocopios que requieres y el número de personas que se beneficiarían de tu programa.
Cuando hayas sido evaluado y seleccionado, los Galileoscopios te serán entregados en préstamo por un período de cuatro meses, después de los cuales debes devolverlos junto a un breve resumen en el que se señale cómo estos herramientas ayudaron en tu proyecto.
A mediados de Noviembre, aproximadamente, cada programa será evaluado, considerando las historias y experiencias plasmadas por cada grupo y sus participantes. Los tres mejores programas recibirán sus Galileoscopios como regalo definitivo.
Hasta hoy, Gemini Sur ha prestado un total de 75 Galileoscopios. Muchos profesores e instituciones de la región de Coquimbo, al igual que grupos de aficionados de lugares tan remotos como Chiloé en el sur de Chile, ya están participando.
Para mayor información sobre cómo participar en este programa, por favor pinche en este link.
Gemini South Galileoscope Program (English)
(This information is for the Gemini South Galileoscope program. Please go to /galileoscope for information relating to the Gemini North Galileoscope program)
The Gemini Observatory is offering a chance to use, and maybe even keep, a select number of Galileoscopes as part of Gemini's Galileoscope program.
The Public Information and Outreach department (PIO) at Gemini South has already received several requests from the local region of Coquimbo, as well as from very distant parts of Chile.
"When we received the 105 Galileoscopes from Gemini North, the press came to the building and the news made it nationwide. The next morning we received requests from a lot of people throughout Chile who wanted to observe through those lenses," says M. Antonieta Garcia, from the public information office in Chile.
To request your own Galileoscope please include a very brief description of how you plan to use them, the number of Galileoscopes you are requesting, and the number of people who will benefit from this project.
Once a project has been evaluated and selected, the Galileoscopes will be loaned for a period of four months, after which time they are to be returned along with a report on how the Galileoscopes benefited the project.
Around mid November each project will be evaluated based on their reports and the experiences of their participants. The top three projects will receive Galileoscopes to keep.
To date, the Gemini South PIO department has loaned a total of 75 Galileoscopes. Many teachers and education institutions from Coquimbo, as well as amateur groups from as far as Chiloé in the southern part of Chile, have already participated.
For more information on how you can apply for your own project please use this email link.