Latest News
IGRINS-2 has been delivered to Gemini North in September 2023 and successfully completed the first telescope integration run in early October. Once the telescope integration and commissioning is completed, IGRINS-2 will be offered to the Gemini User Community.
IGRINS-2 Overview
IGRINS-2 is a high-resolution near-infrared spectrograph (R~40,000; 1.49-2.46um), closely based on the original IGRINS (Immersion GRating INfrared Spectrograph). IGRINS-2 will become a Gemini North facility instrument, unlike IGRINS, which is a visiting instrument at Gemini South.
After successfully completing design review, the IGRINS-2 project is currently in the Telescope Integratio Stage led by the Korea Astronomy and Space Science Institute (KASI) in Daejeon, Korea. We are aiming to complete IGRINS-2 commissioning in mid-2024 and offering it to the Gemini science community in late 2024.
Science Cases
Young Stellar Objects (YSOs) and their disks
Young planets and brown dwarfs
Binary systems
Galactic evolution
Interstellar Medium
Capabilities
All capabilities listed below are the goals and are subject to change.
Spectral Coverage: 1.49-1.80um (H-band) and 1.96-2.46 um (K-band)
Spectral resolving power: R~40,000
Slit size: 0.33" (W) x 4.94" (L)
Spectral Sampling: ~3 pixels
Spatial Sampling: ~0.1"/pixel
Instrument Design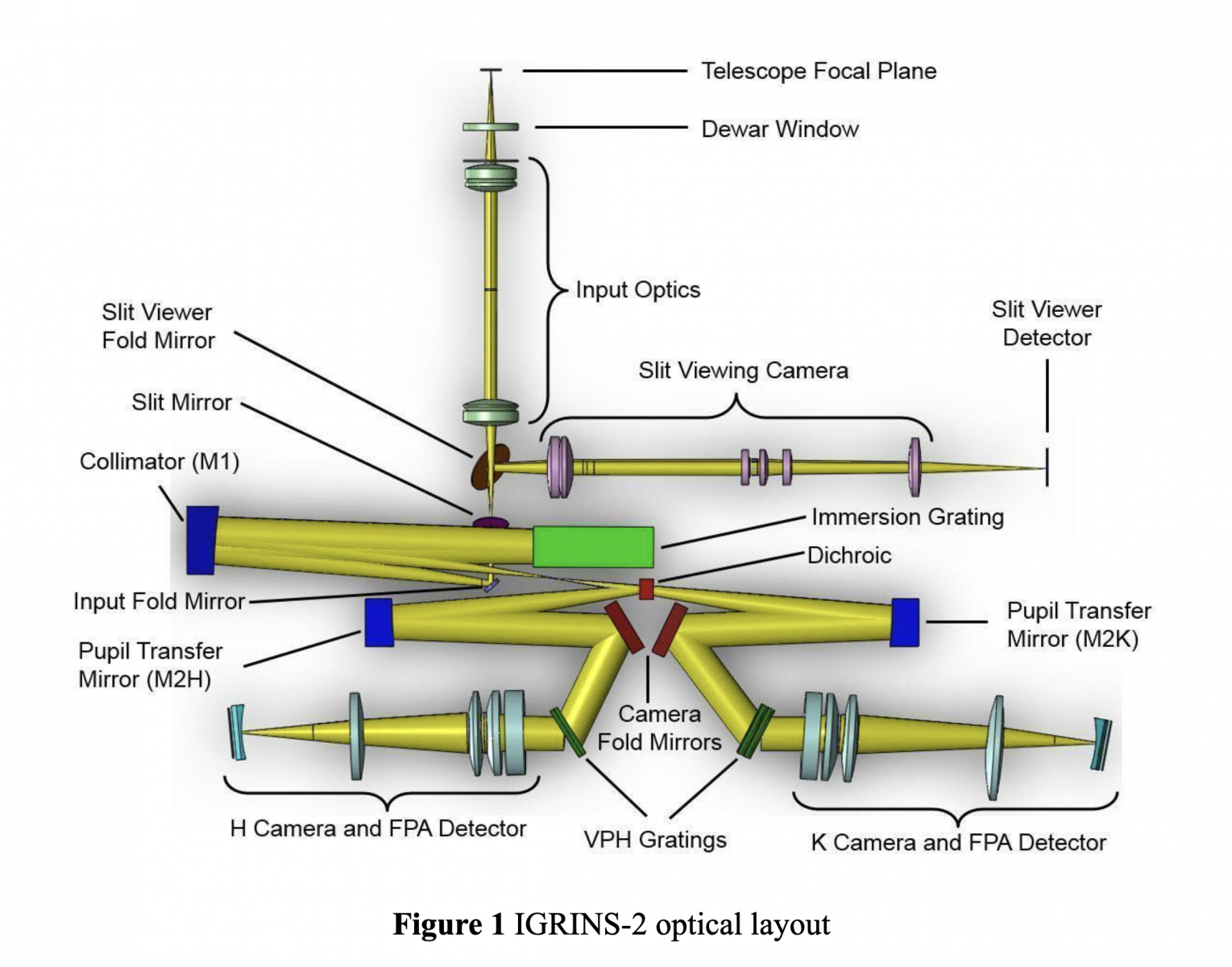 Timeline
First light was achieved in October 2023.
IGRINS-2 Team
KASI​
Chan Park, Principal Investigator
Young Sam Yu, Project Manager
Heeyoung Oh, Systems Engineer
Yunjong Kim, Optical Engineer
Sanghyuk Kim, Mechanics Lead
Mechanics Team: Jae Sok Oh, Bi-Ho Jang, Jeong-Gyun Jang
Moo-Young Chun, Electronics Lead
Electronics Team: Ueejeong Jeong, Hyeon Cheol Seong, Young Sam Yu
Hye-In Lee, Software Engineer
Project Support in KASI: Sungho Lee, Jae-Joon Lee, In-Soo Yuk, Byeong-Gon Park, Narae Hwang
Project Support in UT: Cindy Brooks, Greg Mace, Dan Jaffe, Hanshin Lee, John Good

Gemini
Hwihyun Kim (GS), Project Manager
Ruben Diaz (GS), Project Sponsor
Brian Chinn (GS), Systems Engineer
John White (GN), Engineering Support
Eduardo Tapia (GN), Engineering Support
Siyi Xu (GN), Project Scientist
Hyewon Suh (GN), Project Scientist
Jennifer Miller (GN), Project SOS
Pablo Prado (GS), Project Support
Francisco Ramos (GS), Software Support
If you have any questions, please contact us at igrins2_science@noirlab.edu

Documents
Papers Describing aspects of IGRINS-2:
Design and development of the IGRINS-2 control software as a facility instrument of the Gemini observatory, Hye-In Lee, Francisco Ramos, Pablo Prado et al., 2022, SPIE, 12189