Laser
Gemini South Laser
GS Laser History:
The Gemini South (GS) Observatory acquired a 50W sodium Guide Star Laser System back in March 2010, as one of the key component of the Gemini Multi-Conjugate Adaptive Optics System (GeMS) project. After a successful post-delivery acceptance in the laboratory, the system was installed on the elevation platform of the telescope.
March 2010: The Gemini South Telescope recieves its new 50W sodium laser
Following an intensive period of optimization, the Gemini South Laser Guide Star Facility (LGSF) delivered its first light on the sky in January 2011. Over the few months following the event, and while the LGSF was being commissioned, the GS laser team was able to gather a lot of data concerning its laser system, and therefore ways to work on improving both its overall performance and reliability.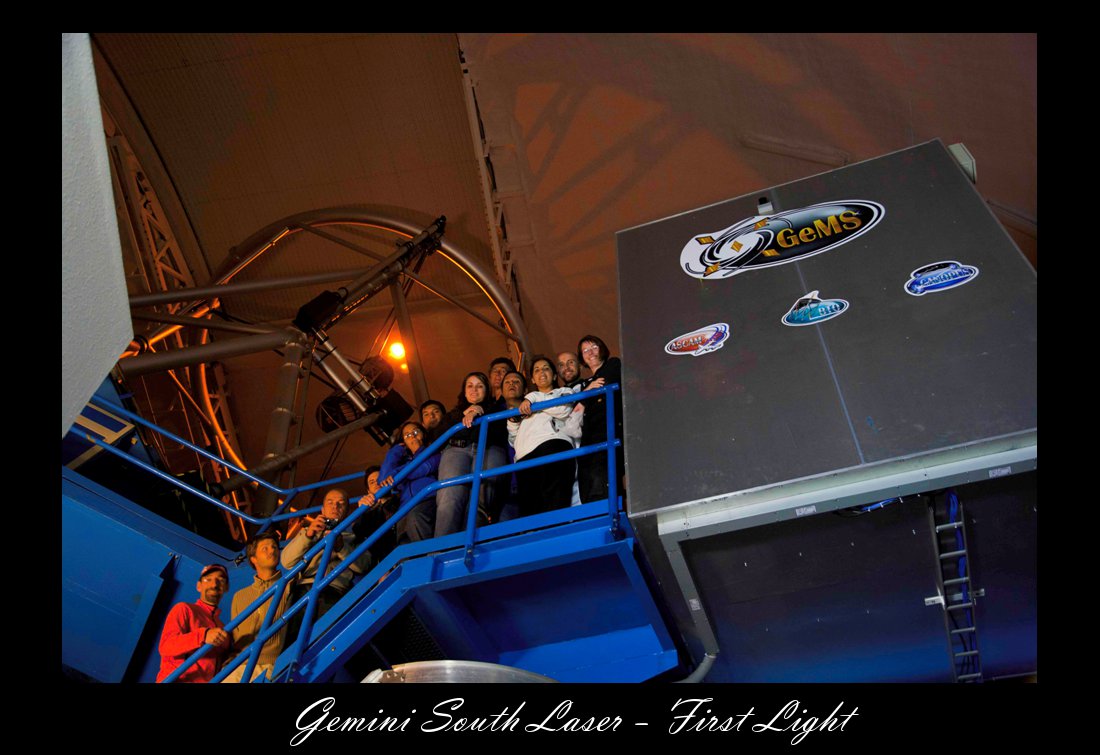 GS Laser Design: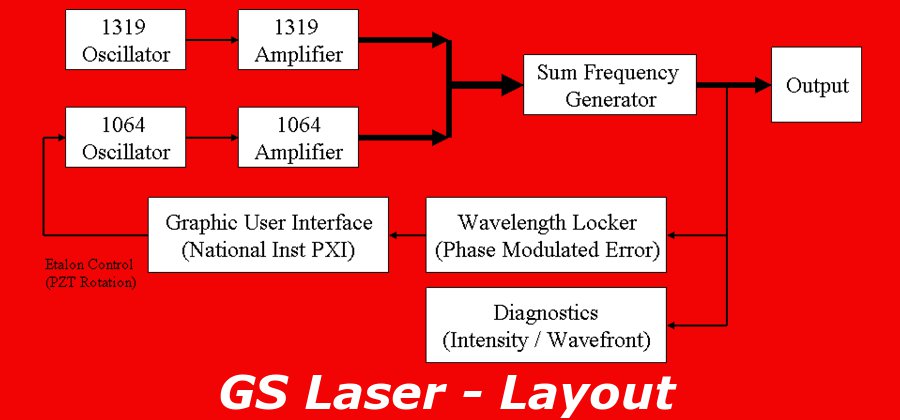 The system architecture is based on single pass Sum Frequency Mixing (SFM) of high power outputs of two Nd:YAG MOPAs (master oscillator-power amplifier) operating at 1064 nm and 1319 nm.
The 589 nm output is generated via SFM of 1064 nm and 1319 nm Nd:YAG lasers in a Lithium Triborate (LBO) nonlinear crystal.
The absolute wavelength is controlled via the Wavelength Locker Module.
Power and beam quality are monitored in real-time with a set of diagnostic tools (Shack Hartmann Wavefront Sensor, photo-detectors).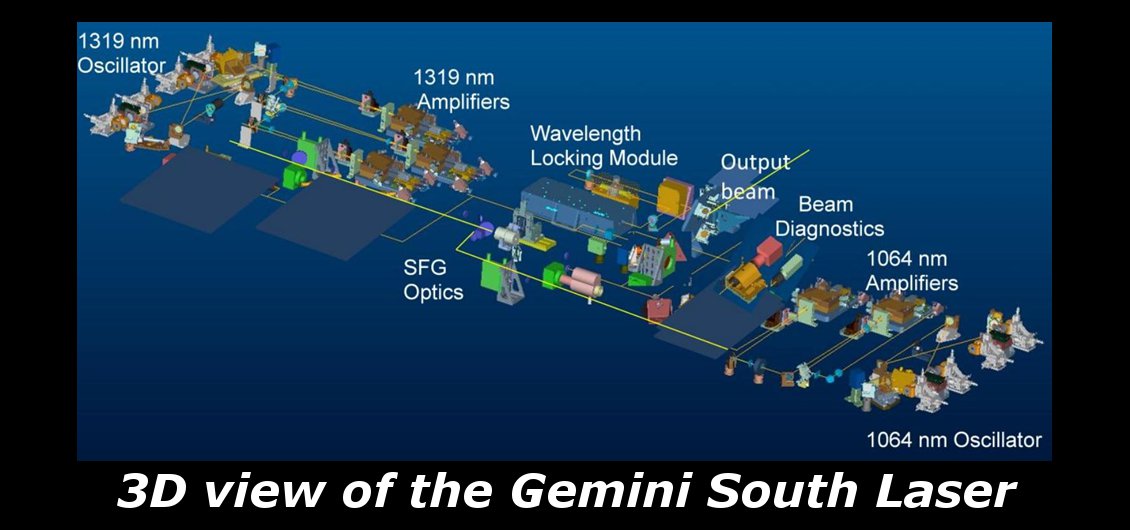 GS Laser performance:

Gemini South's (GS) 1319nm & 1064nm MOPAs nominally produce average powers of 75 W and 110 W, respectively, with 250-300 pico second pulse widths.
Table 1: MOPAs performance
MOPA System

Description

Performance

1064nm

Average power (W)

110

Beam Quality (% PIB)

80

Polarization Contrast

50:1

1319nm

Average power (W)

75

Beam Quality (% PIB)

80

Polarization Contrast

50:1
The table below contains the system requirements and demonstrated results. The system displays good day to day repeatability after extended 10 hour warm-up periods. However, it does require monthly alignment maintenance to compensate for beam pointing walk off. The mostly likely cause is thermal hysteresis of MO's opto-mechanical mounts.
Table 2 : GS Laser - 589 nm requirements and demonstrated performance
| | | | |
| --- | --- | --- | --- |
| Description | Units | Requirement | GS |
| Average Power | W | 50 | 50 |
| Power Stability - short term Peak to Peak | % | 10 | 16.3 |
| Power Stability - long term RMS | % | 5 | 6.0 |
| M² - X | - | 1.4 | 1.4 |
| M² - Y | - | 1.4 | 1.2 |
| Frequency Stability (+/-) | MHz | 100 | 100 |
| Spectral Bandwidth | GHz | 2 | 2.1 |
| Pointing Stability - Transverse - X | mm | 0.5 | 0.006 |
| Pointing Stability - Transverse - Y | mm | 0.5 | 0.006 |
| Point Stability - Angular -X | urad | 400 | 30 |
| Pointing Stability - Angular - Y | urad | 400 | 14 |
| Polarization Contrast Ratio | - | 20:1 | 50:1 |