Gemini North Instructions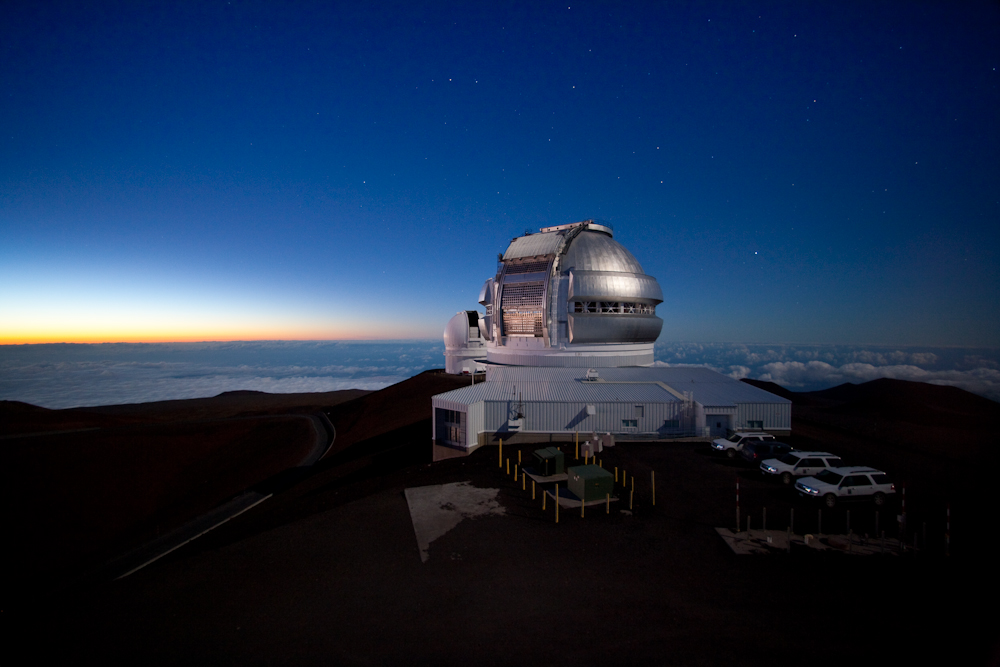 Sunset Over Gemini North, Mauna Kea, Hawaii
LOCATION
The Gemini offices in Hilo are located at:
GEMINI OBSERVATORY
Northern Operations Center
670 N. A'ohoku Place
Hilo, Hawaii, 96720, United States
Phone: (+1) 808 974 2500
Fax: (+1) 808 974 2589
See a map of the local area.
ARRANGEMENTS FOR A GEMINI NORTH OBSERVING RUN
When approval has been given and time allocated, the Principal Investigator (P.I.) of the observing team will be notified by his or her National Gemini Office.
The P.I. or observer should then complete the following forms and forward them by email attachment, fax or mail, to Adrienne.
Please download and submit these forms:
IMPORTANT: These documents MUST be completed and returned to Gemini by mail, fax or email attachment (Word, Excel, scanned PDF, JPG or PNG) at least four weeks in advance of your visit.
TRAVEL ARRANGEMENTS
Visiting astronomers are responsible for arranging and paying for their own travel, including airline tickets, visas, insurance, car rentals, and hotels. In preparation for your visit, please review the Gemini North Visitors Guide, which includes a list of hotels and car rental agencies, plus maps and information about Hilo and Hawaii Island (the Big Island). This guide also includes safety information on driving to Hale Pohaku, preparing for the summit of Mauna Kea, and Night Shift procedures. A Gemini Travel Coordinator can assist with local arrangements if assistance is needed.
Gemini will make the arrangements for lodging and meals during your stay at Hale Pohaku, the visitor support facility located at the 9,200-foot level on Mauna Kea. AURA/Gemini through PayPal will forward an invoice by email for your housing costs upon receipt of HP housing confirmation.  Please note a 4% processing fee with the exception of International Credit Cards which will incur a 7.5% transaction fee of total amount due will be applied.
Gemini does not provide vehicles for observers, but we will provide transportation between Hale Pohaku and the summit of Mauna Kea. You will need to rent a vehicle to drive to and from Hale Pohaku.
ARRIVING AT GEMINI NORTH
Before you arrive at Gemini North, please contact Adrienne Notley for your safety and operations orientation. A safety briefing and computer virus scan are required and will be arranged prior to your visit to the summit. If office access has been requested, we will issue keys, conduct alarm system training and assign a workspace. You are strongly encouraged to arrive on the Big Island in time to spend at least half a day in the office meeting with your allocated Observing Support Scientist. One night acclimatizing to the altitude at Hale Pohaku is mandatory, before your run is scheduled to start.
WORKING AT HIGH ALTITUDE
Each individual reacts differently to working at high altitude. Observers proposing to work on Mauna Kea should be medically fit for such work and not have conditions that would be inconsistent with work at high altitude. Gemini and those acting in its behalf have no liability with respect to the risks associated with work at the telescope by observers. Visitors are not required to produce a high-altitude medical certificate but are required to sign a Liability Notice and acknowledge that they have read our GN Visitor's Safety Information. See the Gemini North Visitors Guide for more information about the risks of working at high altitude.
SETTLING YOUR ACCOUNT WITH GEMINI
By the end of the observing run, visiting astronomers will be expected to settle their accounts. Chargeable items include:
Room and board at Hale Pohaku (currently $132.00 per night) which includes meals beginning with dinner upon check-in and ending with lunch upon check-out.
Rental of cold-weather gear ($6.00)
Other costs incurred by Gemini on behalf of the P.I. and team
Prior to your arrival an invoice for your housing costs at HP was forwarded by email through PayPal, should you incur any additional charges you will receive an additional invoice.
Gemini will not schedule observing time for any P.I. who has overdue charges from a previous run.
AFTER YOUR OBSERVING RUN 
We'd like to know how everything went. Please complete and submit a Feedback form:
Queue Observing Run Feedback 
Classical Observing Run Feedback 
Papers containing data from the Gemini telescopes should include the appropriate acknowledgment. Please see Acknowledging Gemini for more information.
Please read the Gemini image/Video Usage Policy if you wish to use Gemini images and videos.
Please let us know when you've written a paper based on data collected from the Gemini telescopes. See the Gemini Publications page for more information.