In a milestone statement distributed moments ago by the GPI Pre-delivery Acceptance Review Committee, Chair Stephen Goodsell announced that GPI is now clear for shipment from the University of California Santa Cruz to Gemini South in Chile.The Committee's final report is slated for release on July 26th, but a statement sumarizing the results of the review is available now - GPI Review Committee: Final Day Statement  41 KB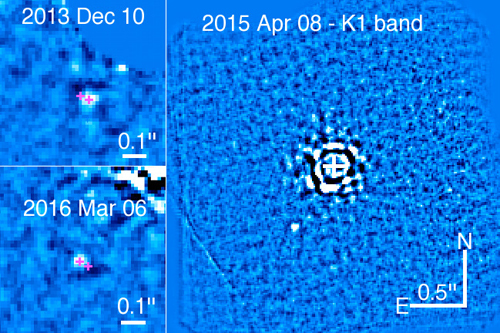 Figure 1. (Left:) Zoom-in images on HD 95086 b obtained with GPI at the first and last epochs. The magenta crosses show the measured positions (for clarity, the size of the symbol is not representative of the precision). Significant orbital motion is detected within the GPI data. (Right:) Deepest image obtained on HD 95086 with GPI at K1 on April 8, 2015.
Before low-medium mass stars become white dwarfs they pulsate wildly and eventually spew their outer layers into space – often forming beautiful planetary nebulae. The same stars are predicted to continue pulsating during their transformation to a white dwarf, if they have helium in their atmospheres. A team from the University of Oklahoma used Gemini North, in conjunction with the 1.2-meter FLWO telescope in Arizona, to observe a much-sought-after link between these pulsations and helium in the star's atmospheres.
The Association of Universities for Research in Astronomy, Inc. (AURA), on behalf of Gemini Observatory is soliciting proposals to design, fabricate, assemble, test, deliver, and commission Gemini Observatory's next facility class instrument, Gen 4#3. Gen 4#3 will be a wide-band medium-resolution spectrograph designed to take advantage of the Large Synoptic Survey Telescope (LSST) follow up opportunities.
Gemini North and South are accepting proposals for the Fast Turnaround (FT) program. Here, we give information specific to this proposal cycle. Please see the other FT pages - particularly the rules - for general information about the program. FT-specific proposal templates must now be used for all FT proposals; see the "PIT information" section below.
STScI has today announced AstroConda, a distribution of Python and IRAF packages that is intended to replace Ureka, based on Continuum Analytics' Anaconda.