Detector Characteristics
You are here
Our understanding of performance and calibration is a work in progress; these pages will continue to be updated as more on sky calibrations are taken and analyzed.
Readnoise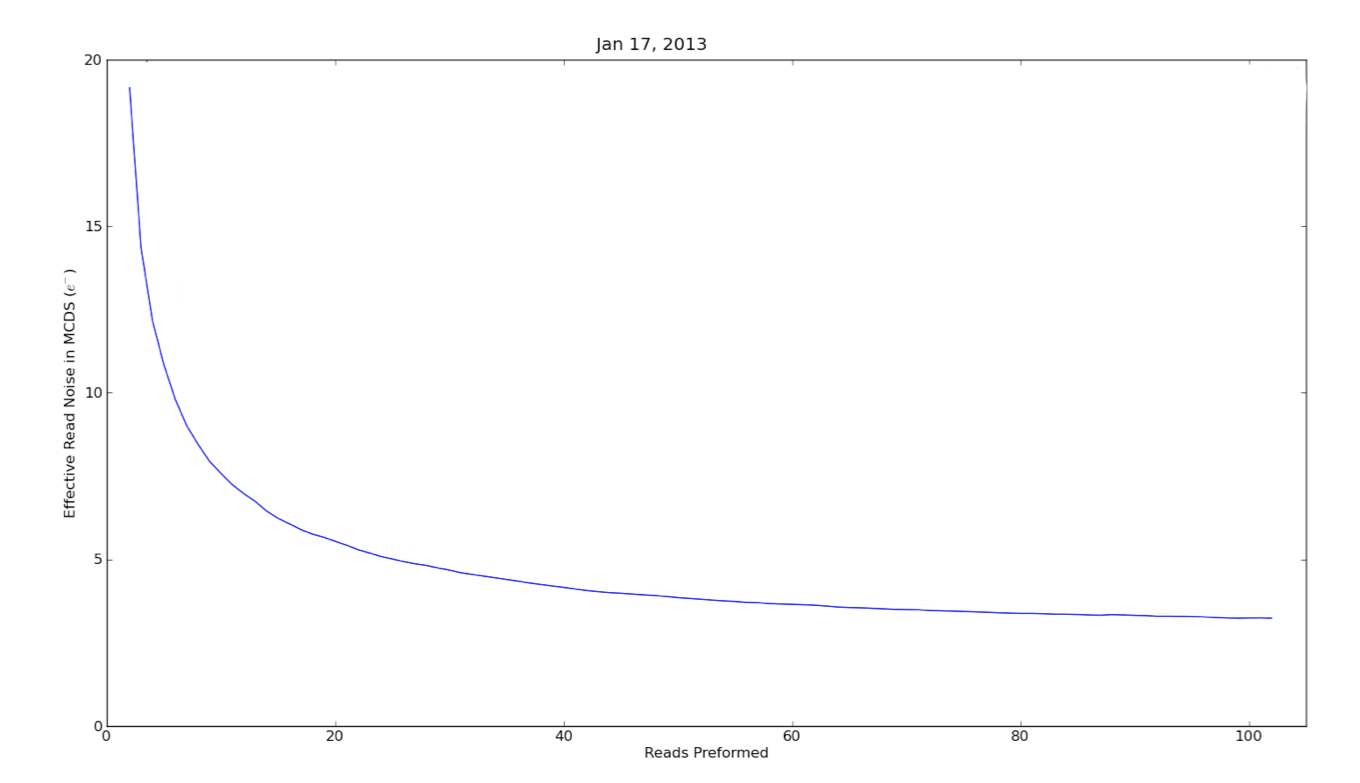 To evaluate the read noise for the IFS, 50 dark images were taken to evaluate the read noise for each read, each with a total number of 102 individual frames read from the H2RG detector. These 50 images, are then used to generate 2d standard deviation & median absolute deviation maps of the detector. A sub region to avoid the microphonics is selected in each deviation map, and then the median is plotted. Since the IFS uses UTR sampling, the read noise is computed and weighted into the the equivalent of an MCDS frame for comparison purposes.
Saturation Limits
The H2RG detector in GPI has a full well depth of about 30k ADU (=100k e-). For short exposures on bright targets, dynamic range is reduced because of photons accumulated between the detector reset and first read. For the minimum exposure time of 1.5 s, the effective well depth is reduced to 15k ADU and it is best to stay under 10k ADU to avoid any nonlinearity.
Saturation on unocculted point sources
The peak fluxes of known companions were measured in several coronagraphic sequences. These values are only representative, as they were taken under varying seeing conditions. Under excellent conditions, the peak flux will be higher. These data suggest that a 6th magnitude star should remain unsaturated in the minimum exposure time (~1.5 seconds) in J, H and K1, when observed with the coronagraph apodizers and Lyot masks inserted. Observations without those masks i.e the _direct modes have 2-3x higher throughput and will saturate on correspondingly fainter stars. More calibration observations are required for Y and K2.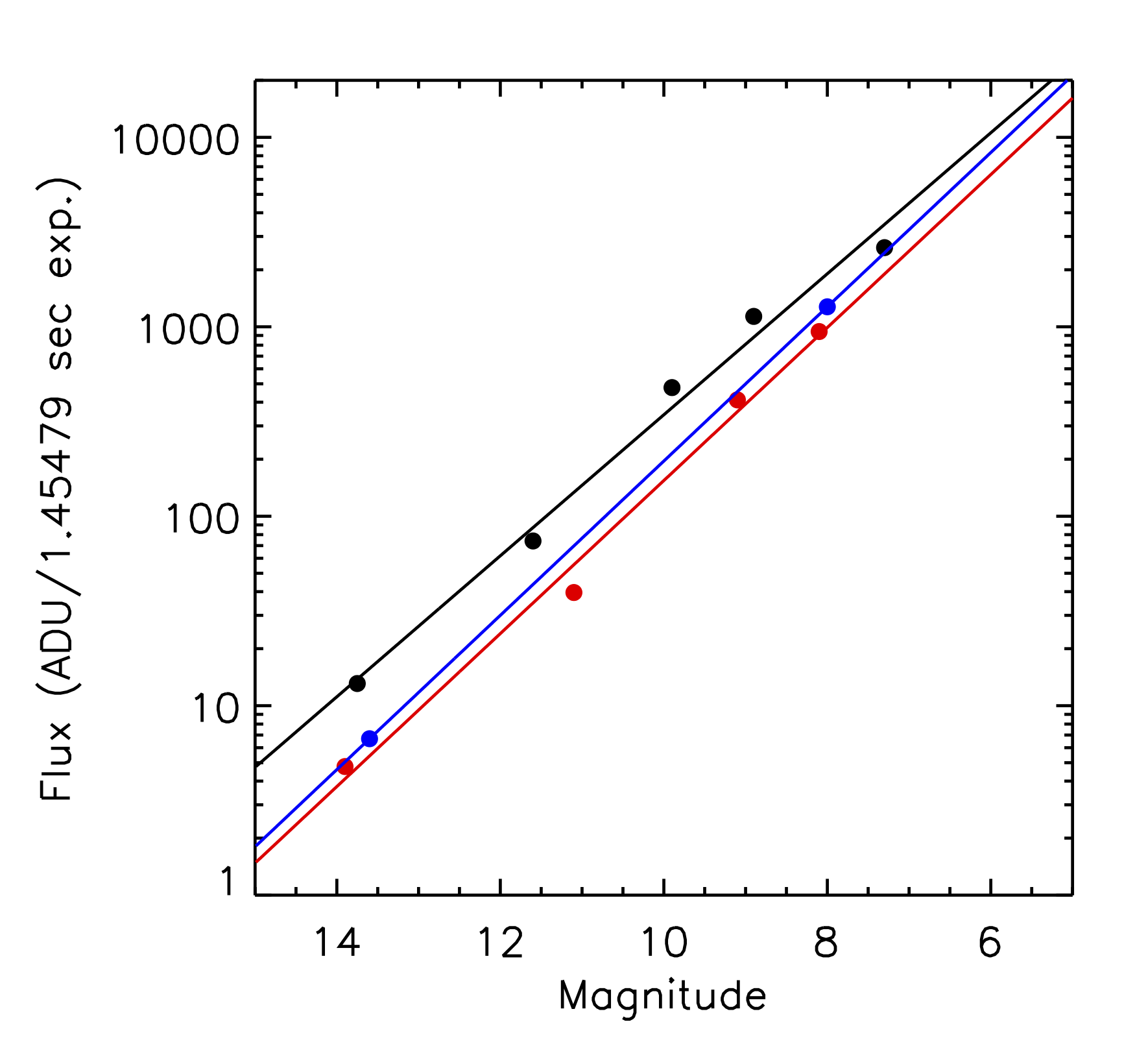 Flux measured for stars in the coronagraphic mode at a range of magnitudes observed with the J (blue), H (black) and K1 (red) filters, normalised to the minimum exposure time of 1.45479 seconds.
| | | | |
| --- | --- | --- | --- |
| Observing Mode | Filter | Magnitude | Peak Flux [ADU/s] |
| J_coron | HIP29852 B | ~8 | 876.5 |
| J_coron | HIP47115 B | ??? | 559.4 |
| J_coron | HD8049 B | 13.6 | 4.6 |
| H_coron | tet01 Ori A2 | 7.3 | 1,798.9 |
| H_coron | tet01 Ori B2 | 8.9 | 779.9 |
| H_coron | tet01 Ori B3 | 9.9 | 328.3 |
| H_coron | tet01 Ori B4 | 11.6 | 50.9 |
| H_coron | HD8049 B | 13.75 | 9.0 |
| K1_coron | tet01 Ori B2 | 8.1 | 648.7 |
| K1_coron | tet01 Ori B3 | 9.1 | 282.7 |
| K_coron | tet01 Ori B4 | 11.1 | 27.2 |
| H_coron | HD8049B | 13.9 | 3.28 |
Measured ADU/s for various modes and targets