Astrometry
You are here
Summary
We find that after correcting for distortion, the average positional residual drops from 0.26 spaxels to 0.04 spaxels.
Astrometry
Astrometric measurements for the purpose of measuring plate scale have been performed in a number of different ways by members of the team.  A general comment about astrometry on current data sets is that positions of objects seem to be a function of wavelength in reconstructed cubes.  S. Thomas has made several plots of plate scale measurements as a function of wavelength channel.  She used the functions find_sat_spots_all.pro and fourier_coreg.pro from the pipeline.  Variations may be due to wavelength calibration errors or errors on the positions of the satellite spots, mainly due to low SNR.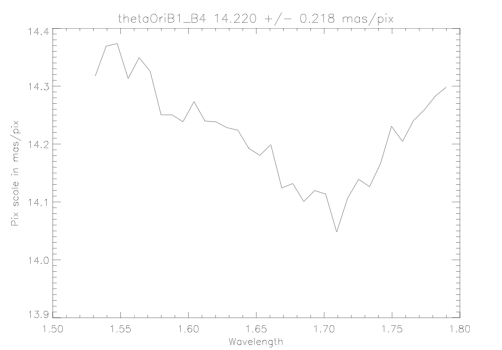 As shown, the choice of wavelength for separation measurements can have a significant impact on the derived pixel scale.  Currently we are using the approach of averaging all measurements from each wavelength channel.  Such an approach could likely be improved by being more selective about which wavelengths to include, since a number of the blue wavelength channels are impacted by low throughput.
Using a different centroiding approach, Q. Konopacky has investigated the separation variation of objects that are independent of the satellite spots (so not relative to the guide star under the coronagraph). She finds for the OMEGA1 Ori B2 and B3 pair (see below) that the typical RMS variation across the full H band is 0.06 spaxels (roughly ~1 mas, see below), with a spread as high as 0.5 spaxels.  This could be due to PSF variations, since for the positional measurements PSF fitting was used.  A bright spot in the airy ring of θ1Ori B2 impacts the position of B3.  An example of the variation seen with this analysis is shown in the figure below.  The red line represents the average separation value calculated from all wavelength channels.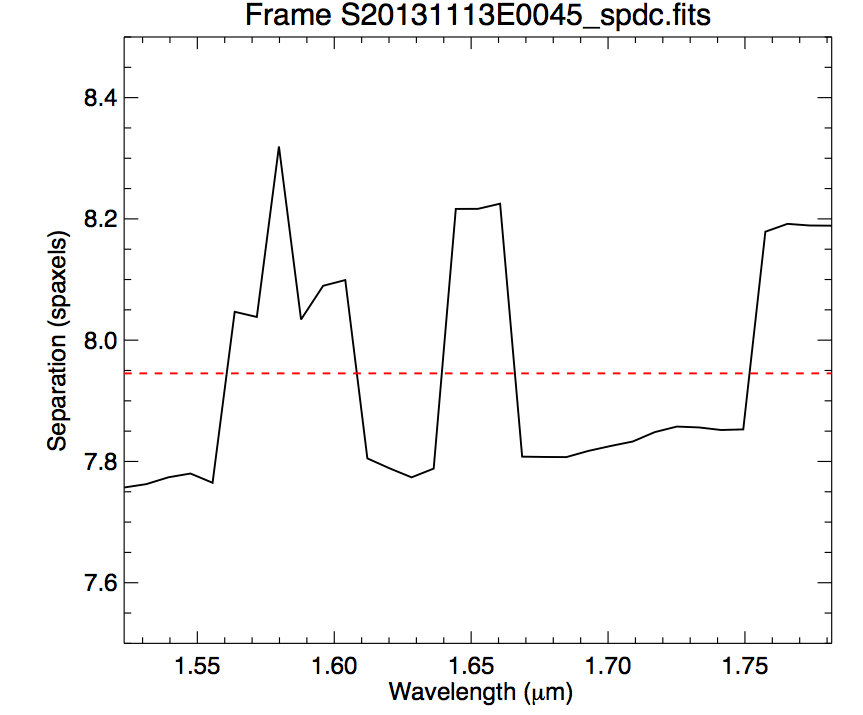 Additional analysis and testing of astrometry in spectral cubes is warranted with current and new calibration data. The figure below shows the average separation for θ1Ori B2 + B3 in frames taken on 13 November 2013.  Some frames were removed from the analysis due to poor PSF quality.
A weighted average of these data points provided the final separation measurement given in the table below.  The large number of frames taken helped to lower the final uncertainty.
R. De Rosa measured centroids using the routine MPFIT in IDL for θ1Ori A and θ1Ori B.  He used both unocculted and occulted frames.  He notices that positions of components in the cube do tend to shift with wavelength.  Overall separation changes may also be related to low SNR on satellite spots.  His separations as a function of wavelength are shown in the plots below.  Colors denote individual cubes.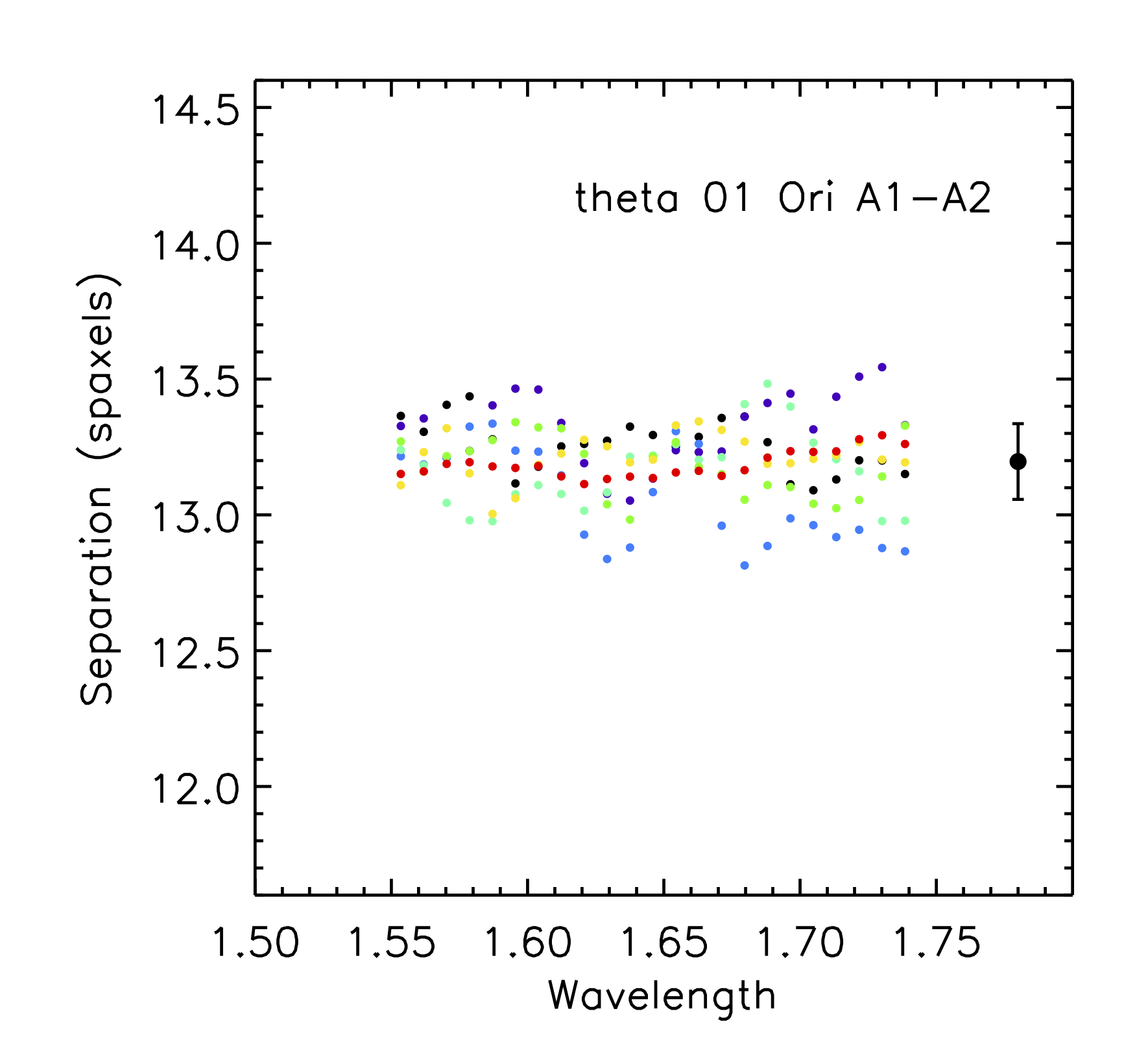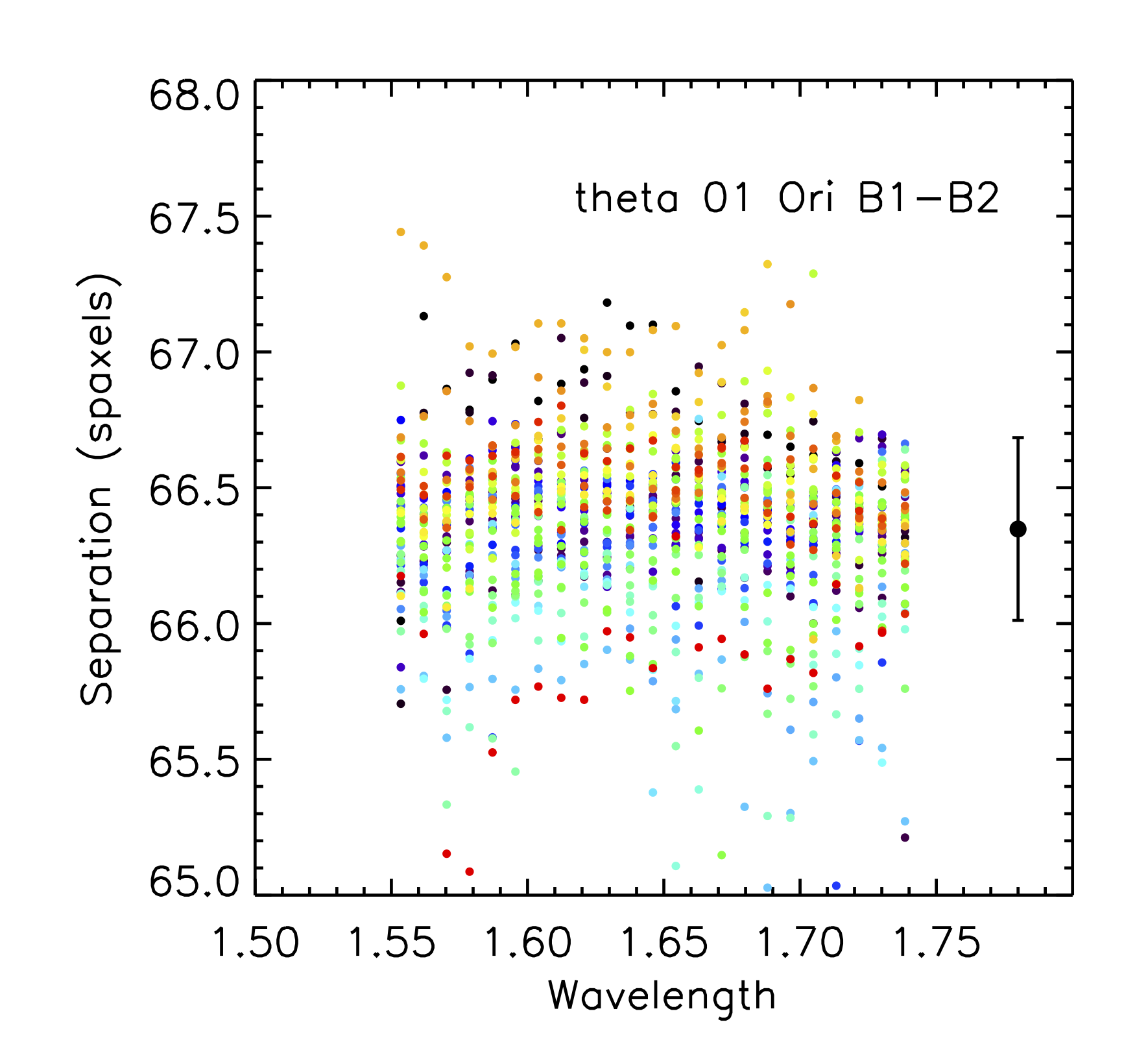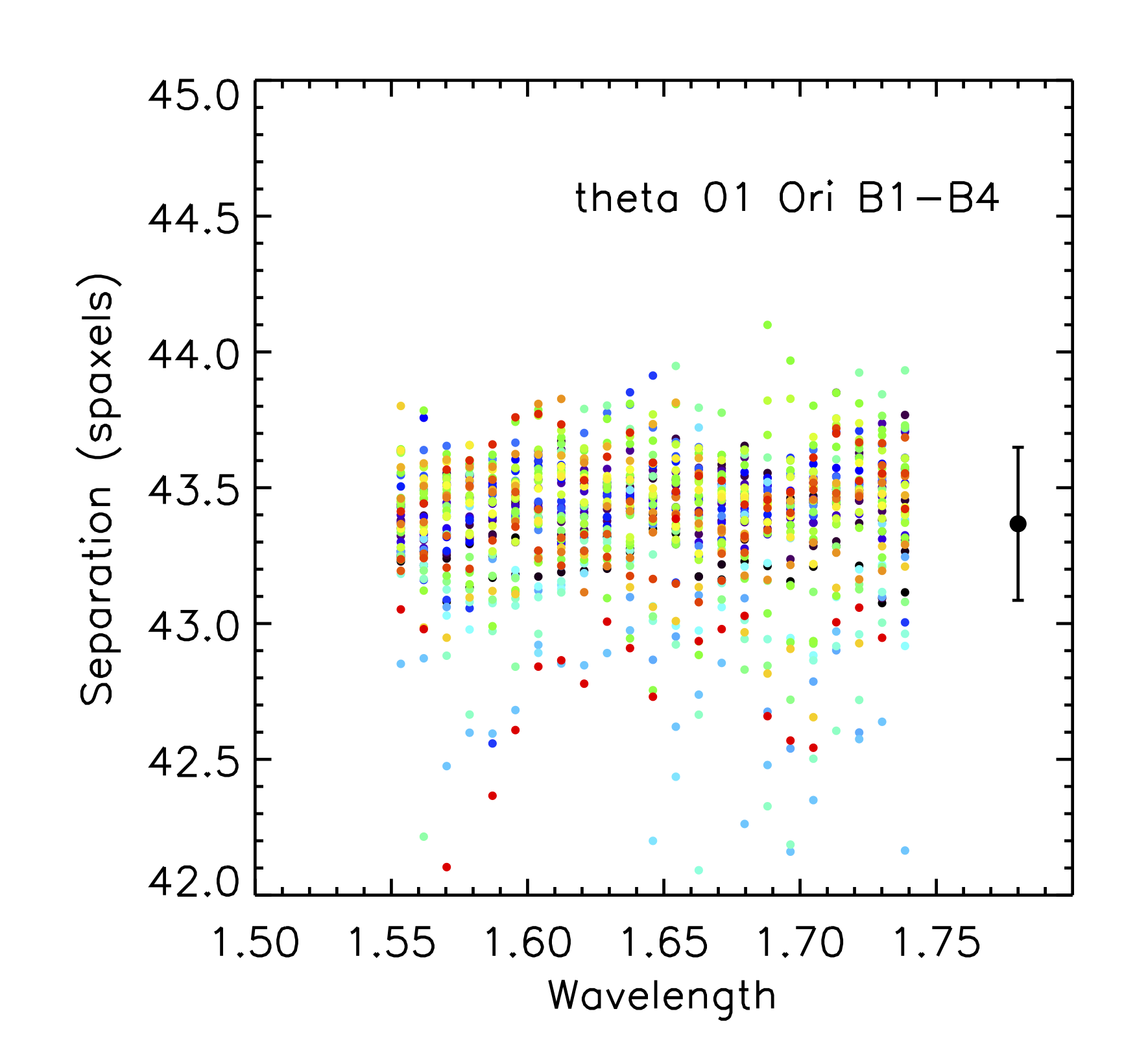 Pixel scale
The primary targets used to measure the pixel scale for the GPI IFS are θ
1
Ori B and HR 8799.  These targets were chosen because of their well-characterized separation measurements using other instruments.
θ1Ori B was analyzed extensively in Close et al. (2013) using MagAO.  By combining their new measurements with those previously obtained over a 15 year time baseline, they were able to determine that the actual separations of components B1 and B4 and B2 and B3 (see figure) change only marginally each year - the primary orbital motion seems to be affect mostly the positional angle.  As such, we were able to use the Close et al. (2013) predicted change in separation as a function of time to predict the separations of these objects when observed with GPI on 13 November 2013.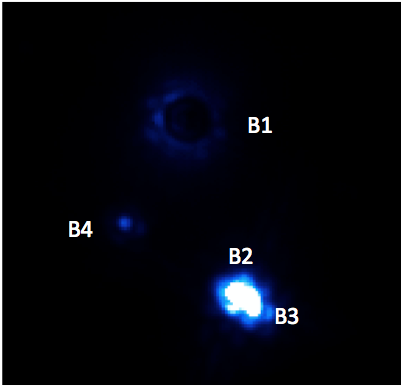 HR 8799 was observed with NIRC2 on Keck on 15 October 2013.  Given the long period of the orbits for planets HR 8799c and d, their positions are expected to be the same to within our uncertainties in first light data from 17 November 2013.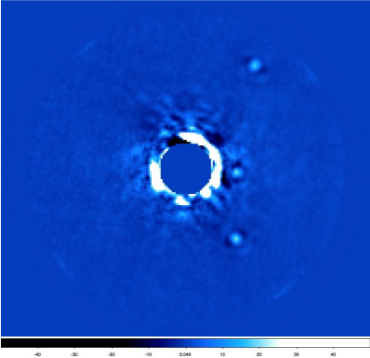 Additional targets used for this analysis were θ1Ori A (data taken on 13 November 2013) and the K2+white dwarf pair HD 8049AB (data taken on 16 November 2013).  However, neither of these objects have simultaneous measurements from a different instrument/telescope or good orbital estimates to give a sufficiently precise separation measurements.  The relative separation of θ1Ori B1+B2 has also been measured by Close et al. (2013), but these components were shown to have a significant change in separation over time, thus decreasing the precision of their estimated separation on 13 November 2013.
We summarize all of our current measurements in the table below.
Object Pair

Separation (")

From

Filter

Separation (IFS Spaxels)

Plate Scale (mas/spax.)

Measured By

HR 8799A+c

0.959 ± 0.007 Keck

K1

66.72 ± 0.11

14.37 ± 0.11

S. Thomas

HR 8799A+d

0.677 ± 0.007

Keck

K1

46.37 ± 0.14

14.60 ± 0.16

S. Thomas

Θ1 Ori B1+B4

0.6189 ± 0.0009

MagAO+orbit

H

43.47 ± 0.57

14.24 ± 0.19

S. Thomas

"

"

"

43.37 ± 0.28

14.27 ± 0.09

R. De Rosa et al.*

Θ1 Ori B1+B2

0.9415 ± 0.0014

MagAO (needs orbit correction)

H

65.07 ± 0.4

14.32 ± 0.09

S. Thomas

"

"

"

66.35 ± 0.35

14.19 ± 0.08

R. De Rosa et al.*

Θ1 Ori A1+A2

0.1881 ± 0.0016

MagAO (needs orbit correction)

H

13.09 ± 0.15

14.17 ± 0.21

S. Thomas

"

"

"

13.20 ± 0.14

14.25 ± 0.19

R. De Rosa et al.*

HD 8049A+B

1.56 ± 0.02

NTT (no orbit information)

H

106.54 ± 0.03

14.89 ± 0.19

S. Thomas

HR 8799c+d

1.334 ± 0.012

Keck

K1

93.38 ± 0.50

14.29 ± 0.15

Q. Konopacky

Θ1 Ori B2+B3

0.1160 ± 0.0002

MagAO + orbit

H

8.07 ± 0.19

14.37 ± 0.34

Q. Konopacky

Europa

N/A

K1

N/A

14.30 ± 0.31

F. Marchis

Lab - spot grid

see ATP documentation

H

see ATP documentation

14.30 ± 0.15

Q. Konopacky et. al

Lab - ASU

see ATP documentation

H

see ATP documentation

14.20 ± 0.10

Q. Konopacky et. al

Lab - UCLA spot grid

see ATP documentation

H

see ATP documentation

14.30 ± 0.15

J. Chilcote et. al
* R. De Rosa, A. Rajan. J. Patience
Distortion
Currently, the optical distortion has not been characterized with on sky data.  It was characterized pre-shipment in the testing facility at Santa Cruz.  Below is a summary of those results.  The pre-ship distortion map is currently used in the data pipeline, if the Correct Distortion primitive is included in a given recipe.
On 10 December 2012, IFS data frames were taken with an illuminated square pinhole grid.  This grid was rotated such that the pattern was sampled through 360 degrees in 11 frames and at various (slight) offsets.  The position of each spot was measured in all frames in order to conduct a comparative analysis in which all other frames were transformed into the reference frames of a "baseline" using only rotation and offset.  The difference between the position of each spot in the "baseline" frame and the transformed frames are averaged to produce positional residuals.  These residuals are then averaged for each 20x20 spaxel region on the IFS.  A map of the residual vectors is shown here (magnified by a factor of 30):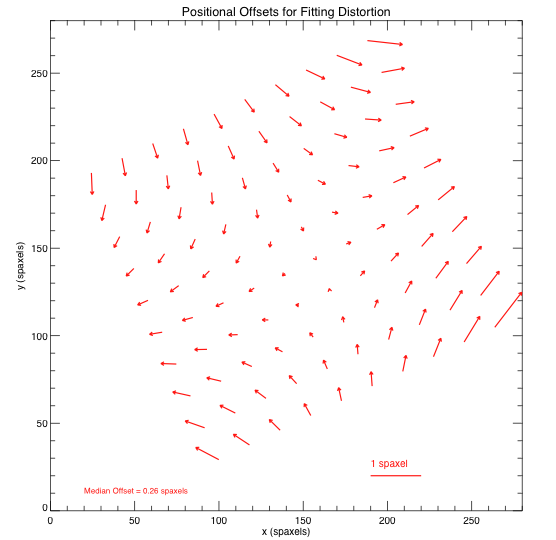 This map represents our zeroth-order understanding of the form of the distortion in the GPI IFS.  As listed on the figure, the average vector length is 0.26 spaxels.  We can fit these data with a 5th order polynomial with coefficients [an,bn], n = 0 → 20 of the following form:
x' = a0 + a1 x + a2 y + a3 x2 + a4 xy + a5 y2 + a6 x3 + a7 x2y + a8 xy2 + a9 y3 + a10 x4 + a11 x3y + a12 x2y2 + a13 xy3 + a14 y4 + a15 x5 + a16 x4y + a17 x3y2 +  a18 x2y3 + a19 xy4 + a20 y5
y' = b0 + b1 x + b2 y + b3 x2 + b4 xy + b5 y2 + b6 x3 + b7 x2y + b8 xy2 + b9 y3 + b10 x4 + b11 x3y + b12 x2y2 + b13 xy3 + b14 y4 + b15 x5 + b16 x4y + b17 x3y2 + b18 x2y3 + b19 xy4 + b20 y5
and x = xobs - 140 and y = yobs - 140
The results of these fits are used to correct the frames for distortion in the current DRP.  We find that after correcting for distortion, the average positional residual drops from 0.26 spaxels to 0.04 spaxels.