The Gemini 2016A observing programs have now been announced.  Notification emails to successful PIs were sent December 15, 2015.  Please check 
the schedules page
 for more information.  Note: There have been reports of the notification emails being flagged as spam for some users.  Please consider adding gemini.edu to your spam whitelist.  
Gemini North and South are accepting proposals for the Fast Turnaround (FT) program. Here, we give information specific to this proposal cycle. Please see the other FT pages - particularly the rules - for general information about the program.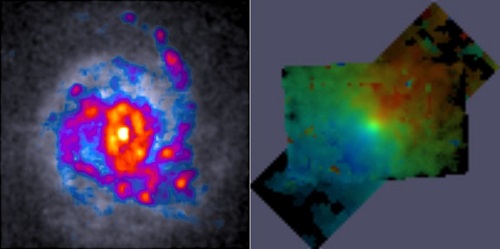 Figure 1. The massively star-forming galaxies analyzed in this study have clumpy, turbulent gas shown on the left (Hubble Telescope data). Through a unique combination of Gemini-GMOS and Keck-OSIRIS observations, the scientists were able to measure the velocity of these galaxies in each point, such as shown on the right in false colors.
A new version of the Gemini IRAF package (v1.13.1) has been released. This version is recommended to anyone processing GMOS-S data but is required to reduce GMOS-S Hamamatsu CCD data obtained after the August 2015 work on the instrument. Updated configuration files and examples are included. Please see the Processing Software page for more information.
The 2016A Gemini Observing Tool is now available for download. This update is required to access the Gemini Observing Databases.
Installation instructions are linked off of the Observing Tool web page, and we recommend that everyone download their programs from the databases rather than import from saved XMLs.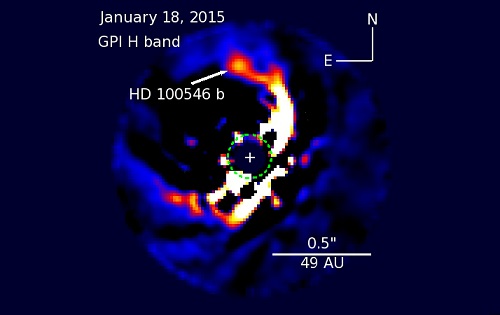 Figure 1. Image of HD 100546 obtained with the Gemini Planet Imager at near-infrared wavelengths (1.6 microns). The cross shows the position of the star, the green hatched lines show the region interior to which GPI's coronagraph blocks our view of the system. HD 100546 b appears as a bright point source sitting on a finger of disk emission.
Full Resolution
Observations using the Gemini Planet Imager are featured prominently at the Extreme Solar Systems III meeting ongoing this week (Nov. 29 - December 4) in Waikoloa Hawai'i. Below are two results from a press conference on December 1, 2015.
The GeMS / GSAOI laser run that was planned to take place this week had to be canceled. Unfortunately the laser and the Canopus Real Time Control system were not operational and in spite of intense efforts to resolve these problems in time for the laser window there was just not sufficient time to get the system in an operational state. We will continue to work towards ensuring that the upcoming January GeMS / GSAOI run will be a success.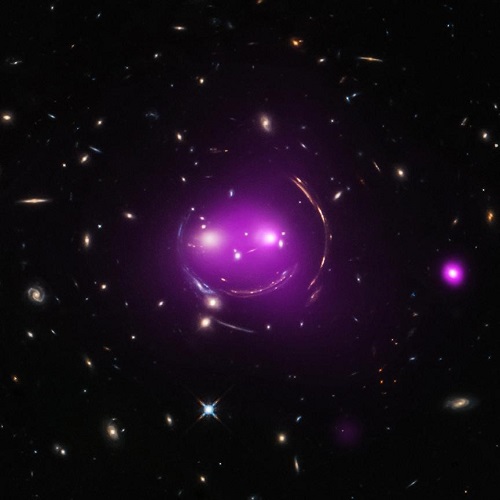 Figure 1. Image of Cheshire Cat gravitationally lensed galaxies produced by combining Chandra X-ray data with Hubble Space Telescope optical data. Gemini spectroscopy provided critical spectroscopic data for characterizing the foreground lensing cluster and understanding its history and likely fate as a "fossil group." Image Credit: Hubble Space Telescope and Chandra X-ray Observatory