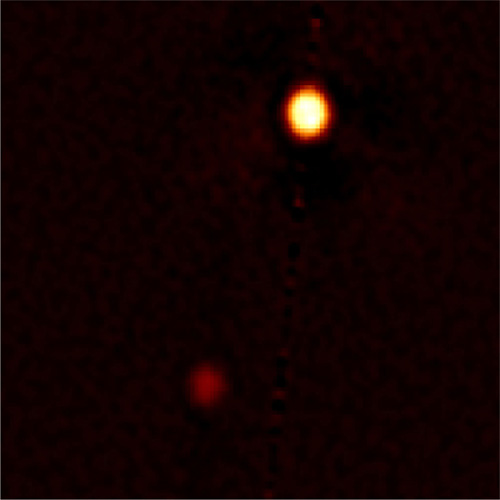 Speckle image reconstruction of Pluto and Charon obtained in visible light at 692 nanometers (red) with
All modes (Imaging, Lo-Res and Hi-Res Spectroscopy) have been commissioned and are available for use. See the current Call for Proposals and semester schedules for further details, including estimates of when T-ReCS is likely to be mounted on the telescope during the coming semester.
Extraordinary opportunity for additional T-ReCS observations in 2012B
We have a small window of opportunity for additional T-ReCS observations to be taken at Gemini South between Sept 24 and Oct 9, 2012. To make effective use of this telescope time, we are soliciting suggestions from the community.
As a result of a mechanical failure with GMOS-S*, we have a temporary hole in the GS queue for image quality conditions that are not sufficient for NICI observations (IQ85 or worse). T-ReCS is still available on the telescope for 2 more weeks, until October 9th. Therefore, Gemini invites the community to submit targets immediately, for observation with T-ReCS between September 24 and October 9, 2012.
Targets must be visible now (~22<RA<~5), and observable in moderate to poor seeing conditions (IQ-85%, or ~0.4" or worse in N-band), and should not have matching observations in the Gemini Science Archive. There is no restriction on cloud cover and water vapor conditions. Target requests should be submitted by email to the Gemini South Head of Science Operations, Bernadette Rodgers at Bernadette Rodgers at brodgers@gemini.edu, along with a very brief (few sentences) justification for observing the target and contact information for the person responsible for defining the observation. All observations will be executed from a common program with zero proprietary period, so the data will be publicly available in the GSA shortly after they are observed. These observations will be lower priority than programs in the queue, however, based on recent seeing conditions on Cerro Pachon there is a reasonable chance that some will be executed.
Before sending suggestions, please confirm target visibility, availability of guide stars, and exposure times with the Observing Tool and the online Integration Time Calculator. The PIT also has a feature to check the GSA for existing observations. An OT xml file may be attached to the email defining the observations, but this is not required. If the targets are added to the program, Gemini staff will be in touch with you to define the observations in the OT. Suggestions of unobserved targets from previous T-ReCS programs are welcome; please specify if this is the case (with program id) in the email.
We look forward to your suggestions!
Cheers,
Bernadette
UPDATE 2012A
With the introduction of FLAMINGOS-2 and GSAOI to the Gemini South (GS) suite of instruments, T-ReCS will be retired from GS at the end of the 2012A Semester. T-ReCS has been offered on GS since 2003B and has completed > 3000 observations during that time (almost one observation a day everyday for ~9yrs). At present there are no plans to decommission MICHELLE, the Gemini North mid-IR instrument. The Gemini Science and Technology Advisory Committee is discussing the question of the future of T-ReCS and of MIR on Gemini in general, and will make a recommendation to the Observatory in the coming months. 

This page explains how to configure ALTAIR in the Observing Tool. Note also the guidelines at the bottom of the page for configuring the OT's "Target Component" when ALTAIR is being used.
ALTAIR Component
The detailed component editor for Altair is accessed in the usual manner, by selecting the Altair component in your science program, and is shown here: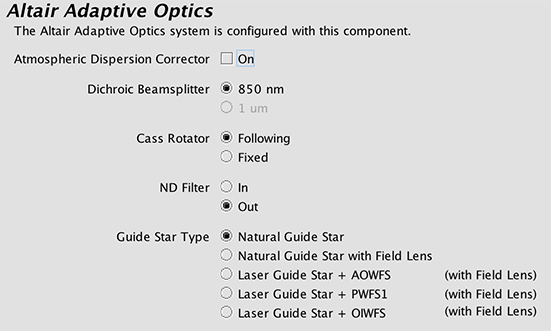 Figure 1.
Starting with semester 2007B the OT tries to assist in the creation of a proper Phase II by checking the program against a set of rules. If the OT finds something amiss then either warning or error messages are given to help you solve the problem. The checking feature is active by default but it can be turned off by un-selecting "Error Checking Enabled" from the Edit menu.
Known bugs (and workarounds, where possible) in the Observing Tool are described here. If you find a new problem, please submit the information via the Gemini HelpDesk and include any stack trace (by default Windows does not give a stack trace).
31 August 2012
Known bugs in 2012B.3.1.1:
When doing manual guide star searches some catalogs do not respect the inner radius or the magnitude limits. Some search radii are also listed in reverse (i.e. min > max).
Below is a summary of the Altair specifications, as in the Functional and Performance Requirements Document.

Altair is the natural guide star adaptive optics system for the Gemini-North telescope built at the Herzberg Institute for Astronomy (HIA). 

The science performance requirements for Altair include: