Using dedicated GMOS images (pre-imaging) for designing MOS masks has the advantages of being independent of the accuracy of any astrometric calibration and immune against proper motions of alignment stars or objects. However it also requires more telescope time, and requires time between the start of the semester and the start of the MOS observations for the pre-imaging to be taken and the mask to be designed.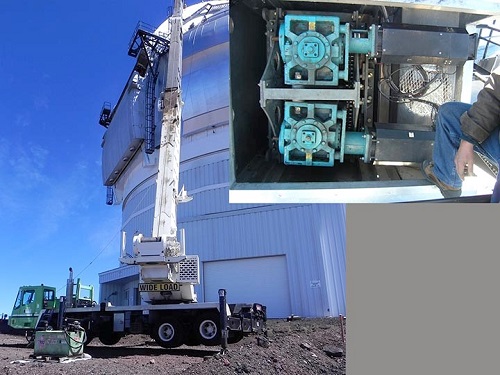 The Gemini North enclosure (left) shown with the crane used for the recent installation of the service platform. This platform will be necessary to make repairs to the failed shutter bearing. Inset shows a closeup of the shutter bearing assembly with the skewed assembly (aqua, at bottom).
Semester Schedule Overviews

Queue Summary

GN 2014A | GS 2014A
Status of the queue for the current semester
Current sem
Known bugs (and workarounds, where possible) in the Observing Tool are described here. If you find a new problem, please submit the information via the Gemini HelpDesk and include any log messages. The most recent log file is called ot.0.0.log and is located in <home>/.ocs15/<version>/log (Windows, Linux, Solaris) or <home>/Library/Logs/edu.gemini.ot (OSX).
9 December 2013
Known bugs in 2014A.1.2.1:

Access to the Gemini Observing Databases (ODBs) is controlled by requesting authenication keys for each instance of the OT that you use. Once an OT has a key it does not need to be entered again unless the key is deleted or reset or the OT is updated. Keys are managed with the Keychain Manager that is accessed from the "Manage Keys..." button OT on the welcome screen and the Open Program dialog or by selecting Edit...Manage Keys... in the Science Program Editor.