This page provides instructions for completing Phase II Science Programs for all Gemini North and Gemini South instruments. It includes submission details and notes of any procedural changes. Please read this page carefully!
---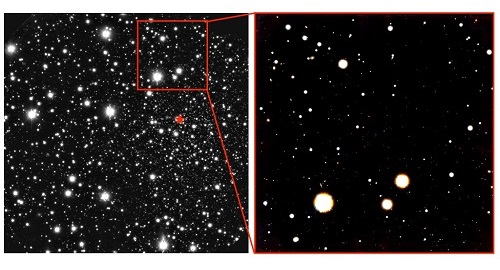 Figure 1: Gemini Multi-Object Spectrograph (GMOS-South) of the Pyxis field (left image), with the center of the cluster marked with a red star. A zoom of the pseudo color image of Pyxis observed with the Gemini South Adaptive Optics Imager (GSAOI) used with the Gemini Multi-conjugate adaptive optics System (GeMS) is shown at right. The field of view of GMOS is 5 x 5 arcminutes, 85 x 85 arcseconds for GeMS.
Three types of spectroscopy are possible with each GMOS and its selection of gratings.
The GMOS-N and GMOS-S EEV detectors had significant fringing in the red. The GMOS-N DD E2V detectors, which were in operation until February 2017, and the new GMOS-N and GMOS-S Hamamatsu detectors exhibit much less fringing than the original EEV detectors. The pages in this section show examples of fringe frames in imaging mode as well as science data before and after correction for fringing.