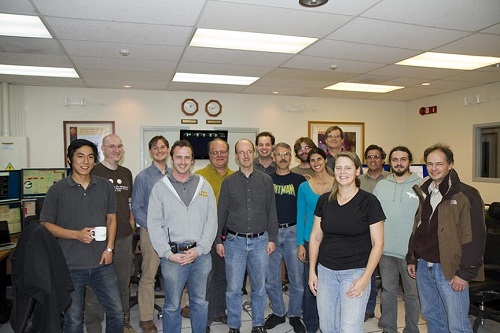 The GMOS-S CCDs have significant fringing in the red. This page shows examples of fringe frames in imaging mode in the i'-filter and the z'-filter as well as science data before and after correction for the fringing.
FLAMINGOS-2 is a Near-Infrared wide field imager and multi-object spectrometer for use on Gemini-South. It was constructed by the University of Florida Astronomy Department. FLAMINGOS-2 was first delivered to Gemini in July 2009, was refurbished by the Gemini engineering team, and returned to commissioning in December 2011. In February 2012, the instrument's large collimator was found cracked. This lens and its holder have been replaced.
A new version of the Gemini IRAF package (v1.12) has been released. This version is required for processing GSAOI and FLAMINGOS-2 data and includes configuration files and examples. Please see the
processing software
page for more information.