Please email us to sign up for notification of electronic GeminiFocus publication.
Click on the cover below to access the e-reader version (Flash Player required for desktop browsers)


The Gemini 2017A observing programs have now been announced. Notification emails to successful PIs were sent today, December 15 2016. Please check the schedules page for more information. Note that the new Observing Tool must be used to access and update 17A programs.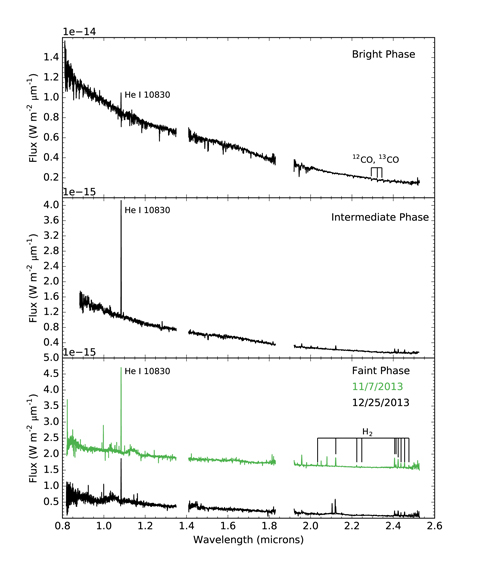 The top panel shows the spectrum of KH 15D during its "bright" phase, when the amount of direct starlight was greatest. The middle spectrum ("intermediate" phase) was taken when star B was just below the edge of the ring. Both spectra in the bottom panel were obtained during "faint" phases from two different cycles, when both stars were near periastron and the contribution from starlight was minimized.
Semester 2017A
The table below summarises the classically-scheduled programs that have been awarded time on Gemini North and South, as well as programs from the Gemini community awarded Exchange time on Subaru. Jump directly to the schedule for:
The 2017A Gemini Observing Tool is now available for download. This update is required to access the Gemini Observing Databases.
The Installation Instructions are linked off of the Observing Tool web page, and we recommend that everyone download their programs from the databases rather than import from saved XMLs.