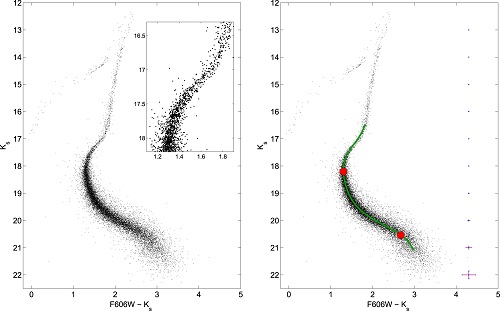 Left: (Ks, F606W-Ks) color–magnitude diagram of NGC 1851; the detail of the double SGB is shown in the inset. Right: same as the left panel with average photometric (random) uncertainties indicated. Overlaid is the fiducial line with the approximate locations of the main sequence turnoff and main sequence knee highlighted by red dots.
The Gemini-S telescope survived an 8.4 magnitude earthquake the previous week. Following an intense week of detailed inspections and testing of the infrastructure, the telescope, and the instruments were released for normal use. During the inspection some components were found broken or displaced, but all could be repaired and adjusted and no major damage was sustained. 
On-sky tests over the weekend showed that all is well and science observations have resumed. 
On September 16th, 2015, La Serena was hit by a magnitude ~8.3 earthquake at 19:54 local time, with the epicenter about 150 km from La Serena. Fortunately, Gemini staff at the Cerro Pachón summit and in La Serena were all fine. Our thoughts go out to the people that lost their lives and homes due to the quake and the following tsunami that strongly impacted the coastal areas.