In preparation for the start of 2016A, all Fast Turnaround (FT), Director's Discretionary (DD) time, and Poor Weather (PW) proposals must use the 2016A Phase I Tool (PIT). See the PIT Version Table for more information and download links.
AstroDay Chile
    AstroDay Chile es uno de los programas de extensión con mayor tradición que organiza Gemini anualmente.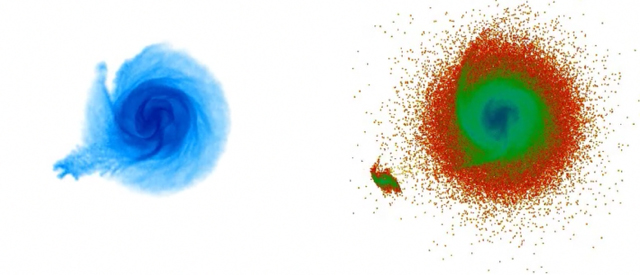 Computer simulation of gas distribution (left) and stars (right) after the Milky Way is perturbed by the dwarf satellite. Download the entire animation here.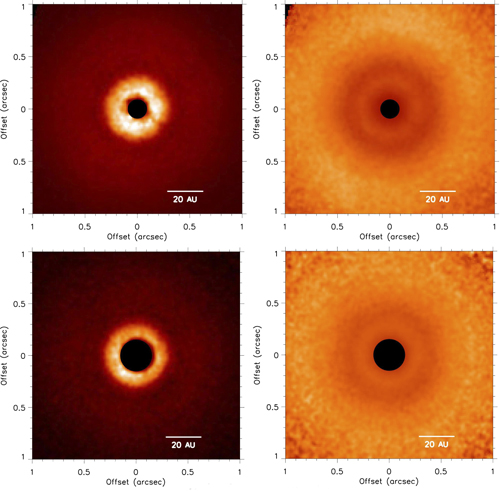 Left: GPI J band (top) and K1 band (bottom) polarized intensity (Qr) images of the TW Hya disk. Right: Qr(i; j) scaled by r2(i; j), where r(i; j) is the distance (in pixels) of pixel position (i; j) from the central star, corrected for projection effects. All images are shown on a linear scale. The coronagraph is represented by the black filled circles and images are oriented with north up and east to the left.
Gemini Observatory announces an opportunity for new Large and Long Programs. Eligible PIs are invited to propose scientific investigations to begin observation in the 2016B semester. Letters of Intent are due February 2, 2016, and completed proposals are due March 31, 2016.  Details and requirements are available in the
 Announcement of Opportunity
.
The Gemini 2016A observing programs have now been announced.  Notification emails to successful PIs were sent December 15, 2015.  Please check 
the schedules page
 for more information.  Note: There have been reports of the notification emails being flagged as spam for some users.  Please consider adding gemini.edu to your spam whitelist.  
Gemini North and South are accepting proposals for the Fast Turnaround (FT) program. Here, we give information specific to this proposal cycle. Please see the other FT pages - particularly the rules - for general information about the program.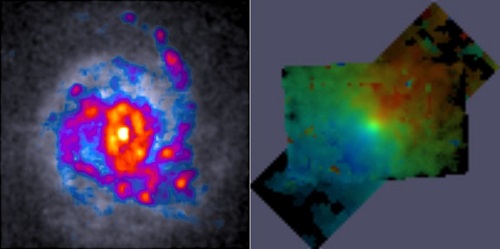 Figure 1. The massively star-forming galaxies analyzed in this study have clumpy, turbulent gas shown on the left (Hubble Telescope data). Through a unique combination of Gemini-GMOS and Keck-OSIRIS observations, the scientists were able to measure the velocity of these galaxies in each point, such as shown on the right in false colors.
A new version of the Gemini IRAF package (v1.13.1) has been released. This version is recommended to anyone processing GMOS-S data but is required to reduce GMOS-S Hamamatsu CCD data obtained after the August 2015 work on the instrument. Updated configuration files and examples are included. Please see the Processing Software page for more information.