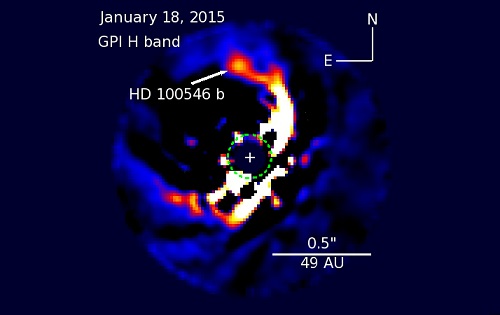 Figure 1. Image of HD 100546 obtained with the Gemini Planet Imager at near-infrared wavelengths (1.6 microns). The cross shows the position of the star, the green hatched lines show the region interior to which GPI's coronagraph blocks our view of the system. HD 100546 b appears as a bright point source sitting on a finger of disk emission.
Full Resolution
Observations using the Gemini Planet Imager are featured prominently at the Extreme Solar Systems III meeting ongoing this week (Nov. 29 - December 4) in Waikoloa Hawai'i. Below are two results from a press conference on December 1, 2015.
The GeMS / GSAOI laser run that was planned to take place this week had to be canceled. Unfortunately the laser and the Canopus Real Time Control system were not operational and in spite of intense efforts to resolve these problems in time for the laser window there was just not sufficient time to get the system in an operational state. We will continue to work towards ensuring that the upcoming January GeMS / GSAOI run will be a success.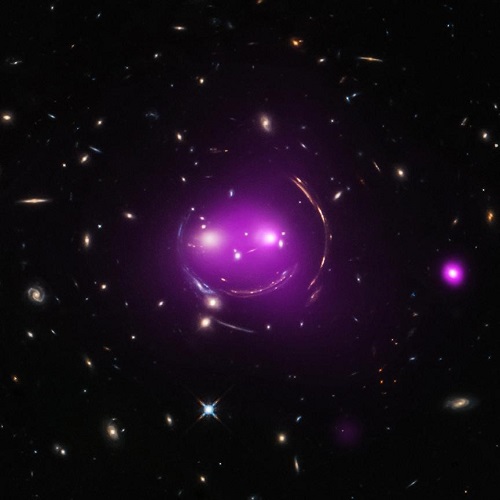 Figure 1. Image of Cheshire Cat gravitationally lensed galaxies produced by combining Chandra X-ray data with Hubble Space Telescope optical data. Gemini spectroscopy provided critical spectroscopic data for characterizing the foreground lensing cluster and understanding its history and likely fate as a "fossil group." Image Credit: Hubble Space Telescope and Chandra X-ray Observatory
Gemini Observatory is pleased to announce the release of the public GIFS reports.
Gemini Observatory
Northern Operations Center
670 N. A'ohoku Place
Hilo, Hawaii, 96720, USA
Phone: (808) 974-2500
Fax: (808) 974-2589
Gemini Staff Directory

Gemini Observatory
Southern Operations Center
c/o AURA, Casilla 603
La Serena, Chile
Phone: 56-51-220-5600
Fax: 56-51-220-5650
Gemini Staff Directory
---
Gemini is operated by a partnership of the United States, Canada, Chile, Brazil, and Argentina. These Participants and the University of Hawaii, which has regular access to Gemini, each maintain a "National Gemini Office" to support their local users.
United States | Canada | Brazil | Argentina | Chile | University of Hawaii

The United States Gemini Office
Dr. Verne Smith
National Optical Astronomy Observatory
PO Box 26732, Tucson, Arizona 85726, USA
vsmith@noao.edu

The Canadian Gemini Office
Dr. Stéphanie Côté
National Research Council Canada
5071 W. Saanich Road
Victoria BC, V9E 2E7, CANADA
Phone: 250-363-0026
Stephanie.Cote@nrc-cnrc.gc.ca

The Brazilian Gemini Office
Dr. Eder Martioli
Laboratório Nacional de Astrofísica
Rua Estados Unidos, 154
37504-364 Itajubá - MG
Phone: (+55)-35-3629-8220 (direct)
Phone: (+55)-35-3629-8110 (LNA general)
brgo-head@lna.br

Dr. Lydia S. Cidale
Facultad de Ciencias Astronómicas y Geofisicas
Universidad Nacional de La Plata
Instituto de Astrofísica La Plata (CONICET-UNLP)
Paseo del Bosque - B1900FWA - La Plata - Buenos Aires Argentina
Tel: +54-221-4236593 (ext: 153)
Fax: +54-221-4236591
argo@fcaglp.unlp.edu.ar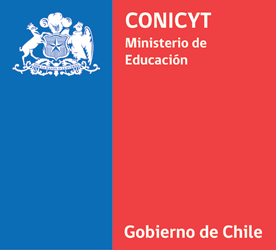 The Chilean Gemini Office
Prof. Edgardo Costa
The Chilean National Gemini Office
Programa de Astronomía
Comisión Nacional de Investigación Científica y Tecnológica de Chile
(CONICYT)
Bernarda Morin 551, Providencia, Santiago
CHILE
costa@das.uchile.cl


University of Hawaii Gemini Office
Roy Gal
Institute for Astronomy
University of Hawaii
2680 Woodlawn Dr.
Honolulu, HI 96822
(808) 956-6235
rgal@ifa.hawaii.edu
---
Additionally, Gemini may have "limited-term collaborators" - countries or institutions that have acquired temporary access to a subset of the telescope's operating modes. These may or may not maintain an NGO.
Contact information for the current limited-term collaborators (if none, contact the observatory directly):


International Telescopes Support Office
Dr. Stuart Ryder
Australian Astronomical Observatory
P.O. Box 915
North Ryde, NSW 1670, AUSTRALIA
Phone: 61 (02) 9372-4843
itso@aao.gov.au


K-GMT Science Program Office
Dr. Narae Hwang
Center for Large Telescopes
Korea Astronomy and Space Science Institute
776 Daedeokdae-Ro Yuseong-Gu
Daejeon 34055 Rep. of KOREA
Phone: +82-42-869-5822
Email: kgmtprop@kasi.re.kr
Introduction
The OCTOCAM study was led by Antonio de Ugarte Postigo and managed by Pete Roming and Christina Thöne. The project was coordinated from the Instituto de Astrofisica de Andalucia (IAA-CSIC), with main collaborators at the Southwest Research Institute, Fractal SLNE, and George Washington University. The study began in April 2015 and concluded in October 2015.
This page describes the steps to properly configure the instrument using the OT. Generally the user should use the skeleton templates that are created in Phase II and apply them to obtain the proper sequences. Instructions on for the general use of the OT can be found on the OT page and related links, as this page describes particular details for using OT with GPI. There is a GS-GPI-library available that contains complete examples of various modes and setups. Use the OT and select "libraries" and the program can be downloaded.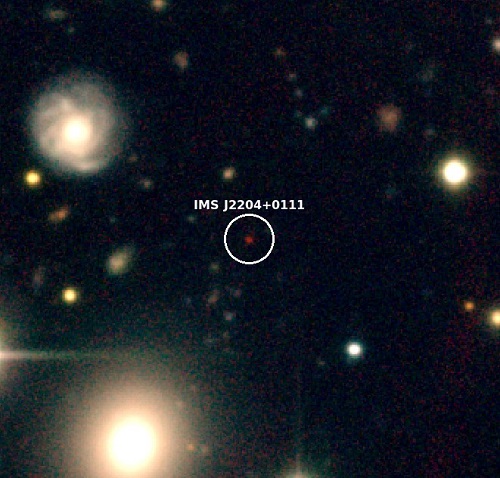 Figure 1. Color composite-image of IMS J2204+0111 at z=6 (about 1 billion years after the Big Bang). IMS J2204+0111 is the red object at the center and its distance from us is 12.8 billion light years. Because of the expansion of the universe, distant objects like IMS J2204+0111 move away from us almost at the speed of the light, making their light to shift into near-infrared wavelength (phenomenon, called "redshift").