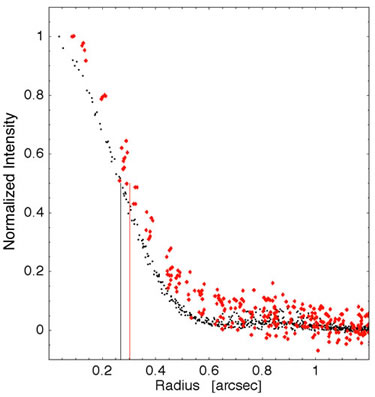 Figure 1: Azimuthally averaged radial plots of Zeta Leporis (red) and a nearby point-spread-function (PSF) star (black). The colored lines denote the widths of the sources at 50% their peak brightness.
Science Contacts:
Dr. Geoffrey C. Clayton
Louisiana State University,
Baton Rouge, LA
(225) 405-1617 (cell)
gclayton@fenway.phys.lsu.edu
Dr. Thomas R. Geballe
Gemini Observatory, Hilo, HI
(808) 974-2519 (desk)
(808) 345-6739 (cell)
Science Contacts:
Dr. James Radomski
Gemini Observatory, La Serena, Chile
+56-51-205-640 (desk)
jradomski@gemini.edu
Dr. Christopher Packham
University of Florida, Gainsville, FL
(352) 392-2052 (desk)
(352) 514-3333 (cell)
packham@astro.ufl.edu
Media Contact:
Peter Michaud
Gemini Observatory, Hilo HI, USA
(808) 974-2510 (desk)
The Gemini Observatory observing database is being upgraded in preparation for semester 2007A and so is currently not accessible by the Observing Tool (OT) or the web report forms. A new OT will be available during the week of December 11. Please check this site for further announcements.