NGC 1068 The Closest Active Galactic Nucleus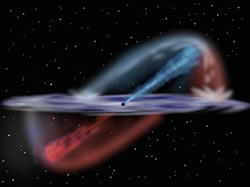 Artist's conception of what the environment surrounding the black hole in NGC 1068 might look like. Gemini artwork by Jon Lomberg
The recent addition of a field lens in the Altair adaptive optics system has resulted in a significant improvement in near-infrared imaging capabilities at Gemini North. Altair with the field lens will begin regular science use in semester 2006A.

Joint W.M. Keck, Subaru and Gemini Observatories Press Release
Science Contacts:
David Harker
University of Caliifornia, San Diego
(858) 822-4893
dharker@ucsd.edu
Seiji Sugita
University of Tokyo
+81-4-7136-5520
sugita@k.u-tokyo.ac.jp
Fred Chaffee
W.M. Keck Observatory
(808) 885-7887
Media Contacts:
Science Contact:
Inseok Song
Gemini Observatory, Hilo HI
WFMOS Questions
Question: Should prospective WFMOS teams open a direct dialog with Subaru to answer Subaru-specific questions or should questions be routed through Gemini?

Answer: Though Subaru and Gemini are working closely on a variety of WFMOS matters, a single point of contact should be used to make sure that answers to RFP questions submitted are distributed to everyone through these "Aspen Program Announcements" on Gemini's web page.
Last Modified: December 31, 1969,