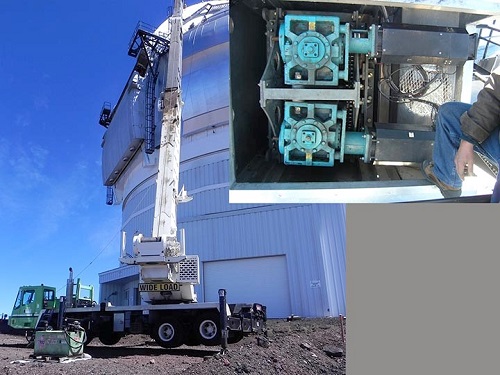 The Gemini North enclosure (left) shown with the crane used for the recent installation of the service platform. This platform will be necessary to make repairs to the failed shutter bearing. Inset shows a closeup of the shutter bearing assembly with the skewed assembly (aqua, at bottom).
Semester Schedule Overviews

Queue Summary

GN 2014B | GS 2014B
Status of the queue for the current semester
Current semester schedules for classical observers and programs
Gemini Observatory announces an opportunity for Large and Long Programs. Eligible PIs are invited to propose scientific investigations to begin observation in the 2014B semester. Letters of Intent are due February 3 2014, and completed proposals are due March 31 2014.
1. What instruments are available for LPs?
Search for books located in Gemini North, Gemini South, and JAC libraries: