Large parts of Chile, including the town of La Serena and the surrounding mountains suffered from bad weather the last few days. Over the weekend Aug 8-9 about a meter of snow fell on Cerro Pachon. Once the road is cleared and the day crew can reach the summit again the appropriate measures will be taken to get the telescope back into operation as soon as possible. This will probably take a few days.
Professional and Educational Tours
The Gemini North observing database will be offline Tuesday July 28 from 10-11am HST while we perform infrastructure maintenance.
During this time the following services will be unavailable:
Phase I Tool guide star probability queries
Observing Tool synchronizations and file transfers (Gemini North programs only)
Observing Tool non-sidereal target queries (Gemini North programs only)
Please check this site for further announcements.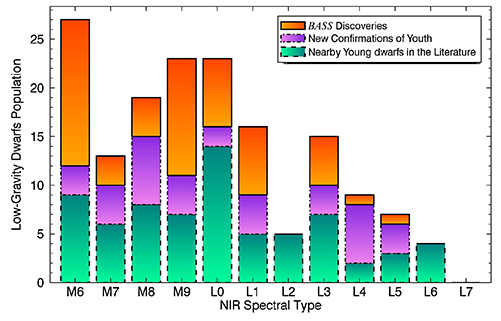 Figure 1. NIR Spectral type histogram of all known low-gravity dwarfs and those presented in this work. Green bars delimited by dashed lines represent the known population prior to BASS, purple bars delimited by dash-dotted lines represent known dwarfs for which low-gravity features were identified here for the first time, and orange bars delimited by solid lines represent new discoveries from BASS.
As part of Gemini's comprehensive energy savings initiative, Gemini North Telescope Facility (GN) seeks to install a 94.8 kW, net-energy metered photo-voltaic power system on the GN support building located at the Hilo Base Facility in Hilo, Hawaii. The proposed PV system consists 378 modules having a DC capacity of 260 W per module (98.28 kW DC total) and 4 decentralized inverters having a rated AC capacity of 24 kW AC per inverter (94.8 kW AC total). The system shall be configured in a 480 volt 3-phase arrangement.
In preparation for the start of 2015B, all new Fast Turnaround (FT), Director's Discretionary (DD) time, and Poor Weather (PW) proposals must use the 2015B Phase I Tool (PIT). See the PIT Version Table for more information and download links.
The Gemini South observing database is back online after the shutdown due to the July 12 snowstorm. 
The Phase 2 deadline for 2015B Gemini South programs is now the end of the workday on Tuesday, July 21.
Please submit a Helpdesk ticket if you have any problems or questions.
Last Modified: December 31, 1969,