Back on the Sky at Gemini South
November 2, 2015
Tweet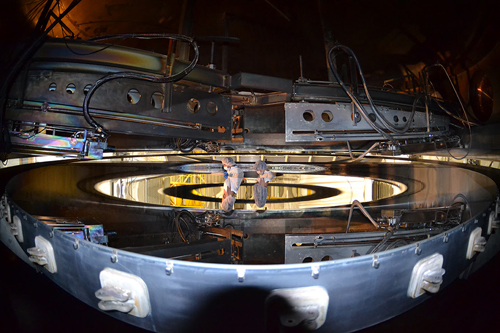 Gemini South optical engineers inspect the primary mirror after 7-hour coating process.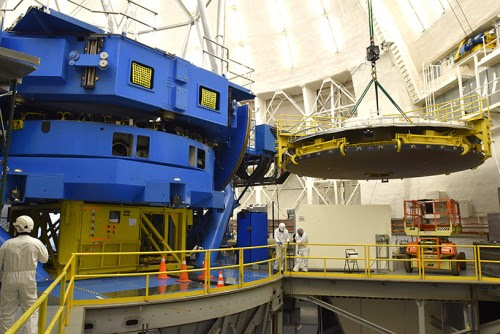 The 8.1 meter primary mirror suspended on the 4th floor, before descending to the stripping/coating area on the first floor of the observatory building.
After 18 days of hard work during the recent scheduled maintenance shutdown, the Gemini South telescope is back on the sky! During maintenance, which took place October 13th - 30th, the 8.1-meter primary mirror received a fresh multi-layer protected silver coating - a key task for the shutdown.
Read more details about the Gemini South telescope's scheduled shutdown on the Gemini blog! http://www.gemini.edu/blog/blog/2015/11/02/back-on-the-sky-at-gemini-south/
The Gemini telescope mirrors are recoated about every 5 years. Click to see a time lapse of the last Gemini South mirror coating in 2010:
MP4 Video (52 MB)
1280x720 QuickTime Video (60.1 MB)