A must see video on Journey 2012 (password: jttu)
see: UH Hilo Chancellor Donald Straney's Blog, March 12, 2012
Journey through the Universe (Journey) Week: March 1 – 9, 2012
Thursday, March 1, 2012:
Master Educators/Astronomers' Workshop: 8am – 12pm `Imiloa Astronomy Center
Astronomy Educators will join the Master Educators 10am – 12pm

Friday, March 2 & Monday - Thursday, March 5 - 8, 2012:
Astronomy Educators will make classroom visits to Participating Schools
Saturday, March 3, 2012:
Journey Community Keynote and Workshops: 8am – 3:30pm at Hilo High School
Sunday, March 4, 2012:
Journey through the Universe Family Science Day: 9am – 4pm at `Imiloa Astronomy Center with KTA
Monday, March 5, 2012:
Hawai'i Chambers of Commerce Appreciation Event: 5pm – 8pm at Hilo Yacht Club
Wednesday, March 7, 2012:
Journey through the Universe Family Science Night: 6pm – 9pm at University of Hawai`i at Hilo
Developed by the National Center for Earth and Space Science Education (NCESSE), Journey through the Universe is a national science education initiative that engages entire communities – students, teachers, families, and the public – using educational programs in the Earth and space sciences and space exploration to inspire and educate. The initiative supports sustained Science, Technology, Engineering, and Mathematics (STEM) education in local schools, and is a celebration of exploration and the joy of learning.
The North Hilo/Laupahoehoe/Waiakea Complex, located on the island of Hawai'i and home of Mauna Kea Observatories, joined the Journey through the Universe program in June 2004 and is one of 10 communities in the nation that are designated Journey through the Universe sites. More ...
Family Science Events
Environments where families learn science together with hands-on activities. Local and national scientists give short presentations on interesting topics in astronomy and space exploration throughout the event.
Family Science Day, Sunday, March 4, 2012, 9am – 4pm
at `Imiloa Astronomy Education Center with KTA
For detailed programs, please see this PDF.
Exhibits from the Observatories on Mauna Kea, NASA Lunar Space Institute, UHH Astrophysics Club, Visitor Information Station and many others will be open for viewing!
9:30am Brad Bailey NASA Lunar Space Institute
Underwater Volcanoes Dr. Brad Bailey will discuss the relevance to underground Mars and Europa biospheres in addition to other volcanic activity in the solar system.
Brad Bailey received his Ph.D. from Scripps Institution of Oceanography in marine microbiology and geochemistry. His Ph.D. work included diving into submarine volcanoes in Hawai'i and Samoa via small submersibles to study the interaction between biology, hydrothermal vent water chemistry and rock surfaces. Brad is now the NASA Lunar Science Institute Staff Scientist at NASA Ames and also directs the NASA Ames Academy, a summer student research and leadership development program.
10:30am Dr. Douglas Arion, Carthage College
The Beautiful End of Stars Some of the most spectacular astronomical images show the beautiful and intricate gas clouds that surround dying stars. Sometimes the star dies a violent death – a supernova. But most stars, like the Sun, will die slowly, and in that process for a short time are surrounded by the glow of planetary nebulas with amazing shapes and beautiful colors. Come explore these objects, and what their shapes may mean for planets around other stars and the future of our own Solar System.
Douglas Arion is Professor of Physics and Astronomy and Professor of Entrepreneurship at Carthage College. He develops new instrumentation in a variety of fields, including astronomy and space sciences, and conducts astronomy research studying the structure of planetary nebulae. He directs the Carthage Institute of Astronomy and the College's new astronomy facility, the Griffin Observatory. As part of the International Year of Astronomy – 2009, Arion was a key member of the Galileoscope cornerstone project, formed and managed Galileoscope LLC to manufacture and distribute high quality, low cost telescopes worldwide for the IYA. Nearly 200,000 Galileoscopes were distributed, including 7000 donated to areas of the world unable to purchase Galileoscopes themselves. He is actively engaged in public astronomy education and outreach in partnerships with NOAO and the Appalachian Mountain Club. A telescope designer and builder, he makes his own telescopes, teaches telescope making classes, and has won telescope design competitions.
11:30am Dr. Gordon Squires, Thirty Meter Telescope
Explore the universe with someone who was there when Pluto became a "dwarf planet". Gordon K. Squires is an astronomer at the California Institute of Technology, working with the Thirty Meter Telescopes as well as NASA's Spitzer Space Telescope, the Herschel Space Observatory, the Galaxy Evolution Explorer and other space telescopes with Caltech involvement. His research explores the old, cold and distant universe – understanding how galaxies formed billions of years ago and what is the nature of the dark matter and dark energy that fills space.
12:30pm Dr. Scott Fisher, National Science Foundation
Astronomy on the Big Island, What's Funding Got to do with it? In this public-friendly presentation, Dr. Fisher will talk about two topics that may seem to be unrelated, but are really very connected. He will start out with a short talk about how big science projects like many of the telescopes on Mauna Kea are funded. This part of the presentation will explain where the money for these projects comes from and how it makes it way to the base facilities and observatories on the Big Island. In the second part of the talk Dr. Fisher will present and 'talk story' about some of the latest and greatest discoveries made by observatories on Mauna Kea and around the world. From new planets in the solar neighborhood to massive supernova explosions on the other side of the Universe, we will take a tour of the sky and learn more about the cutting edge research happening right in our own back yard. Of course, there is always time for a game of "Stump the Astronomer" so be sure to bring your questions to ask!
1:30pm Dr.Jeff Goldstein, National Center for Earth & Space Science KEYNOTE SPEAKER
How Big is Big? It's a big, often intimidating universe out there. How do we even begin to fathom objects and distances that dwarf anything we've ever experienced? You might memorize all the facts and figures—our galaxy has over 100 billion stars, our Sun is 93,000,000 miles away. But where's the learning? The numbers are big, impersonal—even irrelevant. Instead, you might imagine a simple view with Earth, our Sun, and some neighboring planets and stars adrift in an endless ocean of space. But both approaches do a disservice to the majesty of the cosmos. Earth's place in space IS understandable, and in a way that inspires awe and wonder! The secret is placing the universe in a context that is familiar. You're not convinced? Come and take this magical journey from spaceship Earth to points unknown. I promise when we come back home you'll feel the words of T.S. Eliot: "…and the end of all our exploring will be to arrive where we started and know the place for the first time."
Focus: a conceptual understanding of the universe through the power of models
Dr. Jeff Goldstein is the Center Director for the National Center for Earth and Space Science Education (NCESSE) where he creates and oversees national science, technology, engineering, and mathematics (STEM) education programs. Dr. Jeff created the Journey through the Universe national program. He also oversees the Student Spaceflight Experiments Program (SSEP) engaging grade 5-12 students across an entire community in real microgravity experiment design for flight on the International Space Station. He oversaw installation of the Voyage model Solar System on the National Mall in Washington, DC, and at sites across the U.S., and is the principal presenter for Family Science Night at the Smithsonian's National Air and Space Museum.
3:00pm Dr. Tim Slater, University of Wyoming, Center for Astronomy & Physics Education Research
Omens in the Sky: Can Comet Hunters Save the World? Since the dawn of civilization, skywatchers vigilantly stood guard for these strange visitors from the outer reaches of the solar system. Comets, asteroids, and meteor showers can leave observers mystified, but today impact predictions leave governments perplexed.
Tim Slater is a NASA Scientist and Professor at the University of Wyoming where he holds the Excellence in Higher Education Endowed Chair. He has a Ph.D. in Geological Sciences from the University of South Carolina and a Masters Degree in Astronomy from Clemson University. He is an author of seven books and nearly 100 scientific articles. Dr. Slater is an internationally known expert on astronomy, planetary sciences, and the scientific search for life in the Universe and is providing presentations on NASA's current endeavors to explore the planets, cutting edge scientific results from the world's most technically advanced telescopes, and our growing understanding of the dynamics and inhabitability our evolving Universe.
Astronomy Educators Reception, Monday, March 5, 2012, 5pm – 8pm at Hilo Yacht Club
Sponsored by Hawai'i Island Chamber of Commerce, Japanese Chamber of Commerce, and Industry of Hawai'i
Please download registration form.
Link to PISCES.
Family Science Night, Wednesday, March 7, 2012
at University of Hawai'i at Hilo Science and Technology Building (near the entrance from W. Lanikaula St.) Room 108 (first floor lecture hall)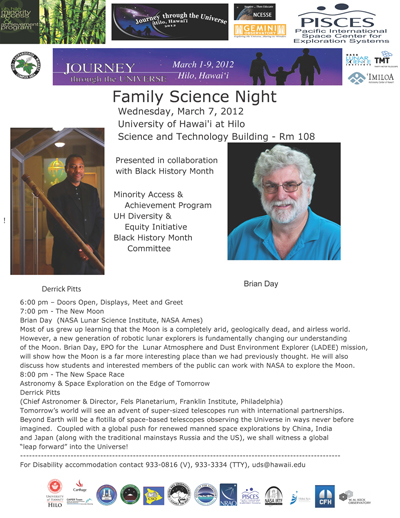 6:00 - 7:00pm Public interactions with Observatory booths
Presentations:
7:00 - 8:00pm Brian Day - NASA Lunar Science Institute

"The New Moon" Most of us grew up learning that the Moon is a completely arid, geologically dead, and airless world. However, a new generation of robotic lunar explorers is fundamentally changing our understanding of the Moon. Brian Day, from the NASA Lunar Science Institute and the Lunar Atmosphere and Dust Environment Explorer (LADEE) mission, will show how the Moon is a far more interesting place than we had previously thought. He will also discuss how students and interested members of the public can work with NASA to explore the Moon.
Brian Day is the Citizen Science Lead and Education/Public Outreach (E/PO) Specialist at the NASA Lunar Science Institute. In this role, he coordinates programs with numerous internal and external partnering organizations, focusing on providing opportunities for students and the public to directly participate in lunar science and exploration. Brian also currently serves as the Education/Public Outreach Lead for NASA's Lunar Atmosphere and Dust Environment Explorer (LADEE) mission to the Moon, scheduled for launch in 2013. Brian has worked as an instructor in San Jose State University's Internet Business Specialist program, and has taught astronomy through the Metropolitan Education District in San Jose and as part of Project Astro. He is very active in the amateur astronomy community and served as the chairman of the Foothill College Observatory for 16 years. Brian earned a Bachelor's degree in Psychology from the University of California Los Angeles, a Bachelor's degree in Information Systems from the University of San Francisco, and a Master's degree in Astronomy from the University of Western Sydney.
8:00 - 9:00pm Derrick Pitts - Franklin Institute Science Museum

The New Space Race: Astronomy & Space Exploration on the Edge of Tomorrow Derrick Pitts will give an overview of the upcoming developments in ground based astronomy with the new observatories (TMT, GMT) underway and also survey the new space telescopes (James Webb) and the link between astronomy and space exploration.
Derrick Pitts has been associated with the Franklin Institute Science Museum since 1978, designing and presenting many of the museum's public programs and exhibits. Pitts was the original director of the Tuttleman OMNIMAX Theater, museum vice-president and many other valued positions. He has been Chief Astronomer and Director of the Fels Planetarium since 1990, having written and produced more than two-dozen planetarium programs. He served as the US National Spokesperson for the IAU 'International Year of Astronomy 2009' and currently is a NASA Solar System Ambassador. Pitts is nationally known as an excellent 'teacher'. His presentations are stimulating, humorous, intellectually challenging, compelling and at the same time accessible to the broadest audiences. He puts his emphasis on making sure that everyone can come to appreciate the universe as he sees it – not a watered-down sketch of the universe, but a rich, deep, complex version with human connections that everyone can understand at some level.
Thursday, March 1, 2012: `Imiloa Astronomy Center
Facilitate common understandings of key concepts and strategies for effective science education among master educators and professional scientists for preparation for classroom visits.

Master Educators Workshop: 8am – 12pm

Each local school selects one Master Educator to represent the participating teachers for the school.

Science Educators Workshop: 10am – 12pm (joining the Master Educators)

The combined Master Educator and Astronomy Educator Workshop is designed to help astronomers enhance and focus their classroom visits by working side by side with Master Educators. Astronomers are encouraged to bring their classroom presentation materials to this workshop to get valuable feedback from classroom experts. Led by Tim Slater, this workshop dramatically improves the impact of astronomers' and scientists' classroom visits.

Astronomy Educators and Science Educators are volunteering astronomers, engineers, and faculty from astronomical institutions and colleges, both local and national.
Saturday, March 3, 2012: Hilo High School
Agenda

8:45 – 10:00 am, Saturday, March 3, Hilo High School

Keynote Speaker: Dr. Jeff Goldstein, National Center for Space Science Education

Science_It's not a Book of Knowledge...It's a Journey


Every parent remembers that magical time when our children first began to speak, that moment marking the beginning of unending questions. In our children we can see our humanity — our innate curiosity — and recognize the obvious … that we are born to explore!

Science, in all its seeming complexity, is nothing but a means to organize curiosity. A way to empower one's self to ask the gift of a question, and to hone the art that allows navigation through the noise of the universe around us in quest of an answer. It is an emotional, joyful, and wondrous journey that hopefully allows the traveler to pull back the veil of nature just a little, see how she operates, and celebrate the accomplishment.

Science education is no different. It is the means by which we immerse our children in the act of journey by letting them do science, and acknowledging it is their journey. As teachers, our sweet reward is seeing the joys of learning wash over them. And as teachers, we are charged with nothing less than patiently and gently launching the explorations of an entire generation.

10:15 – 12:20 pm Administrators & Community Partners Session with Dr. Jeff Goldstein

Journey through the Universe 2.0



It is recognized that Science, Technology, Engineering, and Mathematics (STEM) is vital to ensure that America can compete in the high technology marketplace of the 21st century and that our children are prepared for the 21st century job market. In this context, it is noteworthy that for 8 years Journey through the Universe (Journey) on the Big Island has made a broad and sustained commitment to STEM education through professional development for teachers, family and public programs committed to cross-generational learning, and classroom visits by researchers capable of providing a firsthand view of what it's like to work on the frontiers of human exploration. For 8 years, Journey has flourished through its commitment to community-wide engagement, and partnerships between the local education, research, and business communities. In this time of strategic national need in STEM education, we should embrace "Journey 1.0" for what it has accomplished, recognize that it is a proven model for STEM education, and explore its expansion into an initiative that can be strategically coupled to Hawai'i State needs in STEM education.

This breakout session is dedicated to an exciting 'blue sky' discussion for the leadership of the local education, research, and business communities where we can network on STEM education needs and organizational capabilities, and explore how the existing program can be taken to the next level—"Journey 2.0"—with, e.g., authentic STEM immersion experiences for students, and expanded programming and collaborations that can leverage both Hawai'i's strategic objectives in STEM education and the rich assets of the myriad national and international research organizations on the Big Island.

10:15 – 12:20 pm Teacher Breakout Sessions (I & II or III)

10:15 – 11:15 Session I

Elementary
Provide teachers with inquiry based strategies for developing students' understanding about key concepts in space science based on HCPS III.

11:20 – 12:20 Session II

Secondary
Provide teachers with inquiry based strategies for developing students' understanding about key concepts in space science based on HCPS III.

10:15 – 12:20 Session III (two hour session)

Teaching with Telescopes: Galileoscopes in your Classroom Presenter: Doug Arion

The Galileoscope was developed during the International Year of Astronomy to be the perfect introductory telescope, and, combined with educational materials, a basis for teaching optics, telescopes, and astronomy. This workshop will instruct teachers on how to (a) assembly a Galileoscope kit and (b) how to utilize it in the classroom and for astronomical observing.

Exploring the Moon with NASA Presenter: Brian Day

Educators will be given an update on the recent dramatic changes in our understanding of the Moon. They will be introduced to a wide range of NASA lunar educational resources and activities that they can use in their classrooms. Finally, they will learn how they and their students can directly participate in NASA lunar science, making observations that directly support our missions to the Moon.

12:20 – 12:45 pm Closing of Morning Session – All Participants

1:30 – 2:45 pm Afternoon Special Session:


The Student Spaceflight Experiments Program (SSEP), launched June 2010 by the National Center for Earth and Space Science Education (NCESSE) in partnership with NanoRacks, LLC, is a remarkable U.S. national Science, Technology, Engineering, and Mathematics (STEM) education initiative that gives typically 300 to 1,000 students across a community the ability to design and propose real experiments to fly in low Earth orbit, first aboard the final flights of the Space Shuttle, and then on the International Space Station—America's newest National Laboratory. More broadly, SSEP is about a commitment to student ownership in exploration, to science as journey, and to the joys of learning. For school districts—even individual schools—it provides an opportunity to implement a systemic, high caliber, and historic STEM education program tailored to community need. During this special session, we will explore the potential for integrating SSEP into Journey through the Universe on the Big Island. Go to the SSEP website for more information on the program.
Download flyer for interested individuals
See the
Bios
of Astronomy/Science Educators
The Local Science Team
Andy Adamson, Gemini Observatory
Doug Arion, Carthage University
Brad Bailey, NASA Lunar Science Institute
Kenyan Beals, Hawai'i Electric and Light Company
Matt Benjamin, NASA Lunar Science Institute
Jennie Berghuis, Subaru Telescope
Dan Birchall, Subaru Telescope
Antonio Chrysostomou, Joint Astronomy Centre
Paul Coleman, UH Institute for Astronomy
Steve Colley, Subaru Telescope
Richard Crowe, UH Hilo Physics & Astronomy
Doris Daou, NASA Lunar Science Institute
Kristina Davis, NASA Lunar Science Institute
Sandra Dawson, Thirty Meter Telescope
Brian Day, NASA Lunar Science Institute
Jeff Donahue, Gemini Observatory
Greg Doppmann, W. M. Keck Observatory
Anil Dosaj, Submillimeter Array
Angelic Ebbers, Gemini Observatory
Scott Fisher, NSF/Gemini Observatory
Brian Force, Caltech Submillimeter Observatory
Suzanne Frayser, Subaru Telescope
Gary Fujihara, UH Institute for Astronomy
Roy Gal, UH Institute for Astronomy
Tom Geballe, Gemini Observatory
Jesse Goldman, UH Hilo Physics & Astronomy
Jeff Goldstein, National Center for Earth and Space Science Education
Taras Golota, Subaru Telescope
William Gorman, Subaru Telescope
Tomotsugu Gota, UH Institute for Astronomy
Olivier Guyon, Subaru Telescope
John Hamilton, UH Hilo Physics & Astronomy
Janice Harvey, Gemini Observatory
Saeko Hayashi, Subaru Telescope
Inger Heyer
Michael Hoenig, Gemini Observatory
Ryoko Ishioka, Subaru Telescope
Eric Jeschke, Subaru Telescope
Russell Kackley, Subaru Telescope
Art & Rene Kimura, Hawai'i Space Grant Consortium/ UH Manoa
Ka'iu Kimura, 'Imiloa Astronomy Education Center
Scot Kleinman, Gemini Observatory
Shawn Laatsch, 'Imiloa Astronomy Education Center
Bernhard Laurich, Hawai'i Community College
Nancy Levenson, Gemini Observatory
Ramsey Lundock, Subaru Telescope
Frantz Martinache, Subaru Telescope
Tony Matulonis, Gemini Observatory
Richard McDermid, Gemini Observatory
Callie McNew, Onizuka Center Visitor Information Station
Peter Michaud, Gemini Observatory
Brian Mitchell, NASA Lunar Science Institute
Harriet Parsons, Joint Astronomy Centre
Derrick Pitts, Franklin Institute Science Museum
Stephen Pompea, NOAO
Ramprasad Rao, Submillimeter Array
Julie Renaud-Kim, W.M. Keck Observatory
Luca Rizzi, W.M. Keck Observatory
Kathy Roth, Gemini Observatory
Hiroko Shinnaga, Caltech Submillimeter Observatory
Doug Simons, Gemini Observatory
Stephanie Slater, University of Wyoming
Tim Slater, University of Wyoming
Gordon Squires, Thirty Meter Telescope
Sunny Stewart, Mauna Kea Visitor Center
Marianne Takamiya, UH Hilo Physics & Astronomy
Holly Thomas, Joint Astronomy Centre
Marcel Tognetti, Gemini Observatory
Kumiko Usuda, Subaru Telescope
Bernie Walp, Gemini Observatory
Jonathan Williams, UH Institute for Astronomy
Greg Wirth, W.M. Keck Observatory
Matthew Wung, Subaru Telescope
Lead Local Team
Janice Harvey, Gemini Observatory
Valerie Takata, Department of Education
Richard Crowe, University of Hawai'i at Hilo
Andolie Marten, Gemini Observatory
Bess Jennings, Department of Education
Ka'iu Kimura, `Imiloa Astronomy Education Center
Peter Michaud, Gemini Observatory
Darrell Nekoba, Department of Education
Ambassadors play a very important role in the Journey through the Universe program. Our ambassador team represents members of the community who choose to help inspire our youth and support unique educational opportunities in science education. Ambassadors help facilitate one day (or more) events as follows:
Make arrangements with assigned Astronomy Educator to meet or to carpool if appropriate
Assist the Astronomy/Science Educator with transport, setup and breakdown of classroom materials and/or AV equipment
Introduce the Astronomy/Science Educator to the class and help monitor their time to end on schedule
Distribute a Classroom Visit Assessment form to the teacher(s)
If you are interested in being an ambassador for one day (or more!) please contact Andolie Marten, amarten@gemini.edu (974-2531).
Download flyer for interested individuals
We appreciate your effort in completing the evaluations to help us improve the Journey program!
Ambassador Evaluation Form
Community Involvement
The Gemini Observatory, the Hawai'i Department of Education North Hilo/Laupahoehoe /Waiakea Complex, `Imiloa and the observatories on Mauna Kea would like to extend a sincere thank you to the organizations and individuals for their generous donations of funding, space, time and donations.
The success of the Journey through the Universe program is largely dependent on our donors and we appreciate their invaluable contributions. The Journey through the Universe Local Team invites you to support this endeavor and our community with your contribution. Please contact jharvey"at"gemini.edu.
Janice Harvey
Gemini Observatory
670 N. A`ohoku Place
Hilo, Hawai'i 96720
Phone: (808) 974-2603
Email: jharvey "at" gemini.edu