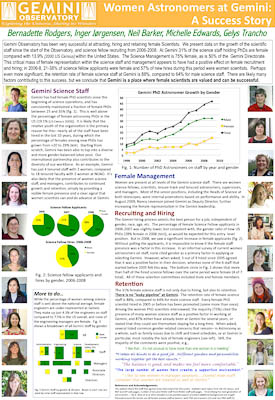 Women Astronomers at Gemini, a Success Story
Gemini Observatory has been extremely successful at attracting, hiring, and retaining female scientists. We presented data on the growth of the scientific staff since the start of the observatory, and science fellow recruiting from 2006-2008. At Gemini 31% of the science staff holding PhDs are female, compared with 13.9% within the United States (2000 US census). The science management at Gemini is 75% female, as is 50% of the Gemini directorate (as of 2009). This critical mass of female representation within the science staff and management appears to have had a positive effect on female recruitment and hiring; in 2006-08, 21-38% of science fellow applicants were female and 57% of new hires during this period were women scientists. Perhaps even more significant, the retention rate of female science staff at Gemini is 88%, compared to 64% for male science staff. There are likely many factors contributing to this success, but we conclude that Gemini is a place where female scientists are valued and can be successful. (See full PDF.)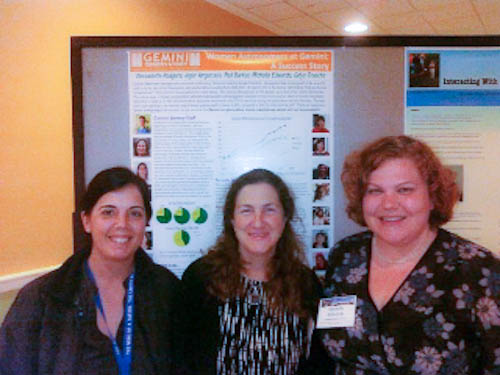 Left to right: Gelys Trancho, Benadette Rodgers, Michelle Edwards
Meeting the Challenges of an Increasingly Diverse Workforce
The NASA Goddard Space Center hosted this conference in October of 2009 to discuss: the challenges of a workforce, which is increasingly more diverse with individuals from various cultures and backgrounds, a higher percentage of women, and in many cases, up to six generations in the same workplace. http://wia2009.gsfc.nasa.gov/
The conference established the statistics of the current scientific community and explored strategies for the success of this diverse workforce. Some of the topics discussed included: management best practices, work environment factors, early career needs, work/life balance, and managing expectations. The aim of this meeting was to provide useful strategies and solutions to all involved in the field — from the youngest members to the more senior managers — focusing on successful practices in the science community. In addition, the conference provided networking opportunities for early career scientists to interact with senior scientists and policy makers. Experienced individuals from academia, industry, and other diverse institutions shared best practices on managing and mentoring a successful and diverse scientific workforce.
Bernadette Rodgers, Head of Science Operations at Gemini South, Gelys Trancho, Systems Engineer, and Michelle Edwards, Gemini Science Fellow, attended the conference on behalf of Gemini Observatory and presented a poster entitled 'Women Astronomers at Gemini: A Success Story,'  – all three 
found the meeting to be thought-provoking, energizing, and enjoyable.  

Bernadette Rodgers summarized her impressions this way:  "There were
 many excellent presentations, perhaps most notable among them being Abigail 
Stewart's presentation on "Addressing Unconscious Bias" and Peggy McIntosh's
 presentation on "Unearned Advantage and Disadvantage as Work Impediments."
  The keynote address by Congresswoman Edwards was quite inspirational as
well, and the panel discussions and question and answer periods provide for a 
lot of very practical, and relevant, discussion.  Meg Urry perhaps 
summarized things best when she said that much progress has been made since the 
first Women in Astronomy meeting in Baltimore in 1992, but that, "...now we are 
grappling more with issues of culture rather than outright discrimination, and 
this in some ways is the most difficult issue of all."