Participating Country (Participant) Shares
Current Participant Time Allocation
The expected time allocation to each Participant for the current and next semesters is listed in the relevant Call for Proposals.
Participant Time Distribution
A certain percentage of the semester is used for Observatory engineering (maintenance, instrument commissioning, etc.), and this time is taken off the top of the total possible time available. This percentage is approved by the Gemini Board ahead of each Call for Proposals. Also taken off the top is any time required for instrument Guaranteed Time (GT), campaigns, and Science Verification (SV); campaigns may be charged to a subset of the Participants. Of the remainder, 10% is allocated to the Observatory host (University of Hawaii or Chile). After the deduction of host time, the remaining time is distributed amongst the Participants according to the partnership shares set by the Gemini Board. This Participant time is reduced by a 5% allocation of Director's Discretionary Time, available to astronomers worldwide through the Director's Discretionary Time proposal process throughout the semester. The host time and Participant time are both open for joint proposals. Participants may also exchange time with each other, or trade time between Gemini North and South. To maintain overall balance amongst the partnership, the allocations to each Participant each semester are adjusted from the nominal Participant shares as a result of actual time charged up to the preceding semester.
A representative schematic of the time distribution is given below, right.
The Table below illustrates two example cases of semester time allocation. In Example 1, 10% of the total available time goes to engineering, and 55 hours goes to GT, campaign and SV time. In Example 2, 14% of the total available time goes to engineering, and 180 hours goes to GT, campaign and SV time. For computational convenience it is assumed that there are 10-hours available per night on average.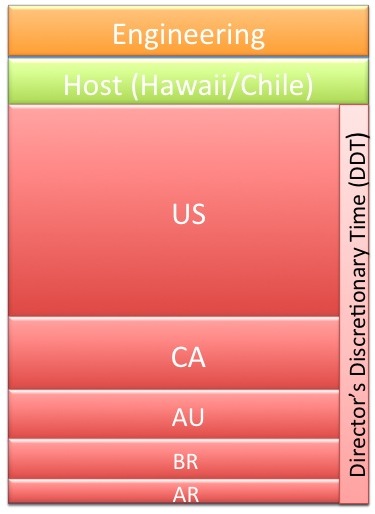 | | | | | |
| --- | --- | --- | --- | --- |
| Participant | Nominal Fraction | Example 1 Allocation (hours) | Example 2 Allocation (hours) | Effective Fraction |
| US | 57.45% | 859 | 751 | 54.57% |
| CA | 17.80% | 266 | 233 | 16.90% |
| AU | 5.59% | 84 | 74 | 5.34% |
| BR | 5.75% | 86 | 75 | 5.46% |
| AR | 3.41% | 51 | 45 | 3.24% |
| Host (Hawaii/Chile) | 10.00% | 157 | 138 | 10.0% |
| DDT | 5% | 71 | 62 | 4.51% |
| GT, campaigns, SV | | 55 | 180 | |
| Engineering | | 181 | 253 | |
| Total | | 1810 | 1810 | |