Focal Plane Mask Wheel
Close Window
The focal-plane mask wheel is located immediately after the science channel/OIWFS (on-instrument wavefront sensor) beamsplitter wheel and is located at the telescope focal-plane within NIRI. This wheel contains the slits and masks required for spectroscopy and polarimetry, respectively. The wheel is shown below prior to the installation of NIRI components further down the science channel. The wheel has a diameter of ~550mm and can hold up to 12 slits/masks.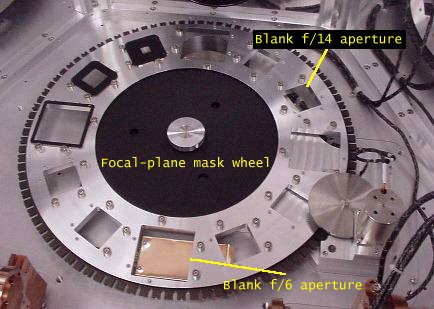 Two sizes of square apertures are seen in the FP Mask wheel, the larger apertures are for f/6 (R~1000-2000, long-slit [100'], full passband [J, H, K, L, M]) spectroscopy while the smaller apertures are for f/14 (R~2000-4000, long-slit [50'], partial passband [J, H, K, L, M]) spectroscopy. The slits expected to be available in f/6 mode are of width 0.23' and 0.46' (2- and 4-pixels, respectively) and in f/14 mode they are 0.1' and 0.15' (2- and 3-pixels, respectively).
The photo below shows a close-up of the FP mask wheel after installation of the rest of NIRI's optical/mechanical components. Some slits/masks are inserted in the wheel. The mask at the centre of the photo is a pin-hole mask for alignment and image quality tests. The grey rectangle partially obscuring this mask is the beam steerer mirror which splits the field into a science beam and OIWFS beam. In the photo, entrance window of NIRI is at the bottom and the science beam is deflected by 90 degrees through the pin-hold mask into the science instrument. The OIWFS beam, the area of the field around the science field, passes straight through (undeflected) and enters the OIWFS instrument at the top of the photo.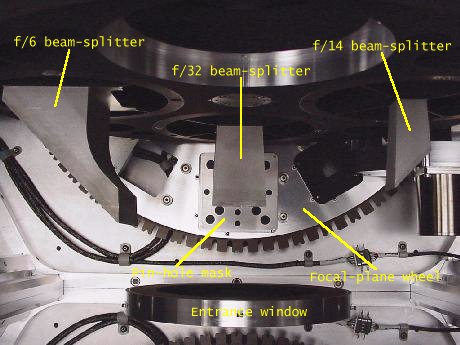 Close Window
Last update July 31, 2000; Colin Aspin