Beam-splitter Wheel
Close Window
The NIRI beam-splitter wheel contains three beam-splitters to direct the science beam and OIWFS (On-instrument wavefront sensor) beam to the appropriate on-board instruments. The beam-splitters are flat mirrors of different sizes to allow the OIWFS beam for each camera, f/6, f/14 and f/32, to be picked off without modifying the science field. The beam-splitters therefore, send the available field (dependent on the science camera in use) surrounding the science field, to the OIWFS which operates in the near-IR using a Rockwell 1024x1024 near-IR array detector. The photo below shows the beam-splitter wheel in-situ in the NIRI dewar. The wheel holds three beam-splitters (one to the right, one to the left and one at the bottom of the wheel) and an alignment pin-hole mask for the OIWFS

beam.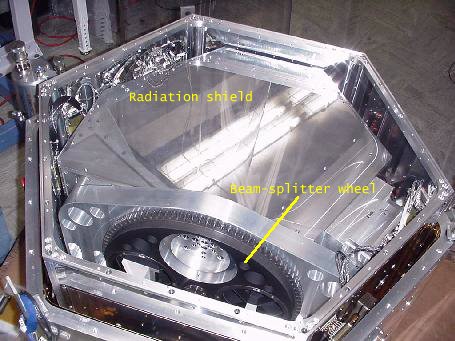 The photo below shows the entrance window at the bottom and the f/32 beam-splitter mirror located over the focal-plane pin-hole mask in the focal-plane mask wheel. To the left of the f/32 mask is a larger beam-splitter, the f/6 unit, and to the right is the third beam-splitter, the f/14 unit. All three beams-splitters are mounted on the beam-splitter wheel.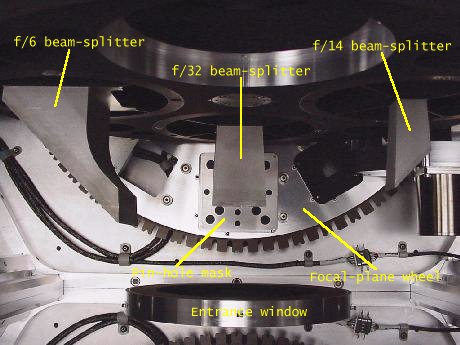 Below is shown a closer view of the f/32 beam-splitter. The telescope beam enters the photo from the bottom where it is deflected 90 degrees by the beam-splitter (into the photo). Next, the beam passes through the focal-plane mask wheel set, in this photo, to the pin-hole mask position.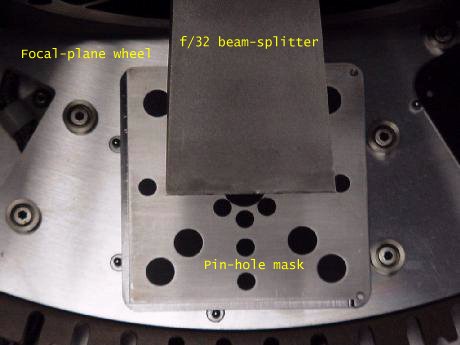 Close Window
Last update July 31, 2000; Colin Aspin