In a milestone statement distributed moments ago by the GPI Pre-delivery Acceptance Review Committee, Chair Stephen Goodsell announced that GPI is now clear for shipment from the University of California Santa Cruz to Gemini South in Chile.The Committee's final report is slated for release on July 26th, but a statement sumarizing the results of the review is available now - GPI Review Committee: Final Day Statement  41 KB
The Gemini South observing database is not accessible as of 9:00am on April 27, 2017 due to a network hardware failure at CTIO. Repair work is ongoing but there is currently no estimate of when this will be repaired. This will prevent program sync and auxiliary file transfers. This announcement will be updated as we learn more.
Three types of spectroscopy are possible with each GMOS and its selection of gratings.
The original GMOS-N EEV CCDs had significant fringing in the red. The new E2V DD CCDs have much weaker fringing. This page shows examples of fringe frames in imaging mode from both arrays in the i'-filter and the z'-filter.
The GMOS-N and GMOS-S EEV detectors had significant fringing in the red. The GMOS-N DD E2V detectors, which were in operation until February 2017, and the new GMOS-N and GMOS-S Hamamatsu detectors exhibit much less fringing than the original EEV detectors. The pages in this section show examples of fringe frames in imaging mode as well as science data before and after correction for fringing.

Please email us to sign up for notification of electronic GeminiFocus publication.
Click on the cover below to access the e-reader version (Flash Player required for desktop browsers)
Detector characteristics are given in this section. Note that the GMOS-South and GMOS-North detectors have been upgraded to Hamamatsu CCDs in 14B and 17A, respectively. Note also that the telescope optics are currently silver-coated, reducing the system throughput in the blue.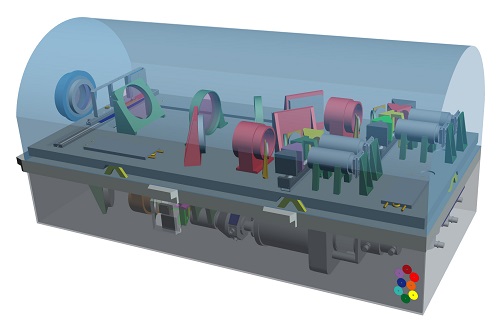 Banco óptico de infrarrojo cercano de OCTOCAM. La sección del infrarrojo cercano es enfriada criogénicamente en vacío para operar a una temperatura por debajo de 80 grados Kelvin.