Journey through the Universe 2014
Journey through the Universe 2014 Overview
Press Release - Gemini Observatory Leads 10th Anniversary Celebration of Hawaii's Journey Through the Universe
Astronomy educators and community sponsors poster
Hawaii Tribune-Herald: Keiki to go on "Journey Through the Universe"
Hawaii Public Radio: Gemini Observatory Brings Science to the Schools
Journey through the Universe (Journey) Week: March 6 – 14, 2014
Friday, March 7, 2014, `Imiloa Astronomy Center:
Master Educators/Astronomers' Workshop: 8:00am – 3pm


Saturday, March 8, 2014, `Imiloa Astronomy Center
Teacher Workshop, 8:00am – 3pm

Sunday, March 9, 2014, `Imiloa Astronomy Center
`Imiloa's 8th Annual KTA Family Free Day with Journey through the Universe: 9am – 4pm (Flier)

Monday – Friday, March 10 – 14, 2014:
Astronomy Educators will make classroom visits to Participating Schools

Monday, March 10, 2014
Hawai'i Chambers of Commerce Appreciation Event: 5pm – 8pm
Save the Date! Please download the registration form

Wednesday, March 12, 2014, UH Hilo 7:00pm
Presentation at UH Hilo – Brian Day (Flyer)
Links to previous years' Journey events:

2013 | 2012 | 2011 | 2010 | 2009 | 2008 | 2007 | 2006
Developed by the National Center for Earth and Space Science Education (NCESSE), Journey through the Universe is a national science education initiative that engages entire communities – students, teachers, families, and the public – using educational programs in the Earth and space sciences and space exploration to inspire and educate. The initiative supports sustained Science, Technology, Engineering, and Mathematics (STEM) education in local schools, and is a celebration of exploration and the joy of learning.
The Hilo/Waiakea Complex, located on the island of Hawai'i and home of Mauna Kea Observatories, joined the Journey through the Universe program in June 2004 and is one of 10 communities in the nation that are designated Journey through the Universe sites. More ...
Family Science Events
Journey through the Universe 10th Anniversary/`Imiloa's 8th Annual KTA Family Free Day, Sunday, March 9, 2014, 9am – 4pm at `Imiloa Astronomy Education Center
Exhibits from the Observatories on Mauna Kea, NASA Lunar Space Institute, UHH Astrophysics Club, Visitor Information Station and many others!
Presentations:
10am Dr. Rob Kelso
"Why did bees, moths, pigs, fish, frogs, butterflies and monkeys fly in SPACE?"
Come and find out the answers from former Space Shuttle Flight Director Rob Kelso.
11am Dr. Scott Fisher
"Talking Story and Building an Astro-bridge to the Mainland"
Dr. Fisher will speak about what it's like to be a professional astronomer that works at one of the Mauna Kea observatories. In this informal talk, which is filled with great pictures and videos, Dr. Fisher will portray "A Day in the Life of an Astronomer" and share some of the most recent discoveries in the realm of astronomy. He will also talk about how he plans to connect Hilo-town and the Big Island to schools and universities in Oregon through a proposed "Remote Observing Center." By building an "astro-bridge" between Hawaii and Oregon, Dr. Fisher hopes to give students in both states a way to study astronomy using both small and large telescopes. Finally, there will be a rousing game of "Stump the Astronomer!" where Dr. Fisher will field questions from the audience.
12pm Dr. Doug Simons
"Discoveries in the Fundamental Nature of Space"

Our perception of the universe is biased toward things we can detect, large or small. In astronomy, centuries of scientific research are founded upon the study of stars, galaxies, interstellar gas, planets, and other celestial objects – things we can detect. This voyage of discovery has left us with a remarkable understanding of the realm we live in, but is it really complete? The overwhelming majority of the universe is cold dark space and is thought to be little interest compared to the objects to which we ascribe our knowledge of the universe. Thanks to advances in astronomy and high energy physics, we are gaining a new appreciation for the fundamental nature of the space that connects everything. Through telescopes to probe the largest objects in the universe and particle accelerators to probe the smallest, we are beginning to come full circle, and appreciate the importance of the space between.
1pm Sandra Dawson, Dr. Ann Marie Cody and Dr. Breann Sitarski
"Planets: Near and Far"
Did you know that our solar system is not alone? Over 1000 planets have now been identified around other stars, and many possess unique properties! Finding and characterizing these planets has been a triumph of modern astronomy. We will take an interactive journey starting with the Earth and Moon and ending in solar systems other than our own to explore these discoveries and the size scales involved.
2pm Dr. Laura Peticolas and Dr. Isabel Hawkins
"Sharing the Skies – a cross cultural and multi-disciplinary view"

We will share some of our findings about both Indigenous ways of knowing the sky and Universe as well as western astronomy interpretations of the sky and Universe. From atmospheric phenomena to the distant cosmos, we share what we have learned from our own cultural understanding, tools, exploration, and discovery. We will explore with our audience how language, mathematics, knowledge of the sky from past studies, and knowledge from elders have helped us develop a more complete understanding of the space around Earth and beyond.
3pm Kevin Caruso
"Gravity" and the World's Cheapest Space Suit!
Watch an audience volunteer dress up in "The World's Cheapest Space Suit" as electrical engineer and space author Kevin Caruso shares a fun hands-on educational discussion about the design of real NASA Space Suits---as compared to the Hollywood Space Suits shown in the movie "Gravity". At the same time, we'll answer the important question: Is There Gravity In Space? Hint: YES!!!
Astronomy Educators Reception, Monday, March 10, 2014, 5pm – 8pm at Hilo Yacht Club
Sponsored by Hawai'i Island Chamber of Commerce, Japanese Chamber of Commerce, and Industry of Hawai'i
Please download the registration form
Astronomy Educators Workshop 2014
Friday, March 7, 2014
'Imiloa Astronomy Center 8:30 - 3:00pm
STEM Professional Development Sessions for Teachers Grades K - 12: Focusing on College, Career and Community Readiness

Big Island career opportunities in astronomy: Maunakea Observatories
Panel discussion with featured astronomy educators
Working Lunch with Astronomy Educators**
Culturally-relevant astronomy education

**Working Lunch session with Science Educators

This session, which provides the opportunity for Astronomy Educators and school-level educators to discuss proposed presentations, is designed to help astronomers enhance and focus their classroom visits. Astronomers are encouraged to bring their classroom presentation materials to this workshop to get valuable feedback from classroom experts. This workshop dramatically improves the impact of astronomers' and scientists' classroom visits.

Astronomy Educators and Science Educators are volunteering astronomers, engineers, and faculty from astronomical institutions and colleges, both local and national.

More details will be posted as they become available. Check back for more information!
Journey educators, sign up for 2014 Journey Week classroom visits now.
See the
Bios
of the 2014 Astronomy/Science Educators
The Journey Science Team
Andy Adamson, Gemini Observatory
Nobuo Arimoto, Subaru Telescope
Christoph Baranec, UH Institute for Astronomy
Daniel Berke, Joint Astronomy Centre
Jennie Berghuis, Subaru Telescope
Dan Birchall, Subaru Telescope
Kevin Caruso, Morey Corp.
Andre-Nicholas Chene, Gemini Observatory
Hsin-Fang Chiang, UH Institute for Astronomy
Mark Chun, UH Institute for Astronomy
Ann Marie Cody, Caltech
Kathy Cooksey, UH Hilo Physics & Astronomy
Sandra Dawson, Thirty Meter Telescope
Brian Day, NASA Lunar Science Institute
Jessica Delgado, University of Hawai'i Manoa
Daniel Devost, Canada-France-Hawaii Telescope
Jeff Donahue, Gemini Observatory
Angelic Ebbers, Gemini Observatory
Ryan Felix, University of Hawai'i Manoa
Scott Fisher, University of Oregon
Suzanne Frayser, Subaru Telescope
Gary Fujihara, UH Institute for Astronomy
Roy Gal, UH Institute for Astronomy
Tom Geballe, Gemini Observatory
Jeff Goldstein, National Center for Earth and Space Science Education
Taras Golota, Subaru Telescope
Bryan Gorges, Joint Astronomy Centre
Kevin Grazier
Olivier Guyon, Subaru Telescope
John Hamilton, UH Hilo Physics & Astronomy
Janice Harvey, Gemini Observatory
Isabel Hawkins, Exploratorium
Saeko Hayashi, Subaru Telescope
Kris Helminiak, Subaru Telescope
Stephanie Henry, Nasa Marshall Space Flight Center
Michael Hoenig, Gemini Observatory
Matthew Hosek, UH Institute for Astronomy
Stewart Hunter, Mauna Kea Support Services
Masatoshi Imanishi, Subaru Telescope
Ryoko Ishioka, Subaru Telescope
Ikuru Iwata, Subaru Telescope
Russell Kackley, Subaru Telescope
Yuko Kakazu, Subaru Telescope
Rob Kelso, Pacific International Space Center for Exploration Systems
Markus Kissler-Patig, Gemini Observatory
Scot Kleinman, Gemini Observatory
Bernhard Laurich, Hawai'i Community College
Nadine Manset, Canada-France-Hawaii Telescope
R. Pierre Martin, UH Hilo Physics & Astronomy
Tony Matulonis, NASA IRTF
Callie McNew, James Clerk Maxwell Telescope
Peter Michaud, Gemini Observatory
Joseph Minafra, NASA Ames Research Center
Brian Mitchell, Nasa Marshall Space Flight Center
Rita Morris, Subaru Telescope
Janet Nathani, Mauna Kea Visitor Information Center
Paul Nguyen, University of Hawai'i Manoa
Nagayoshi Ohashi, Subaru Telescope
Harriet Parsons, Joint Astronomy Centre
Emily Peavy, University of Hawai'i at Hilo
Laura Peticolas, University of California Berkeley
Christopher Phillips, 'Imiloa Astronomy Education Center
Tae-Soo Pyo, Subaru Telescope
Bo Reipurth, UH Institute for Astronomy
Kathy Roth, Gemini Observatory
Yuriko Saito, Subaru Telescope
Sharon Schleigh, Purdue University
Doug Simons, Canada-France-Hawaii Telescope
Garima Singh, Subaru Telescope
Evan Sinukoff, UH Institute for Astronomy
Breann Sitarski, University of California Los Angeles
Gordon Squires, Thirty Meter Telescope
Marianne Takamiya, UH Hilo Physics & Astronomy
Ichi Tanaka, Subaru Telescope
Shelly Valdez, Native Pathways
Josh Williams, Subaru Telescope
Kohei Yamazaki, Subaru Telescope
Sherry Yeh, Subaru Telescope
Robert Young, University of Hawai'i Manoa

Lead Local Team
Janice Harvey, Gemini Observatory
Valerie Takata, Department of Education
Bess Jennings, Department of Education
Christine Copes, Gemini Observatory
Ka'iu Kimura, `Imiloa Astronomy Education Center
Peter Michaud, Gemini Observatory
Darrell Nekoba, Department of Education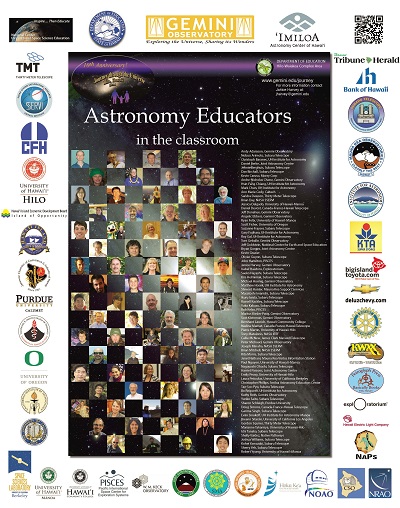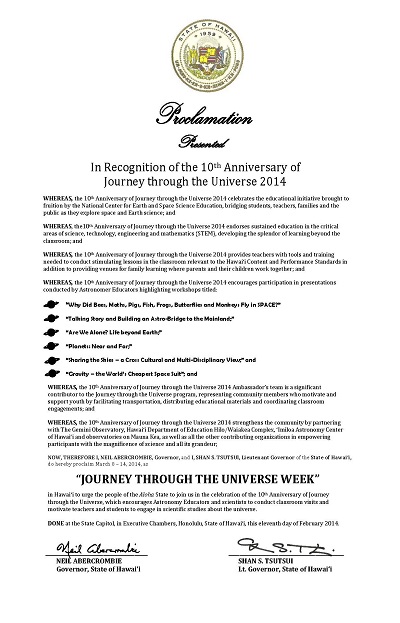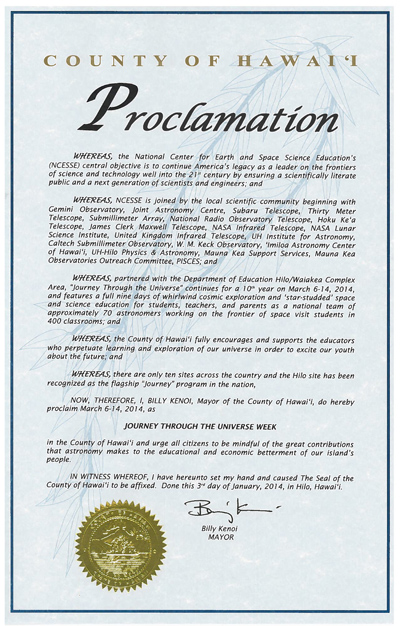 Ambassadors play a very important role in the Journey through the Universe program. Our ambassador team represents members of the community who choose to help inspire our youth and support unique educational opportunities in science education. Ambassadors help facilitate one day (or more) events as follows:
Make arrangements with assigned Astronomy Educator to meet or to carpool if appropriate
Assist the Astronomy/Science Educator with transport, setup and breakdown of classroom materials and/or AV equipment
Introduce the Astronomy/Science Educator to the class and help monitor their time to end on schedule
Distribute a Classroom Visit Assessment form to the teacher(s)
If you are interested in being an ambassador for one day (or more!) please contact Christine Copes, ccopes@gemini.edu (974-2531) or Janice Harvey, jharvey@gemini.edu (974-2603).
Download flier for interested individuals.
The Gemini Observatory and the Hawai'i Department of Education Hilo/Waiakea Complex would like to extend a sincere thank you to the observatories, organizations, and individuals for their generous support. The success of the Journey through the Universe program is largely dependent on their participation and we appreciate their invaluable contributions.
Community/Sponsors List in PDF
DOE Hilo/Waiakea Complex Area
Gemini Observatory
Bank of Hawai'i
Basically Books
Big Island Toyota
Caltech Submillimeter Observatory
Canada-France-Hawai'i Telescope
Carthage University
DeLuz Chevrolet
Franklin Institute Science Museum
Hawai'i Community College
Hawai'i Electric Light Company
Hawai'i Island Chamber of Commerce
Hawai'i Island Economic Development Board
Hawai'i Space Grant Consortium
Hawai'i Tribune-Herald
IEI - Indigenous Education Institute
'Imiloa Astronomy Center
James Clerk Maxwell Telescope
Japanese Chamber of Commerce & Industry
Joint Astronomy Centre
KTA Superstores
KWXX Radio Station
Mauna Kea Astronomy Outreach Committee
Mauna Kea Visitor Information Station
NASA Infrared Telescope Facility
NASA Lunar Science Institute
National Center for Earth & Space Science
National Optical Astronomy Observatory
National Radio Astronomy Observatory
PISCES
Project Astro/Family Astro
Purdue University
Rotary Club of Hilo Bay
Smithsonian Submillimeter Array
Subaru Telescope
Thirty Meter Telescope
UCO Lick Observatory
UH Hilo, College of Pharmacy
UH Hoku Ke'a and 2.2 Meter Telescopes
UH Institute for Astronomy
United Kingdom Infrared Telescope
University of California - Berkeley
University of California - Los Angeles
University of Hawai'i at Hilo
University of Hawai'i-Manoa
University of Oregon
W.M. Keck Observatory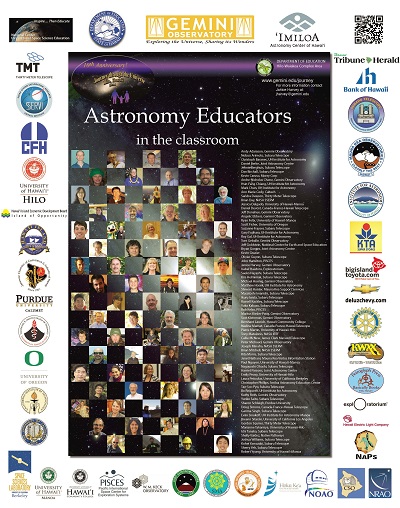 Janice Harvey
Gemini Observatory
670 N. A`ohoku Place
Hilo, Hawai'i 96720
Phone: (808) 974-2603
Email: jharvey "at" gemini.edu
Christine Copes
Gemini Observatory
670 N. A`ohoku Place
Hilo, Hawai'i 96720
Phone: (808) 974-2531
Email: ccopes "at" gemini.edu